Hurricane Hilary, which strengthened from tropical storm status on Thursday morning, is on track to approach the Baja California peninsula this weekend, according to the United States National Hurricane Center (NHC).
Hilary was 765 kilometers south of Cabo San Lucas, Baja California Sur, at 3 p.m. Mexico City time and approaching major hurricane status, the NHC said in an advisory.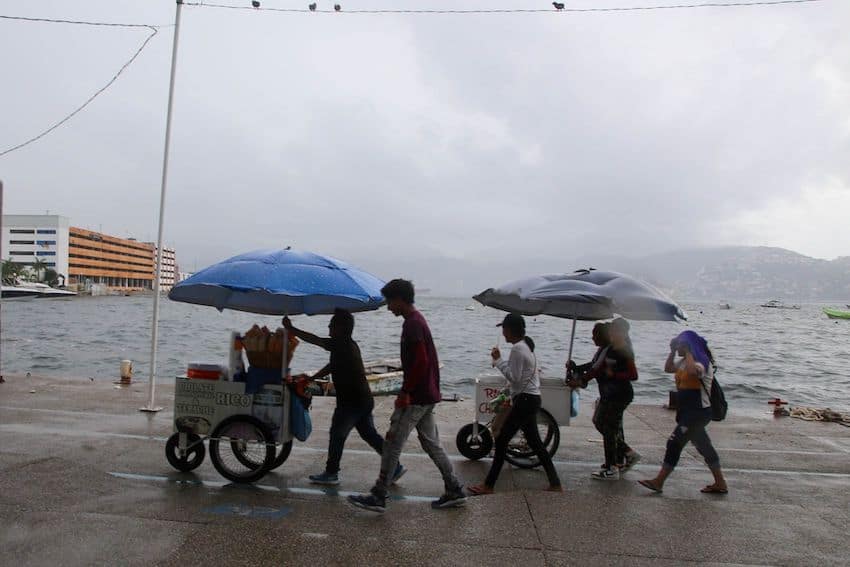 It had maximum sustained winds of 175 km/h, making it a Category 2 hurricane. Just a slight strengthening of wind speeds will make Hilary a Category 3, something that is expected to occur on Thursday evening.
The NHC said that the hurricane was moving west-northwest at 22 km/h "and this general motion is expected to continue through tonight."
"A turn toward the northwest is expected Friday morning, followed by a turn toward the north-northwest and north of Saturday. On the forecast track, the center of Hilary will approach the Baja California peninsula over the weekend," the Florida-based forecaster said.
Greg Postel, a hurricane and storm specialist at the Weather Channel, told CBS News on Thursday that Hilary "is not expected to be a hurricane on final approach," while the New York Times reported that Hilary will rapidly weaken over colder waters on Saturday and Sunday before making landfall.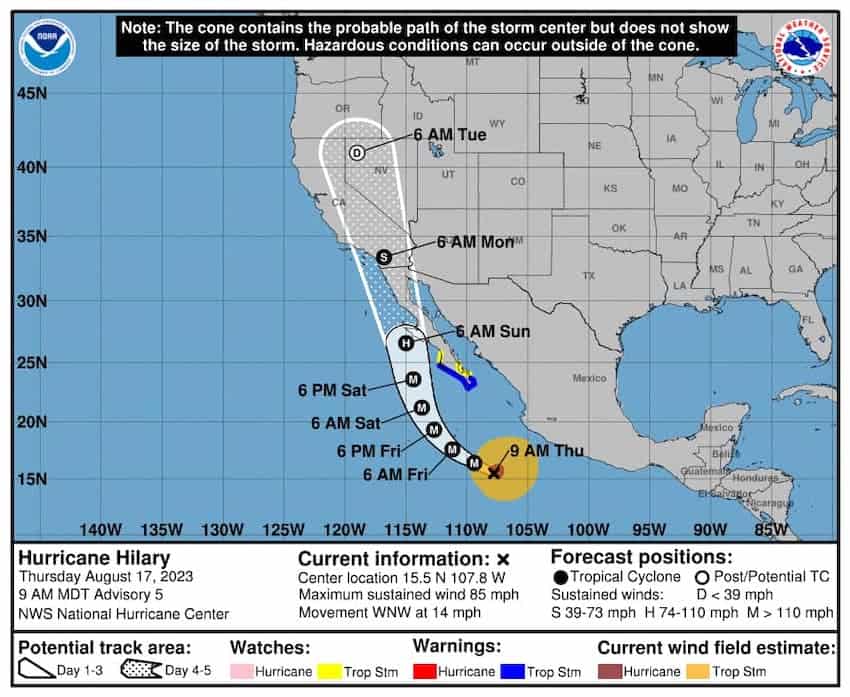 The storm is not forecast to make landfall in southern Baja California Sur, and its center may not reach land until it gets to the U.S. state of California, at which time it would be significantly weakened.
"Because of the storm's angle to the coast, it is difficult to pinpoint an exact landfall location, but forecasters are fairly confident that Hilary will continue on its current trajectory, turning north on Friday and moving parallel to the coast," the Times reported.
A tropical storm warning is in effect for Baja California Sur in the areas south of Cabo San Lázaro, located on the west coast of the peninsula, and south of Los Barriles on the east coast.
"A tropical storm warning means that tropical storm conditions are expected somewhere within the warning area within 36 hours," the NHC said.
The center said that "Hilary is expected to produce rainfall amounts of 3 to 6 inches [7-15 cm], with isolated maximum amounts up to 10 inches [25 cm], across portions of the Baja California Peninsula through Sunday night."
"Flash flooding, locally significant, will be possible," it added.
"Large swells generated by Hilary will affect portions of the coast of southwestern Mexico and the Baja California peninsula over the next few days. These swells are likely to cause
life-threatening surf and rip current conditions," the NHC said.
Mexico News Daily