Parts of Mexico continue to swelter in a record-breaking, prolonged heat wave that has caused at least three deaths, given a boost to the economy and even caused traffic lights to melt in two northern states.
Authorities in Chihuahua — where temperatures have been as high as 48 C — said an 18-year-old indigenous Tarahumara man and a 17-year-old male died due to heat-related illnesses.
A 33-year-old homeless man also died in Saltillo, Coahuila, due to heatstroke.
According to the National Meteorological Service (SMN), temperatures of up to 49 are expected to continue in the north of the country until next Tuesday, June 5.
". . . What we're observing is that as the heat wave progresses, the high [atmospheric] pressure is not decreasing, so it's going to strengthen in Chihuahua, Coahuila, Nuevo Léon, Durango and Zacatecas," SMN general coordinator Alberto Hernández told a press conference.
He added that several states broke temperature records for the month of May, which in two cases go back more than 50 years.
Hidalgo exceeded its previous May record, set in 1964, Chihuahua broke its 1978 mark and Sinaloa beat the high recorded in 1961.
Zacatecas and Jalisco also topped their previous May highs, recorded in 2016 and 2013 respectively.
On May 30, Civil Protection authorities declared extraordinary emergency situations in 573 municipalities in 22 states due to the extreme conditions.
Mexico City also experienced high temperatures this week, although with maximums of around 32 it didn't come close to matching the scorching conditions in other parts of the country.
That didn't stop sales of cold beverages, ice creams, popsicles and other items popular during hot weather to spike to such an extent that one Mexico City business chamber estimated the economic spillover effect would be 260 million pesos (US $13 million).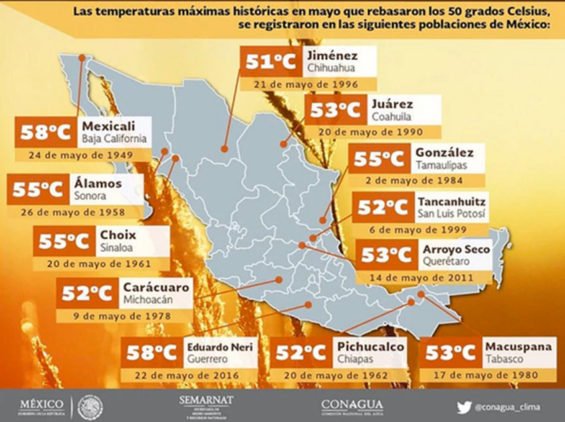 In a statement, Canacope said the heat had led people to make unanticipated purchases that averaged 60 pesos (US $3) per person this week.
Energy consumption has also risen. It was up by an estimated 7% in the capital this week as people have switched on their fans and air conditioning systems.
While many people across the country might have felt like they were going to melt this week, traffic lights in the cities of Torreón, Coahuila, and nearby Gómez Palacio, Durango, did just that.
Temperatures that soared above 40 caused the plastic casing in which the traffic signals are set to warp, both in the downtown of the former city and on a main road in the latter, but the lights continued to function regardless.
More extreme weather could be on the way next week with the arrival of a tropical cyclone.
Civil Protection general director Ricardo de la Cruz Musalem warned that stronger hurricanes can be provoked by extended hot spells such as Mexico has experienced this week, and they may be more likely to impact Mexico's coastlines.
The National Water Commission (Conagua) is predicting 32 tropical cyclones will affect Mexico this hurricane season, four more than the average recorded in recent years.
Source: Sipse (sp), Noticias 24 (sp), Vanguardia (sp), López-Dóriga (sp)