The completion of a new highway in the state of Oaxaca — from the inland city of Oaxaca to the state's beachside tourist areas on the Pacific Coast — is being held up by residents of two communities who have set up a blockade.
"There are 15 km left to finish this work, however, an old agrarian conflict between Sola de Vega and San Vicente Coatlán is at stake," President López Obrador tweeted earlier this week. "We made a good proposal to the towns," he added.
In his morning press conference on Monday, the president said that a dialogue is being held with representatives of the two highlands communities, and that he had met personally with both sides a day earlier.
"If there is no agreement in a month, we will make a new route — a bypass," he said.
The project has been fraught with problems for some 20 years, especially since the original contract was awarded in 2009. Five years later, that concessionaire ceded the rights to the project to another company; then in 2016, the project was about halfway done when it suspended and passed to the National Infrastructure Fund (Fonadin).
An original completion target of July 2015 now seems like a bad joke — though as recently as last August, officials were expecting the highway to open by the end of 2022.
The project is a two-lane highway measuring 12 meters wide, stretching roughly 102 kilometers (64 miles) and supplanting what for years has been a treacherous mountain road, Highway 131. It is said that the new highway will slash travel time from the capital city of Oaxaca to the coastal destinations of Bahías de Huatulco and Puerto Escondido from 6 to 8 hours down to 2 to 3 hours.
The 26-kilometer segment from Barranca Larga in the mountains to Ventanilla on the coast is what is holding things up. Ventanilla is where the highway will hit the coast — 17 kilometers from Puerto Escondido, 58 kilometers from Mazunte and 100 kilometers to Santa María Huatulco.
The "agrarian conflict between two localities" (San Vicente Coatlán and Villa Sola de Vega) "dates back 47 years and prevents work from continuing on [that] stretch," according to Infobae.
On its official website in July 2022, the federal government's National Institute of Indigenous Peoples (INPI) posted a statement about the conflict — a territorial dispute that has displaced some families and has previously left dead bodies in its wake.
The INPI statement noted that the peace process had experienced "advances" after a mandate by AMLO had brought Indigenous leaders to the bargaining table with municipal, state and federal representatives.
"Dialogue and conciliation are the way to achieve lasting peace," it stated.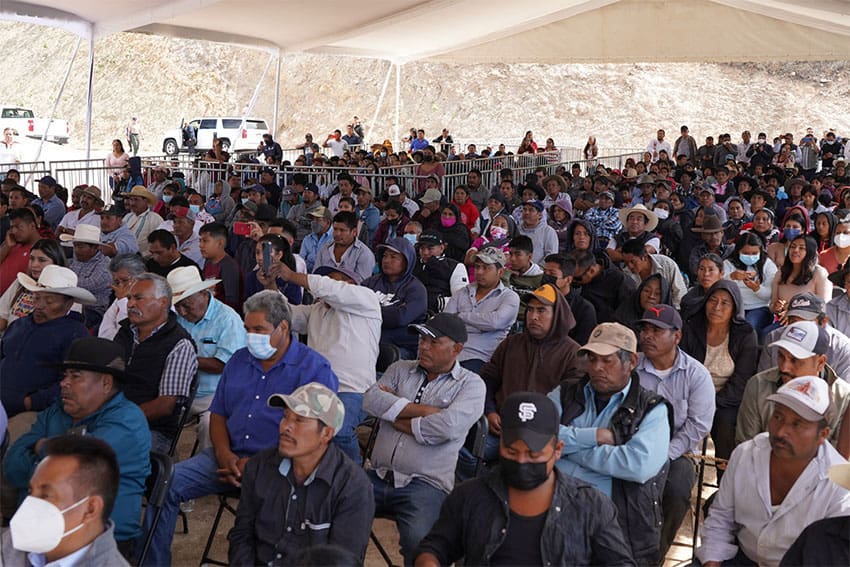 The dispute revolves around land, the INPI statement said, noting that the local leaders had pledged to maintain peace and de-escalate the conflict zone while continuing talks.
The statement also pointed out that Adelfo Regino Montes, the INPI's general director, spoke of a presidential proposal to provide financial compensation if the communities can halt their dispute.
In speaking about the conflict this week, AMLO recalled two famous phrases: "Nothing by force, everything by reason and law," by Oaxacan-born Benito Juárez (Mexico's president from 1858 to 1872) and "a problem that is avoided explodes" by the late Jesús Reyes Heroles (a prominent Mexican politician, jurist and academic in the 1960s through 1980s).
Overall, the highway is 87.5% complete, Oaxaca Governor Salomón Jara Cruz said after he and other government officials completed a tour of the Barranca Larga–Ventanilla section earlier this month. The full highway consists of 10 bridges, three tunnels and two toll booths, and is expected to be used by 4,253 vehicles per day.
The toll plaza at Barranca Larga was only 38% complete at the time of the governor's tour. The plaza will include a National Guard base, a solar farm, an administration building and a control center.
On a recent airing of his television show "Jueves de Gozona," Governor Jara said he anticipates the highway being completed within six months and that he will work with the groups that have shown resistance to its construction.
With reports from Infobae and El Universal Oaxaca