Though hurricanes have battered the western coast of Mexico, much of the rest of the country is still parched. Months of below-average rainfall have left most of the center and north of Mexico in moderate to exceptional drought. The worst-affected states have seen reservoirs run dry, crops fail and thousands of cattle die.
Mexico's Drought Monitor, published every two weeks by the National Meteorological Service (MSN), shows that the percentage of the country affected by drought has finally started to drop – from 75% on Sep. 30 to 59% on Oct. 31.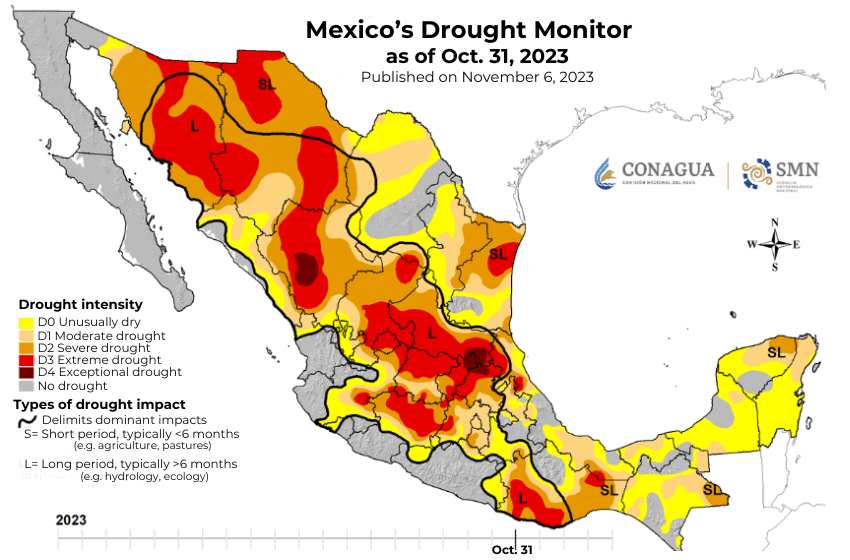 Not since 2012 has drought in Mexico been so widespread – with 1,614 municipalities across the country in a state of drought. Of these, 39 are rated at level 4 – the most serious category of drought. A further 461 are at risk of drought due to "abnormally low" low rainfall in 2023. Some analysts have claimed that it is the driest year in the Mexican countryside since 1957, with 78% of rural municipalities affected. This year has been the second driest since records began in 2004.
Drought conditions in the Valley of Mexico – home to almost 20 million people – have now affected 98% of the region. 
The National Agricultural Council has called for more government investment in hydrological infrastructure, warning that Mexico's water shortages are "a problem we can't keep putting off." 
But how bad is Mexico's drought, comparatively? In this edition of Mexico in Numbers, we look at how 2023 compares to past years, which regions and sectors of the country are most affected and how Mexico ranks globally for water stress.
How does the drought compare with the last five years?
Mexico has suffered increasingly severe drought for the last five years (2018-2023), after relatively good rainfall during the previous five (2013-2018).
At the driest point of 2023 in September, 75% of the country was in drought, 55.8% in severe drought, 31.6% in extreme drought and 1.8% in exceptional drought. In the last five years, comparably dry conditions have only been seen in May/June 2021, when up to 75.6% of the country was in drought, 54.8% in severe drought, 21.3% in extreme drought and 2.8% in exceptional drought.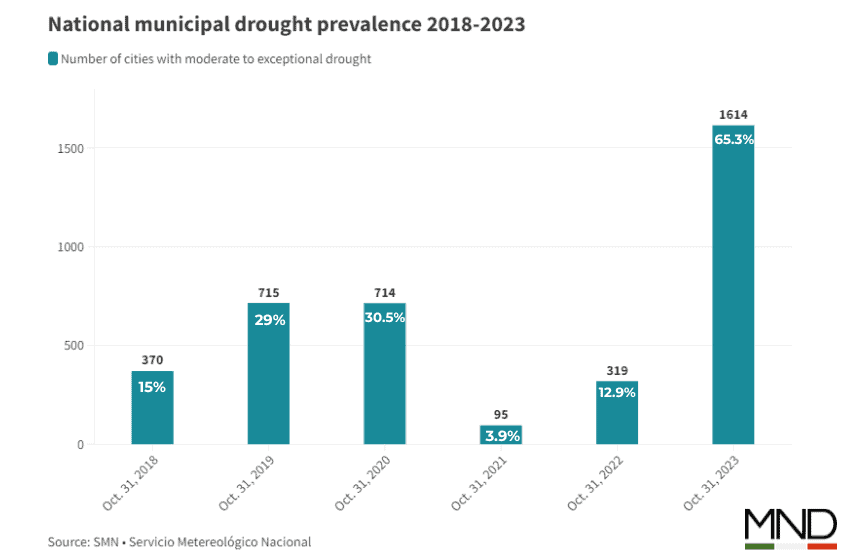 However, this year's drought has had a particularly severe impact because it has lasted much longer than usual, past the point when Mexico would normally expect to see autumn rains. Drought figures for October show an overall fall, but the country remains incredibly dry, with 15 of 32 states experiencing drought in at least 70% of municipalities.
How does the drought measure up historically?
Mexico's last severe drought was in 2011, when up to 87% of the country faced drought conditions and up to 23% saw exceptional drought. Again, however, the worst conditions were earlier in the year, with the rainy season narrowing the scope of the drought by fall.
Although the Drought Monitor only gives detailed figures from 2003, the SMN's historical records show that September 2023 was the driest September since 1941 and the hottest since 1953.
Where is the drought most acute?
September's drought affected almost all of central and northern Mexico, extending over 96.5% of the territory in the northeast. The most acute regions of exceptional drought were in Durango and in the Huasteca region, to the southeast of San Luis Potosí. This has been exacerbated by a lack of rainfall, which would normally provide some respite and refill vital reservoirs between June and October. Without this rainfall, stress on existing acquifers and other water storage is increased. 
Climatological reports in September showed a 74.4% deficit in rainfall for that month alone, making it the worst month for rain so far this year. The SMN also reported that the states of Guerrero, Hidalgo, Nuevo León, Oaxaca, Querétaro, San Luis Potosí and Veracruz all recorded their worst September rainfall since 1941.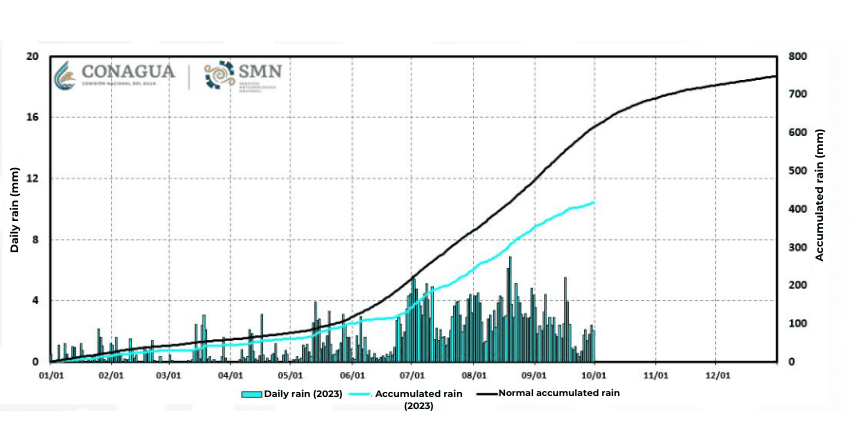 The worst impact on agriculture has been in Chihuahua, where 193,266 hectares of crops were lost between January and September; followed by Zacatecas, with 153,684 hectares lost, and San Luis Potosí with 64,637. A total of 502,550 hectares have been lost across Mexico, the highest figure since at least 2018.
Which crops have been most affected?
The drought's impact on farming has sparked fears of food shortages in the coming months. The crops most affected are beans, with 165,716 hectares lost between January and September; grain corn, with 158,134 hectares lost; and forage oats, with 96,808 hectares lost.
The livestock industry has also been hard hit. In Durango, 18,000 cattle were reported to have died due to water shortages by August, with severe impacts also seen in ranching states such as Jalisco and Veracruz.
How does Mexico rank globally for water stress?
The World Resources Institute grades Mexico 4.0 out of 5 for water stress. This places it on the borderline between the "high" and "extremely high" categories, with up to 80% of the territory affected.
Globally, the WRI ranks Mexico as the 26th most water-stressed country worldwide.
With reports from El Economista