This is a developing story.
Mexican authorities have again arrested cartel leader Ovidio "El Ratón" Guzmán, son of incarcerated Joaquín "El Chapo" Guzmán, and leader of the "Los Chapitos" faction of the Sinaloa Cartel. According to official sources cited in the newspaper Reforma, the operation occurred around 4:40 a.m. Thursday morning in the city of Culiacán in Sinaloa. 
Ovidio Guzmán was first arrested in 2019. However, he was quickly released following violent retribution by the Sinaloa Cartel in Culiacán — known as the "Culiacanazo" — and fears of civilian and military casualties. The day of his 2019 arrest became known as "black Thursday" due to the ensuing violence. 
The United States government offered a U.S. $5 million reward for information leading to Ovidio Guzmán's capture, and he heads the list of the 15 criminals Mexico has prioritized to extradite. The arrest comes only days before U.S. President Joe Biden is scheduled to visit Mexico for the North American Leaders Summit.
The operation led to a series of shootings and "narco-blockades" in Culiacán (the state capital) and Los Mochis, with state authorities warning citizens to stay home. Employees have been asked not to go to work and school has been suspended. The Culiacán airport has also been closed after army officials reinforced the area, and Aeroméxico cancelled its Thursday flights to the state over security concerns.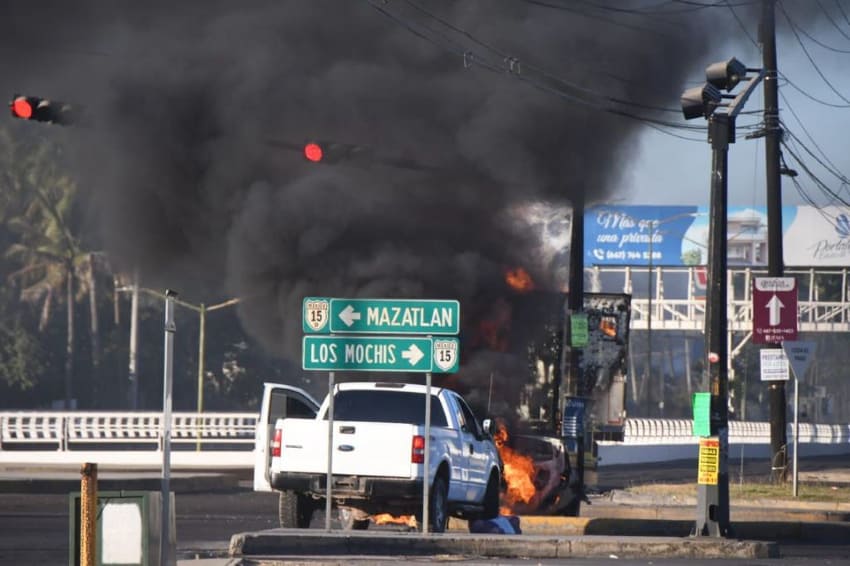 Police reports indicate that there were about a dozen blockades throughout Culiacán by 7:30 a.m. In addition to roadblocks, helicopters have also been reported flying above Los Mochis. The Mazatlán-Culiacán highway and the México-Nogales highway have been closed to all traffic in the region. 
Gerardo Vargas Landeros, the mayor of Ahome (the municipality in which Los Mochis is located), warned of violence on Mexico highway 15 and the surrounding area.

"We ask you please not to go out, to take shelter in your homes. It is an operation carried out by the federal forces, an operation that began in the city of Culiacán and is having repercussions in the north of the state. We will continue to keep you informed," the mayor said.

The mayor of Mazatlán issued a similar recommendation that residents stay in their homes or places of work until further notice.
"Vehicle debris and blockades are being presented in different parts of the city. We ask the public not to go out. We are acting accordingly," the Sinaloa security ministry said on Twitter. 
In a Thursday afternoon press conference, Defense Minister Luis Crescencio Sandoval announced that Guzmán is now in the custody of the Attorney General's office in Mexico City.
He called the capture a "powerful blow to the upper leadership of the Pacific Cartel" and stated that various law enforcement agencies worked together gathering intelligence for six months prior to the operation.
With reports from Reforma, El Universal and Milenio