It's a few minutes before noon in Tehuacán, the second-largest city in Puebla state. My friend and I are meeting our guide Martín for a tour of…well…cacti. 
My 15 years of working in the travel industry have rendered me a serious skeptic of most tour experiences, and my internal judge is chattering a mile a minute: "The meeting point isn't clear, the guide sounds too young, no one asked about food sensitivities even though lunch is included…."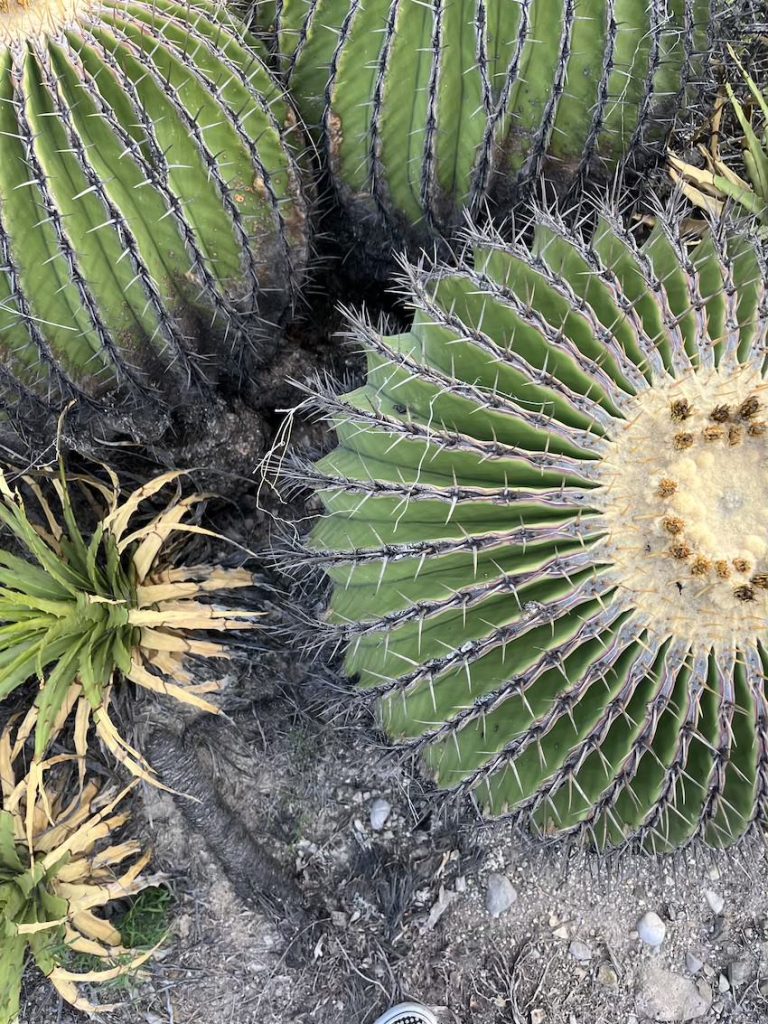 I shut my inner voice up with a simple "You're in Mexico, Bethany, let it go" as we pull up to a nondescript bodega with Mountain Dew-colored walls, park the car and start walking toward our guide's location. I spot him immediately – an unusually tall man (for these parts) wearing a straw cowboy hat, a long-sleeved button-down, and khakis, an outfit quite practical for a day in the sun. He looks to be in his early twenties, and is the owner's son. 
The day's schedule had been sent to me in advance: A visit to Zapotitlán Salinas, a UNESCO World Heritage Site; lunch at a small local restaurant in Tehuacán; time at a pottery studio in Los Reyes Metzontla; a walk at dusk through the Bosque de los Sotolines.
Each stop was to be followed by drives through the cactus reserve. I'm both intrigued and anxious. This is Day 4 of an action-packed 8-day road trip and not only am I tired, but my ability to translate Spanish is hit-or-miss right now. 
The three of us get back into the car, pushing away a bag of rotting peaches, empty water bottles and random sweaters, the accumulated items to be expected in a car destined for a road trip. I take the back seat and change from sandals to sneakers as we make our way to the salt mines. Martín begins to explain, with a comforting air of expertise, the lay of the land.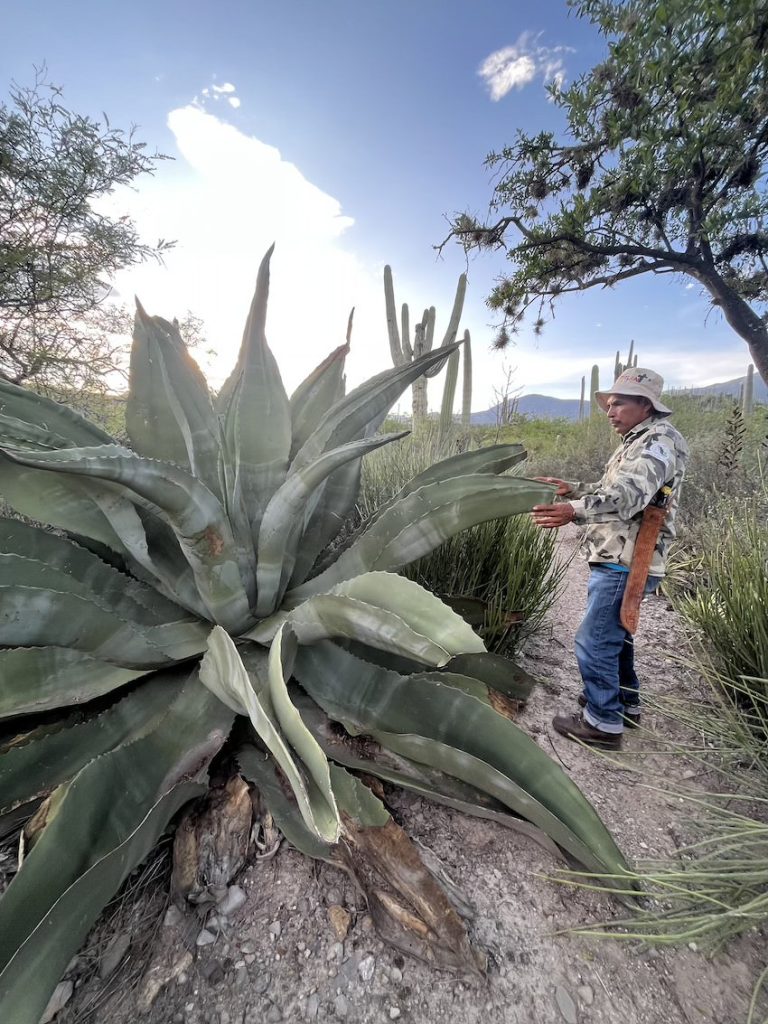 The Tehuacán-Cuicatlan Biosphere is a protected, ecological reserve encompassing 145,255 hectares (359,000 acres) of dense cactus forest. There are more than 2,500 reported species of cacti, each with distinct looks and properties.
As we drive, I become increasingly aware of how regal and imposing these plants can be. Some are tall, thin and strong, protruding from the ground in clusters like candles on a rolling green birthday cake. Others are short and fat, some spherical like beach balls and several resemble engorged stars. The vistas are breathtaking, and I find myself drifting between Martín's explanations and this otherworldly land of alien flora.
We arrive at Zapotitlán Salinas and meet Juan Diego. Almost daily, Juan Diego and his predominantly male team continue the tradition of artisanal salt production, selling to locals and the flat's visitors. The team is small because the product's price margin is too low to afford to pay more workers, and the work is arduous..  The salinas (salt flats) have been operating for over 2,000 years.
After buying myself an unnecessary kilo of salt, we continue on to lunch which is set to include local treats: insects. My friend and I politely but firmly clarify that despite our full understanding that bugs are considered a delicacy, we cannot eat them. I feel at this point that adding my pseudo-veganism to the mix will further exacerbate the situation and resolve to eat around whatever meat I'm served. Lunch turns out to be delicious, with cactus flowers, hibiscus water, and other regional ingredients included. We even get fried plantains for dessert, a real treat.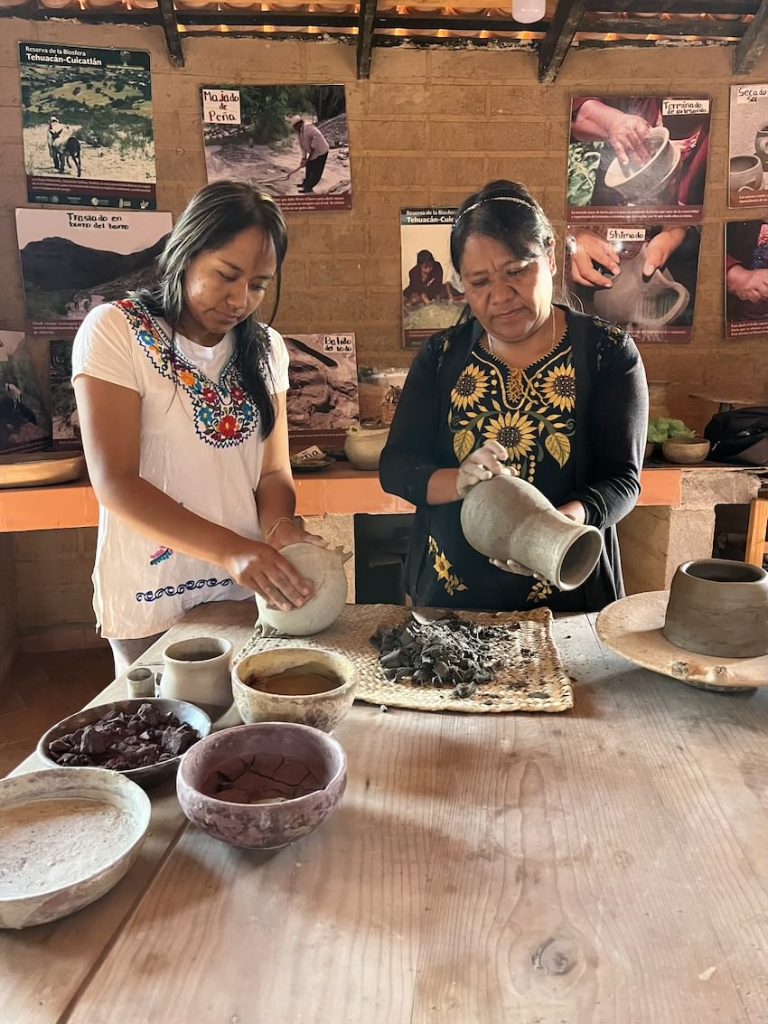 Satisfied, the three of us hop back in the car for a visit to Los Reyes Metzontla.
Millions of years ago, this region was a sea, blessing it with rich clay deposits that artisans use to make pottery. We enter what looks to be part-house, part-studio, and meet a team of three women, accompanied by several children and a puppy, who spend their days creating and selling stunning pieces of crockery in a variety of earthy colors.After showing us the step-by-step process, we are invited to try it ourselves. What looks relatively simple is far from it, my attempt at a bowl quickly turns into an ashtray and then back into a ball of clay. I instead buy a gorgeous water jug to lug home.
The final stop is a walk through the Bosque de Sotolines, named after the sotolín or Elephant Foot variety of tree. There, we meet another local guide, Manuelo. A native to the area and a plant lover, Manuelo takes us on a journey through the medicinal, psychedelic and cultural importance of a variety of greenery that I never knew existed. We see agave plants the size of a small car, leaves whose medicinal properties range from settling upset stomachs to getting rid of oral infections, and thriving Elephant Foot trees that have been standing proud since long before Hernán Cortés' arrival. 
As the sun sets behind the mountains, casting a pinkish hue throughout a vast, cloudless sky, I am suddenly struck by the magnitude of what Mexico actually is; Mexico is everything. Beaches, mountains, lakes, cities, canyons, wine country, pueblos. It's Indigenous cultures, it's colonial facades, it's the Virgin Mary, it's Quezacóatl, it's artisanal potters and it's Carlos Slim. Mexico's intricate layers are unmatched. It's truly an incredible place and I'm here for all of it.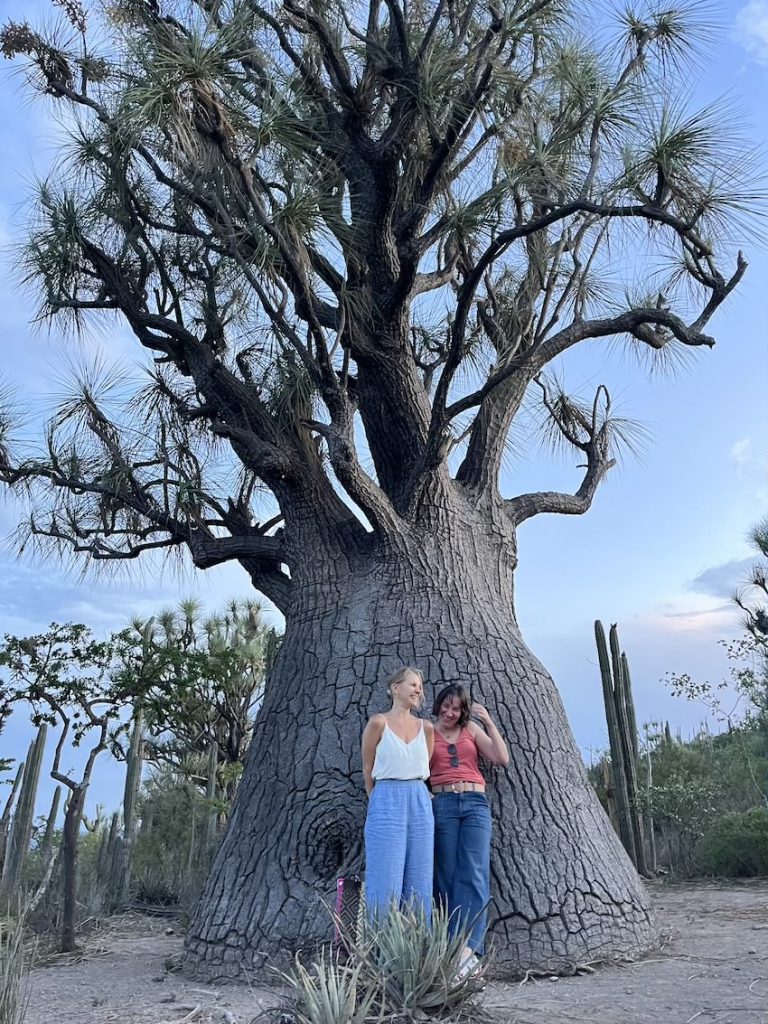 Where to stay: While the city of Tehuacán has significantly more options, we opted to stay at Hotel San Martín in Zapotitlán. It was small, clean and simple, located on a lively little square with next to nothing to do after dark,, which was perfect, because by the end of our journey through the biosphere, nothing was exactly what we wanted to do.
What to buy: Salt, pottery, straw cowboy hats made by Martín, our guide.
When to go: Anytime, though the rainy season could be messy.
How to book: Online at Bio Fan's website or through Instagram. My experience with the company was very positive, they were easy to book with and provided excellent service.
Bethany Platanella is a travel planner and lifestyle writer based in Mexico City. She lives for the dopamine hit that comes directly after booking a plane ticket, exploring local markets, practicing yoga and munching on fresh tortillas. Sign up to receive her Sunday Love Letters to your inbox, peruse her blog, or follow her on Instagram.