While there are many museums in Mexico showcasing the work of its more famous artists — Frida Kahlo, Diego Rivera, Francisco Toledo and Rufino Tamayo, to name just a few — there wasn't a national museum dedicated to cultura popular, the culture and art of Mexico's indigenous groups, until 1983. That year, the anthropologist Guillermo Bonfil Balla founded the Museo Nacional de las Culturas Populares in the Coyoacán borough of Mexico City. 
Located on Avenida Hidalgo, just a half block from Coyoacán's Plaza Hidalgo, the museum is made up of several buildings, most dating from the end of the 19th and beginning of the 20th centuries.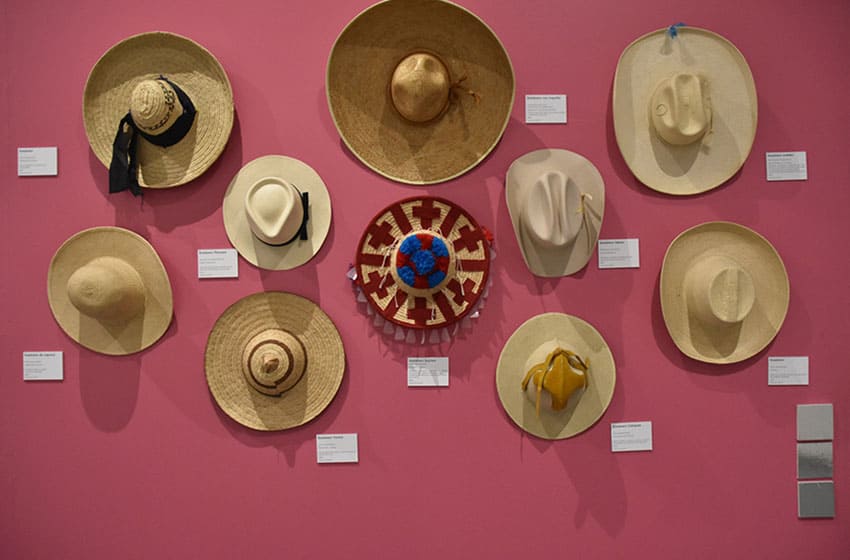 The museum has five main exhibition rooms and three patios, where conferences, workshops and concerts are held. Though it doesn't have an extensive permanent collection, it hosts several temporary exhibits each year. I've been to the museum four times over the last two years and have never been disappointed. 
The current exhibit, "Espejo de Identidades," (Mirror of Identities) includes a wide variety of art, from clay and cardboard figures painted in vivid colors to embroidered blankets, dresses and hats, representing pueblos across much of Mexico. 
One of the museum's permanent works is a 4-meter (13-foot) clay arbol de la vida (tree of life) that stands near the museum's entrance. It was created by José Alfonso Soteno Fernández in 1992 as part of the commemoration of Columbus's journey to the Americas. 
The tree contains numerous figures: the Mexica leader Cuauhtémoc, Mexican independence hero Miguel Hidalgo, Spanish soldiers as well as Catholic and indigenous religious icons. It's worth spending some time discovering them in the sculpture.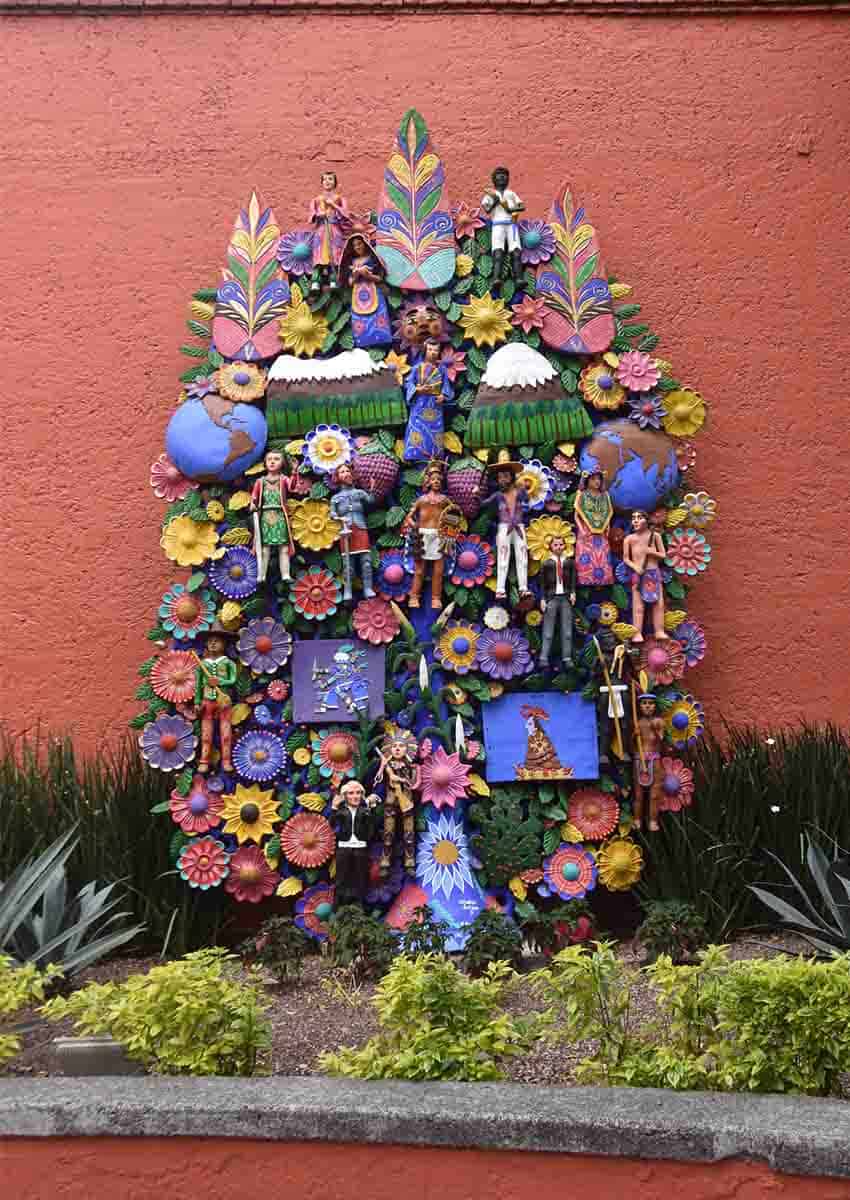 On a wall just to the left of the Arbol de la Vida is a second permanent artwork, the huge Tejedores de Sueños (Dream Weavers) mural, painted in 2010 by Mexican street artists Saner and Sego to commemorate the bicentennial of the Mexican War of Independence. The brilliantly colored mural contains masked figures, fantastic animals and insects — another piece of art that deserves several minutes of perusal.
The majority — maybe all — of the artwork in the museum's temporary exhibits is by people who have learned their craft from a family or community member. These are artists who didn't attend an art school or a university. Their art not only expresses the artist's vision but is also infused with their pueblo's history, thus preserving its cultural identity. 
The museum also gives conferences, concerts and other events celebrating the cultural diversity of Mexico. On Sunday, June 4, there will be a yoko savi, a traditional Mixtec petition for rain, with conferences, music and an art fair.
On weekends, there are usually stalls set up in the patios with artisans selling a variety of goods, including clothing, jewelry and food.
After perusing the galleries in the museum, which will take an hour or two, depending on what exhibits are on, take the time to enjoy Coyoacán, one of my favorite parts of Mexico City. 
If you want more art, there are several other nearby museums. The most popular is undoubtedly the Museo Frida Kahlo, also known as La Casa Azul, which is about a 10-minute walk from Coyoacán's center. Be aware that it gets packed on weekends; you should sign up online for a time to enter.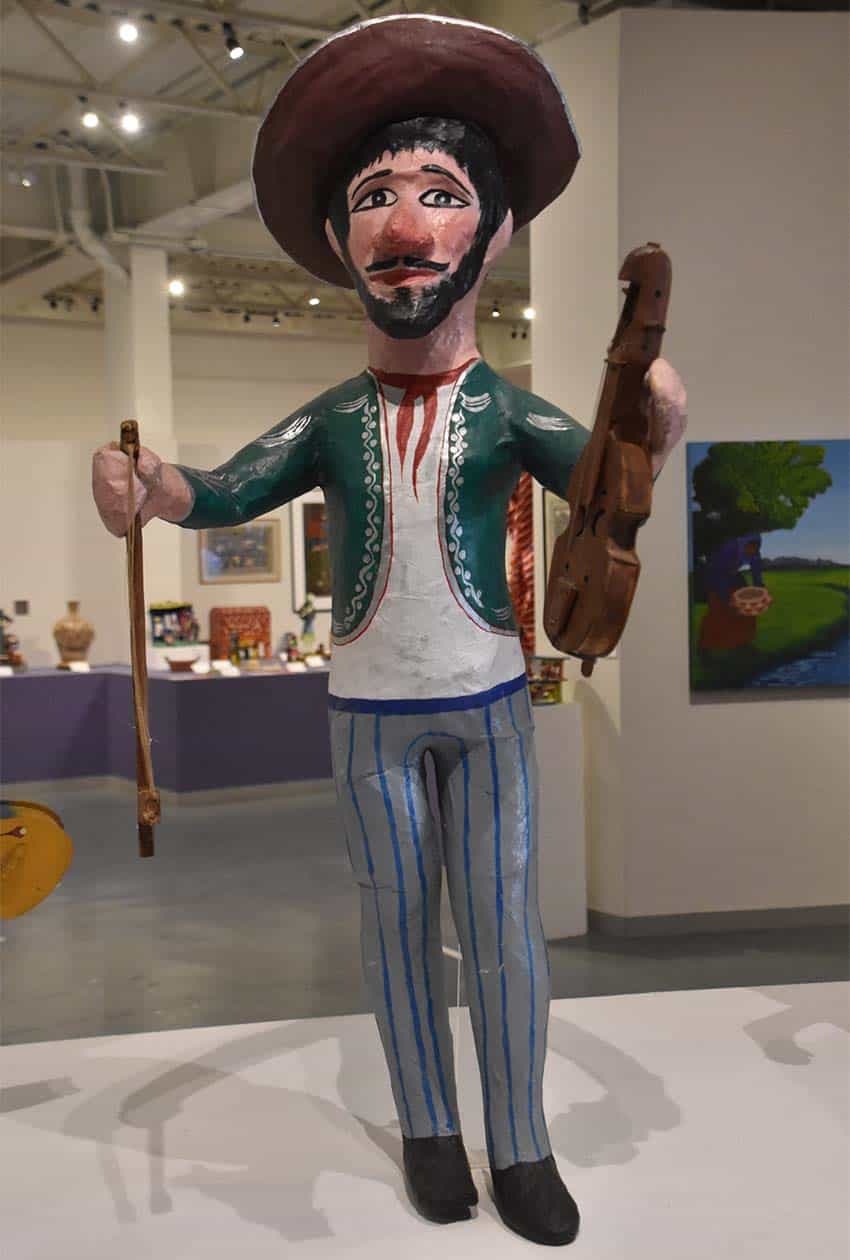 A little further away (about ten minutes by car) is the Museo Diego Rivera-Anahuacalli, which houses work by Mexico's most famous artist as well as pre-Hispanic art. There's also the Museo de la Casa de Leon Trotsky. 
The Russian revolutionary was a close friend of Kahlo's and Rivera's — as well as Kahlo's lover for a few years. The museum, located in Trotsky's former home in Mexico, has permanent and temporary art exhibits. It also has kept intact the room where Trotsky was murdered.
After all that art, take your time to meander around and discover what else Coyoacán has to offer.
The San Juan Bautista church, which dates from 1522, is a beautiful example of Baroque architecture. Also nearby is the incorrectly named Casa de Cortés. Though Hernán Cortés did settle in the area of Coyoacán, there is no proof that he lived in this specific yellow house. In fact,the building dates from the mid-1700s, long after Cortés made Tenochtitlán his empire. Legend — again, unproven — has it that the building sits on top of the site where Cuauhtémoc, the Mexica leader, was tortured. 
And if you like markets, there are plenty in Coyoacán. 
Casa de los Artesanos and the Mercado Artesanal Mexicano, two markets where artists sell traditional crafts, are definitely worth a look. And less than a 10-minute walk away, at the intersection of Malintzin and Ignacio Allende streets, you'll find the main food market, Mercado de Coyoacán. In addition to fresh fruits and vegetables, there are plenty of stalls where you can get a cheap and tasty meal.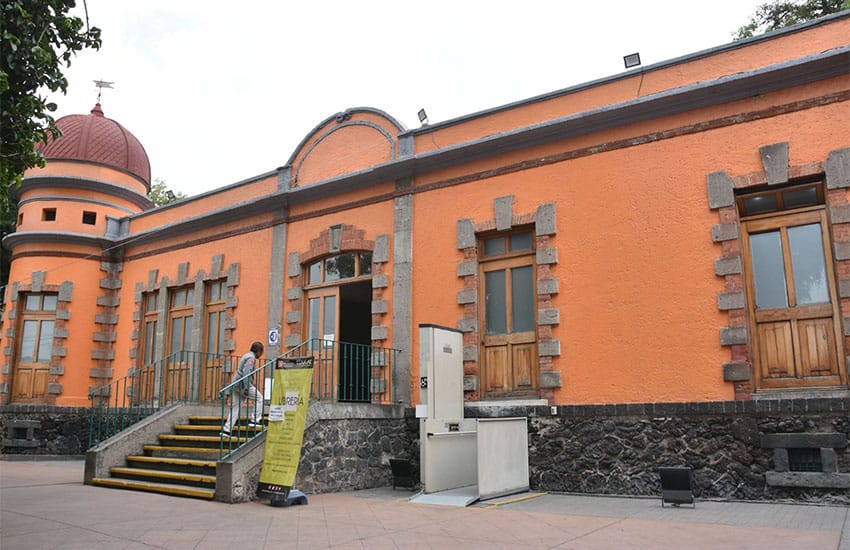 Rows of restaurants and cafés border the Plaza Hidalgo and the Jardín Centenario, two of the many picturesque squares that give Coyoacán its colonial character. Jardín Centenario, in the very heart of the neighborhood, is known for its fountain with a sculpture of two coyotes. (Coyoacán in Nahuatl is thought to mean "Place of the Coyotes")
Heading north of Jardín Centenario along Avenida México, you can reach Los Viveros de Coyoacán, a beautiful national park created by Miguel Ángel de Quevedo in 1901. Walking in that park — which is like walking through a forest — makes you forget you're in Mexico City!
It's always fun to grab a cup of coffee or an ice cream (or both) and hang out in the plaza and park, where, especially in the evening, there's always something going on: performances, music, tarot card readings, traditional cleansing rituals, and more. It's a great way to unwind after a long day of walking around Coyoacán's cobblestone streets.
The museum opens 11:00 Tuesday-Sunday and the entrance fee is $60 pesos (about US $3)

.
Joseph Sorrentino, a writer, photographer and author of the book San Gregorio Atlapulco: Cosmovisiones and of Stinky Island Tales: Some Stories from an Italian-American Childhood, is a regular contributor to Mexico News Daily. More examples of his photographs and links to other articles may be found at www.sorrentinophotography.com He currently lives in Chipilo, Puebla.