It's high season for monarch butterfly viewing in Mexico — the time of year when millions of butterflies arrive to their wintering grounds in the central highlands. These amazing insects migrate upwards of 3,000 miles to their winter habitat in the mountains in México state and Michoacán.
They're here from November through March, so there's still time to see them this winter. 
We made the trip to the monarch sanctuaries of Cerro Pelón and Sierra Chincua in January with our 10-year-old daughter, friends from the U.S. and their two kids (ages 10 and 13), as well as their grandmother in her 70s. We were pleasantly surprised to find out just how accessible and family-friendly the experience was.
First of all, you don't have to get up at the crack of dawn to see the butterflies. In fact, they aren't active until midday, when the sun is strong enough to warm their bodies. 
Secondly, you don't have to hike long distances. While their colonies are high up in the mountains, most sanctuaries have horses you can ride to the top. Thirdly, you don't need binoculars or spotting scopes like with most other wildlife viewing. In fact, the butterflies fly so close — some will land on you — you need to watch your step so you don't hurt any. 
Now back from our adventure and still abuzz with beautiful butterfly memories, I thought I'd share some tips for how to make your experience even more enjoyable if visiting the sanctuaries with kids (and grandparents).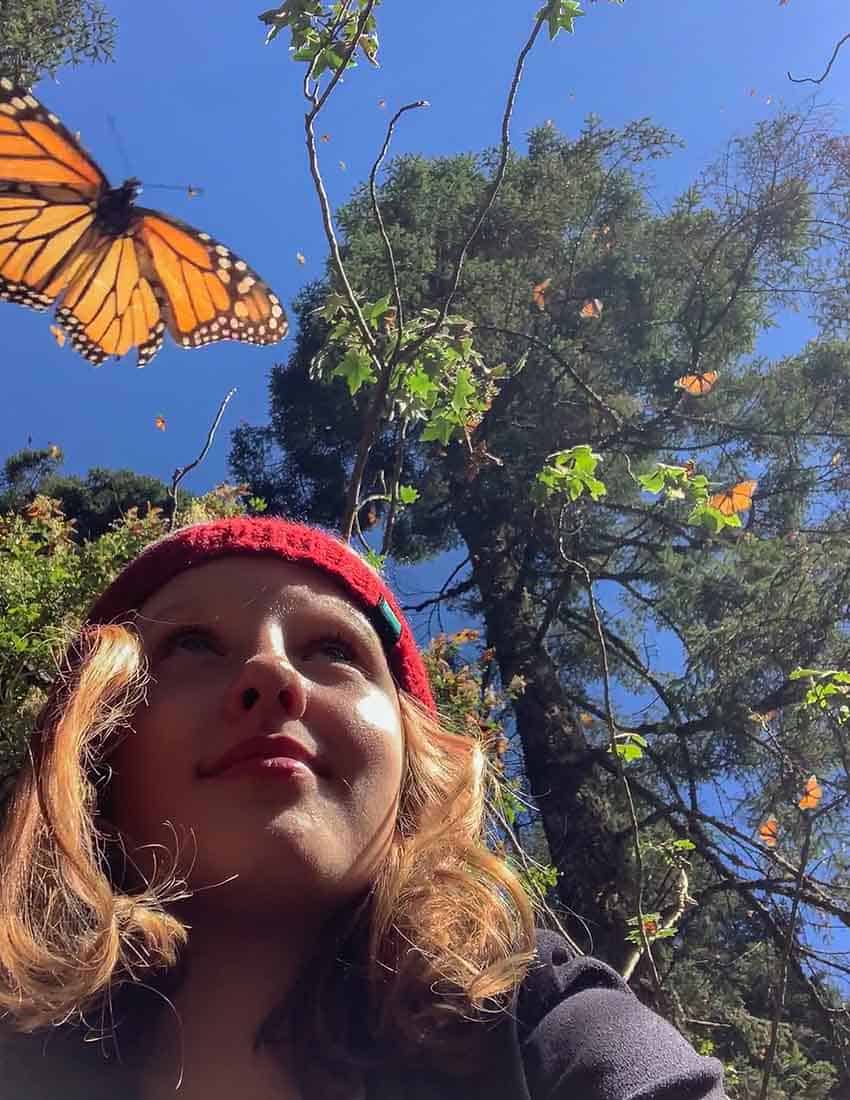 Plan to stay a few days
It's a good 3–4 hours from either Mexico City or Morelia to the nearest sanctuaries. A seven-or-more-hour round-trip car ride (with kids!) to spend just a few hours with the butterflies really isn't enough. And if you arrive too late, there's a crush of tourists. Instead, stay a couple days in the area and pick a few sanctuaries. 
We based ourselves in the town of Macheros, México state, where we stayed three nights at the Cerro Pelón Butterfly B&B. It's adjacent to the least-visited sanctuary of them all — Cerro Pelón, and owned by a local family that's been protecting the butterfly colonies for decades. Managers Joel and Ana Moreno, whose father, uncle and cousin worked as forest rangers here for more than 30 years, are continuing their family's legacy. 
Their beautiful B&B and guiding service caters to butterfly tourists worldwide, and their nonprofit, Butterflies and Their People, supports a new generation of forest guardians. 
With a pool, a big lawn where the kids can play, cozy rooms with fluffy robes, piles of fleece blankets (it gets cold at night!) and stuff to fix yourself a warm drink, this was the perfect home base for our group of eight. 
Pick the right sanctuary for your family
Each sanctuary offers visitors a unique experience, and some require a bit more effort than others to reach the butterflies. For families with younger kids and less mobile adults, El Rosario or Sierra Chincua is a good option, with its easier hiking trails and 15–20 minute horseback rides to the butterflies. There are bathrooms, food and craft stands, picnic areas and parking at the bottom. 
If visiting here, I'd recommend staying at the lovely Pueblo Mágico of Agangueo, Michoacán, a half-hour drive from either site. Have older kids or active older adults? Cerro Pelón is a must; it feels more like an adventure than the other sites.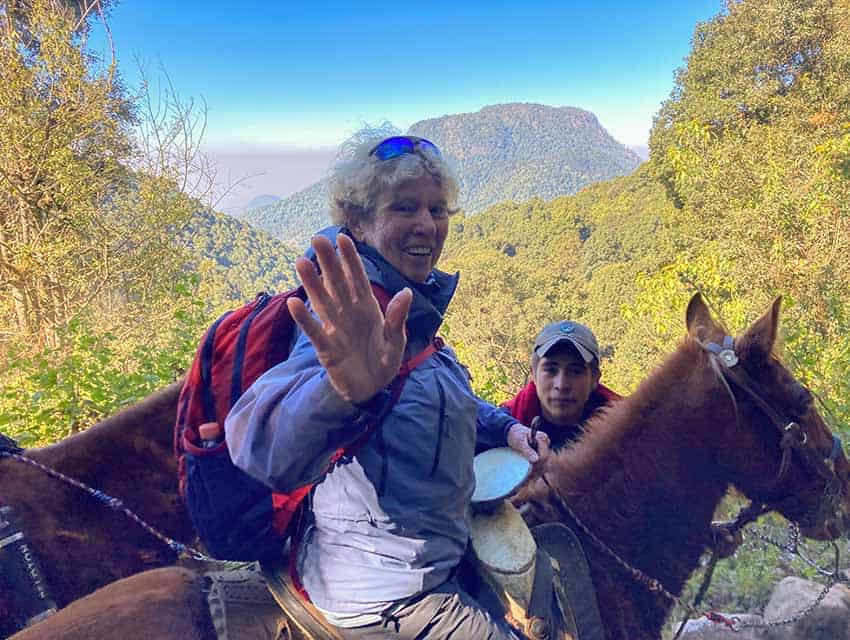 It's a little over an hour on horseback to the colonies, and a climb of 2,000 feet. (You can also hike it.) The view at the top feels much more intimate than at the more developed sanctuaries.
Trust me: hire the horses
All sanctuaries require you to go with a guide. You can either hike to reach the colonies or go by horseback with the guide leading the horse. If you're wondering which way to go on this, trust me, you want a horse — especially if you are traveling with kids. All the colonies are at about 10,000 feet in elevation, so even a short hike at that altitude can be taxing. 
Since the Cerro Pelón ride is the longest, I'd recommend visiting this sanctuary first if you are visiting more than one; if your bum is too sore to get back on a horse the next day, the hike on foot will be easier at the other sanctuaries. We opted for the horses every time, and the kids had a blast. 
Don't visit on weekends
The sanctuaries are far less crowded in the middle of the week. We visited Cerro Pelón on a Monday and were among just a small group of people quietly viewing the butterflies at the top of the mountain. It was magical, sitting and watching the butterflies fly all around us. Our whole group was mesmerized; even the kids never once said they were bored. 
We visited Sierra Chincua on a Tuesday and arrived just before the crowds got too big. It was a lovely viewing experience as well.

Bring creative tools for capturing the experience
Our younger girls spent time each afternoon drawing colorful butterflies, and the teenager brought her camera to take close-up butterfly photos. I thrilled at the sight of our kids entertaining themselves without screens after our day's adventures. One of them even said that they were glad not to have Wi-Fi at the B&B so that they could just have fun and create. (We didn't tell them the B&B had perfectly good internet.)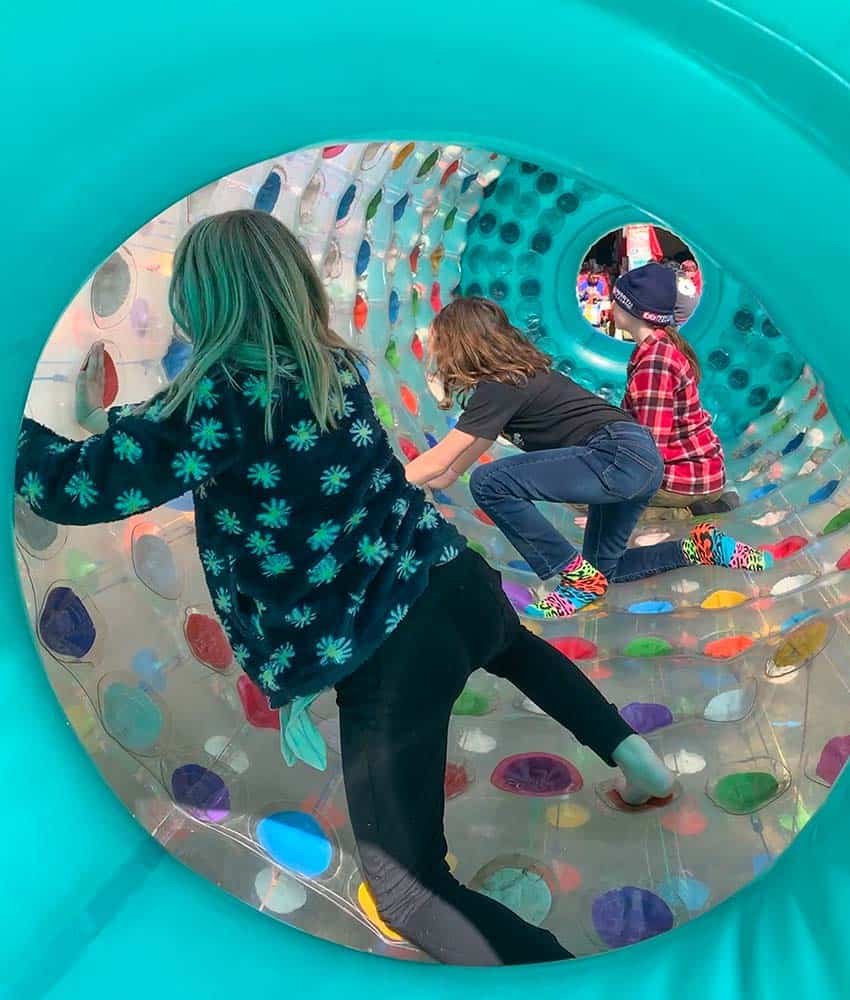 Hire a driver to get you there
After weighing all the options for getting to Cerro Pelón — buses, Ubers, taxis, etc. — we opted to hire a private van and driver. It cost us US $760 round-trip from Mexico City, but it wasn't much more than the two Ubers we would have needed. 
A van and driver meant we could stop whenever we wanted, and everyone had lots of space to spread out or nap. We arranged our driver through our B&B, so you might get a better deal if you find one on your own, but the turnkey service was so worth it and our driver was such a pro.
Our driver, Hector, made a stop at La Marquesa — a national park in Toluca off the Mexico-Toluca highway — where you can ride horses or quad bikes, fish, go boating and more. Or, do what our kids did: tumble around in a giant, inflatable gerbil ball!  
Our time with the monarchs was one we'll never forget. And now that we know how family-friendly it can be, we are already thinking about a return trip with our daughter's grandparents next year.
Debbie Slobe is a writer and communications strategist based in Chacala, Nayarit. She blogs at Mexpatmama.com and is a senior program director at Resource Media. Find her on Instagram and Facebook.