To the dismay of most Mexico City natives, I love Puebla. 
There is an undeniable release the moment I step into this city. The pace slows, the sun shines, its brilliant architecture and pastel colors ignite.
A grid-like layout and clean streets makes navigation easy. There are more churches here than in any other city in Mexico, feeding the religious undertones that permeate local life here. 
I find myself thinking of Puebla city often, planning my next escape before I've even left my current one. So allow me the pleasure to take you on a little tour around town, starting with the staples.
Museo Amparo: A comprehensive showcasing of Mexico's art history from pre-Hispanic to modern contemporary. Meander through a typical 19th-century viceregal abode or admire original Talavera tile. 
Calle de los Dulces: Candy lovers rejoice! There is an entire street dedicated to Mexican candy here, spawned by Victoria Ortiz, a poblana (person from Puebla) who opened the city's very first candy shop in 1892.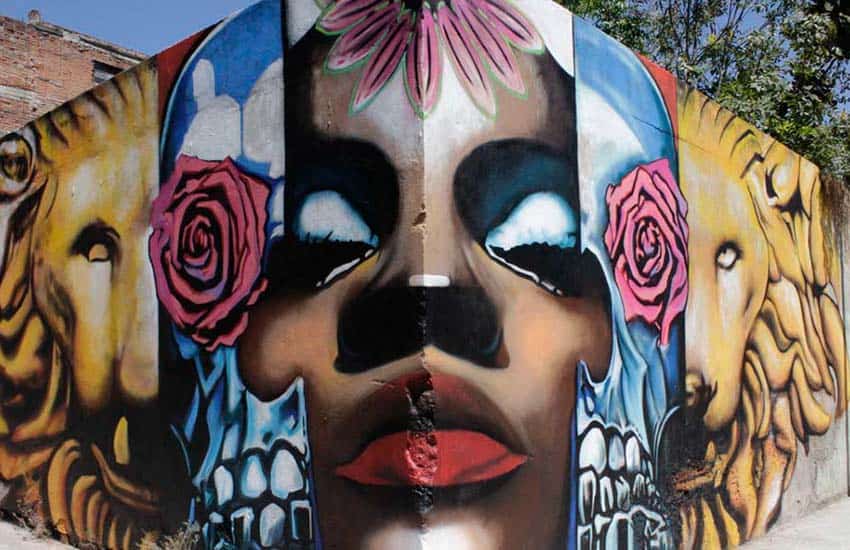 You could feasibly stuff your face for an entire afternoon (though I don't recommend it) with dozens of local sweets, from camotes to novias and everything in between. 
Xanenetla Murals: Once a dicey section of town, Xanenetla has been transformed into a beautiful open-air art museum, undulating with hundreds of colorful murals everywhere. From here, be sure to take the "Secrets of Puebla," tour, fascinating journey through Puebla city's mysterious underground tunnel system, which dates back to 1531.
Roman Catholic Cathedral: Standing proud in the city's main square is one of the most stunning churches in the country. Construction began in 1575 and was completed in 1690, and its ornate, baroque design is reminiscent of the St. Vitus Cathedral in Prague.
The Chapel of the Rosary: Often touted as the "eighth wonder of the world," this incredible chapel in the center of town is simply dripping with gold. it's worth a look.
Callejón de los Sapos: Aside from this delightful little street (whose name means "Frog Alley") being Puebla's most Instagrammable location, it's also swarming with antique shops and one of my favorite gems: Mesones Sacristía, an eclectic 19th-century mansion-turned-hotel that offers authentic Mexican cooking classes inside its original kitchen.
Biblioteca Palafoxiana: This is quite the library. And it's not only for its looks — like the arched vaulted ceiling and dark wooden staircases. This national historic landmark holds more than 45,000 books dating back to the 1500s, and it was the first public library established in all of the Americas.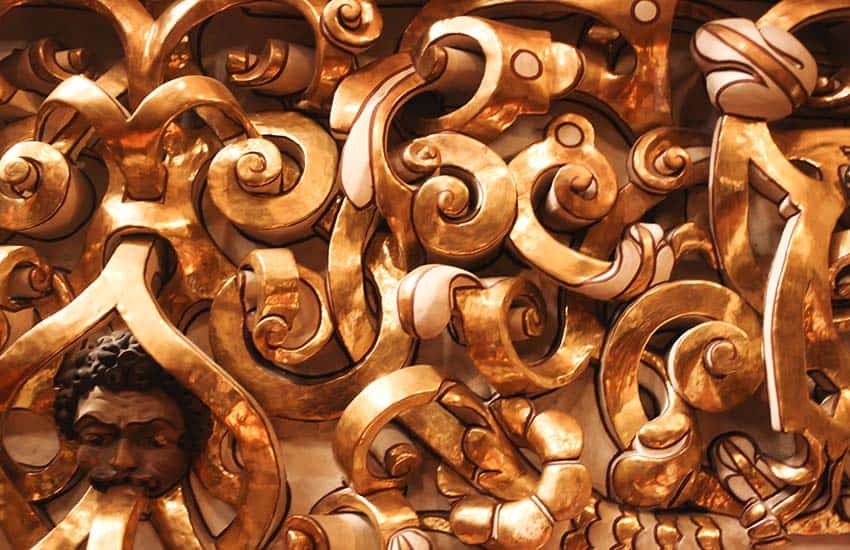 Museo Internacional del Barroco: The building's sleek, minimalist look diverges nicely with an opulent baroque collection. There's a theme for everyone, with exhibitions that touch upon science, nature, and poblano history. Consider it an afternoon well spent.
El Barrio del Artista and El Parián: This cozy little corner of Old Town is known for its lovely fountain, art studios and live music. It feeds into El Parian, a traditional handicraft market, where you'll find a variety of brilliant textiles and Talavera tiles.
Ruins behind La Purificadora: Take a stroll to Hotel La Purificadora, where not only can you enjoy the elegant design of the building itself you can also meander to the courtyard behind and casually stumble on some 16th-century ruins. This is said to be the very spot where Puebla was officially named in 1531.
This town simply explodes with activity. But what is Puebla really known for?
Gastronomy.
A host of dishes attributed to Mexico were born here. Mole polano, chiles en nogada, chalupas, and rajas poblanas are just a few of the region's famous (and delicious) foods. 
Tasting everything is one tough obstacle to tackle, and that's coming from someone with an uncommonly large capacity for food. I've made several trips to Puebla to eat as much as possible, and even as a sort-of vegan, it has yet to disappoint. 
Because I'm fancy, I love a good rooftop bar, and Attico 303 is smack in the center of downtown with sweeping views of that gorgeous cathedral. Reviews on Open Table have deemed its cuisine "exceptional."
However, I had already committed to vegan mole at El Mural de los Poblanos, an artsy restaurant fully dedicated to regional cuisine. It was divine. 
To escape the tourist crowd, I like Restaurante La Noria. A uniquely-crafted menu pays homage to local ingredients, and its origins as an hacienda lends to lively terrace dining. 
Post-dinner calls for a libation, and there is no shortage of mezcalerías in Puebla. My personal favorites are Licorería San Pedrito for its ambience: part church vibes, part bar — a contrast that feels so wrong it's right. There's also — Licorería's chic, sophisticated older sibling.
For pulque fans, the seductive Caléndula Pulque Bar caters to a cool, laid back local crowd.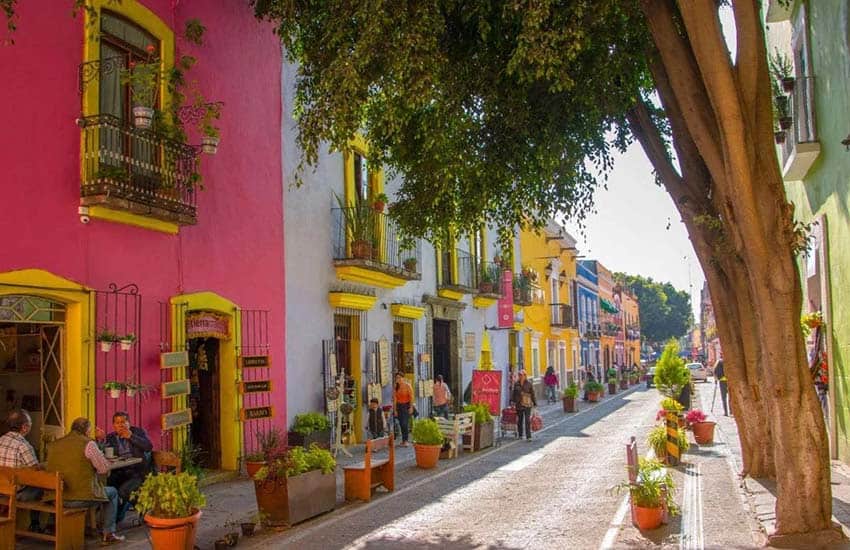 It wouldn't be a trip to Puebla without a pasita. What started as a grocery store quickly turned into the city's most famous bar. La Pasita is known for many quirks, including a raisin liqueur, served in a tequila glass with a goat cheese chunk speared by a toothpick. (To be imbibed at any time of day, without judgment.)
If raisins don't call you, head to Casa Zea, a stylish tasting house where Chef Gustavo Macuitl's exquisite dishes are paired with something special — vodka, made from locally-sourced corn. 
Finally, churros. I mean, what is a weekend escape without them? Head to Antigua Churreria de Catedral. Are they the best churros in Puebla? Who knows. The guaranteed line at this place, at any time of day, leads me to believe that they just might be.
Bethany Platanella is a travel and lifestyle writer based in Mexico City. With her company, Active Escapes International, she plans and leads private and small-group active retreats. She loves Mexico's local markets, Mexican slang, practicing yoga and fresh tortillas.  Sign up for her (almost) weekly love letters or follow her Instagram account, @a.e.i.wellness.