Tucked away on the Morelos-Puebla border is a community that demonstrates that not all of Mexico's magical towns are Pueblos Mágicos.
"Zacualpan is a little agricultural village with great tradition and culture. Very pretty too," says 18-year old Daniela García Caltempa, the town's "Barter Queen."
Zacualpan de Amilpas remains small, with only about 10,000 residents whose lives revolve around the town's 16th-century church and monastery and its agriculture.
It's almost a jump back in time, even though the municipality is only 81 km from Mexico City, just off Highway 160, which links the capital with Oaxaca. Local historian Israel Sandoval Martínez takes great pride in that. 
"The municipality has managed to preserve much of its unique character despite being so close to Mexico City," he says. 
Zacualpan's story begins over 3,000 years ago with Olmecs in the region, later Toltecs and Chichimecas. As part of lands under the dominion of the Triple Alliance (the Mexica Empire), it was an important agricultural area. After the fall of Tenochtitlan, the Spanish quickly built a monastery-fortress here, one of a series that are now World Heritage Sites.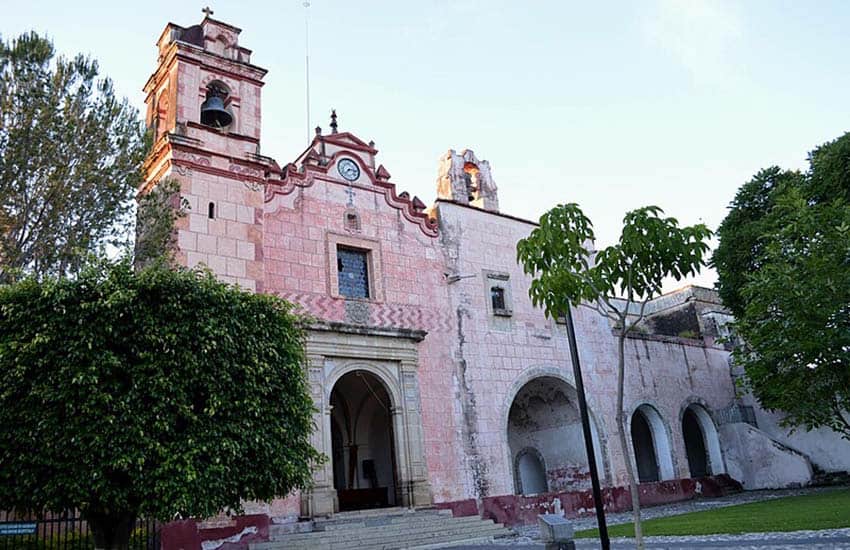 The town's name comes from Nahuatl and means "atop something covered," which is believed to refer to a pyramid that has not yet been discovered. Some say this pyramid is outside the town, but the church-monastery, Inmaculada Concepción, is significantly elevated over the plaza, possibly over a Mesoamerican base. 
As small and quaint as the town is, the communities outside are even smaller and more isolated. They include the communities that were originally worker housing on old haciendas.
Zacualpan's agricultural heritage is strongly shaped by its unique environment. Located on the lower slopes of Popocatépetl, it is filled with hills, ravines and box canyons. At 1,640 meters above sea level, it is in a transition zone from pine and oak to tropical forest, which allows for the cultivation of a wide variety of fruits and vegetables. 
This agriculture shapes the local cuisine. Zacualpan has its own variety of mole, said to have been invented by the monastery's monks. More prominent is its aguardiente de caña, a spirit made from sugar cane. Locals might tell you they cannot legally call it rum (not true), but that is what it is — and a good one too. Aguardiente de caña is most commonly enjoyed flavored with local fruits and herbs as a digestif.
Like other rural towns, Zacualpan's annual festival calendar is important, particularly the festival of its patron saint, Our Lady of the Rosary, in late September. Like other such festivities in Morelos, it is celebrated with food, fireworks and Chinelos dancers but also features the mojiganga.
Like the more commonly-known puppets of the same name, the purpose of this festival is to lighten the mood after the serious religious processions and masses are concluded. Zacualpan's mojiganga is a carnival-like celebration, where comparsas (like Mardi Gras krewes) spend the year making new, elaborate costumes and floats to parade in town only once. Costume themes vary, but the distinctive feature is the use of a hard papier mache for masks and sometimes other elements.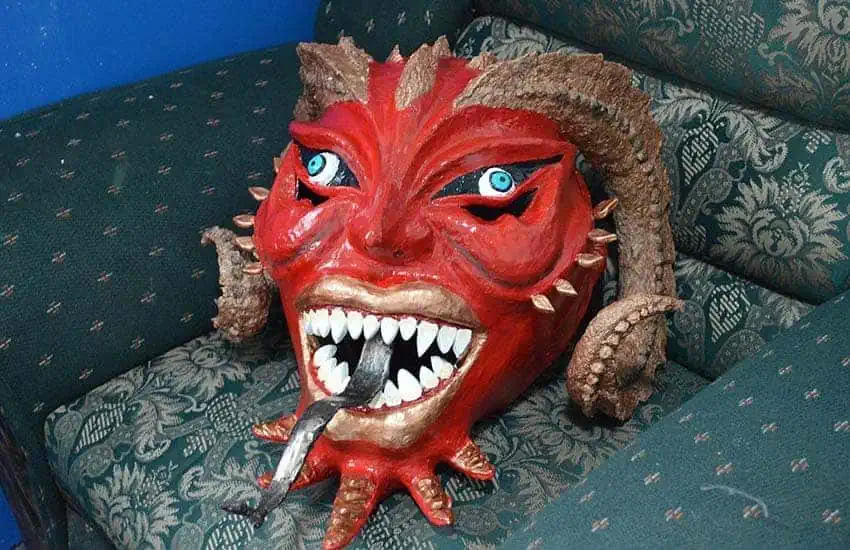 Although there are precedents in the 19th century, the modern mojiganga emerged in 1965, with young men dressing outlandishly in old clothes and using jugs for masks. In the 1970s, the Falfan family introduced papier mache, and the jugs gave way to paper helmets.
The festival draws tens of thousands spectators regionally. In addition to being important economically, Sandoval Martinez says that it remains important to locals because it helps to preserve community ties. 
During the rest of the year, the best time to visit Zacualpan is Sunday morning: market day. Oddly enough, even the municipal market is empty the rest of the week. Everyone does their shopping on this one day, with open air stalls filling the center starting at 6 a.m. It is a very authentic tianguis market, but arrive early because just about everything sells out by 2 p.m. 
There is one very special segment of this tianguis: the "barter market." A rare vestige of how tianguis used to operate in the Mesoamerican period, the barter market survives because many families still rely on growing much of their own food and are so isolated that they have little monetary income. Instead, many exchange excess produce — mostly tomatoes, limes, cucumbers, onions — and  small handcrafts with their neighbors.  
This tradition is so important to the town's identity that each year in October, they select a young woman to be the Barter Queen. Her duties are to participate in the year's festivities, including the mojiganga, teach visitors about how bartering works in the town, and represent Zacualpan to the rest of Morelos and beyond. 
This year's Queen is Daniela García Caltempa, who sheepishly admits that while she competed for the title "somewhat out of vanity," she believes strongly in maintaining Zacualpan's unique identity.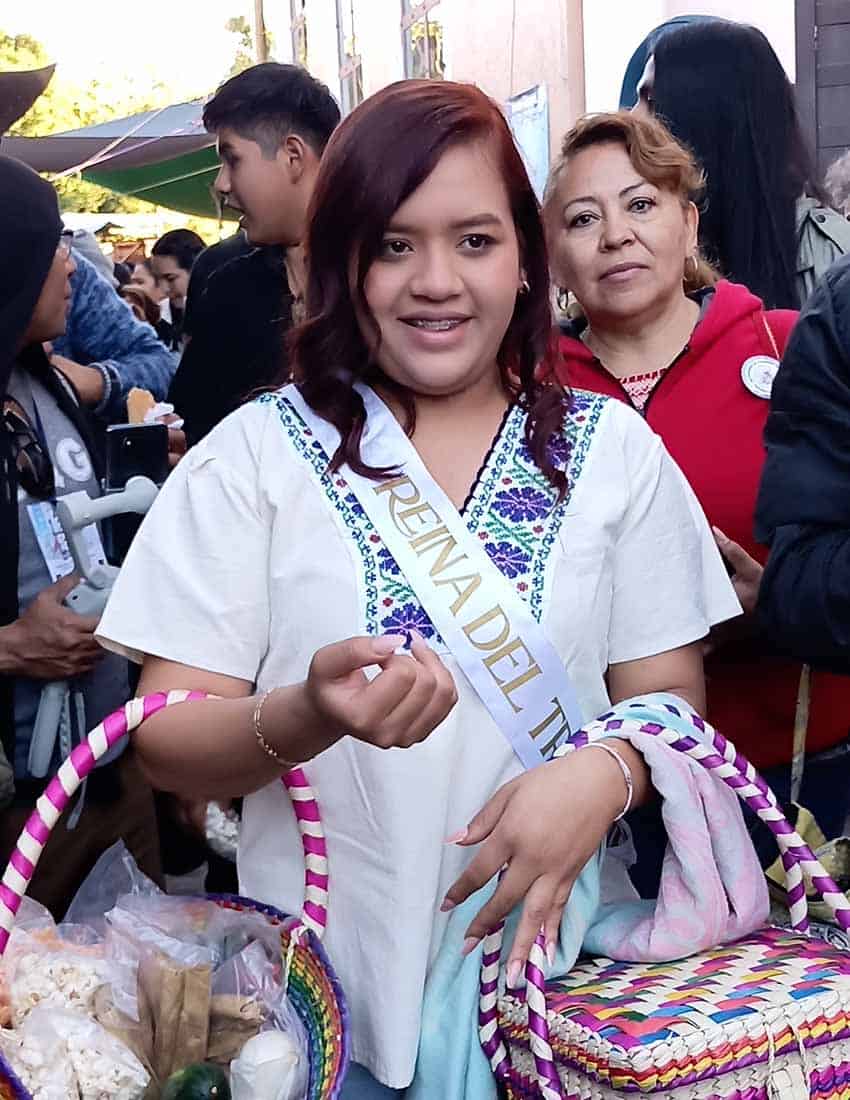 Zacualpan is proud to have maintained its identity to the present day, but it hasn't been easy. Sandoval Martínez says the town has changed greatly during his lifetime, with the (late) introduction of electricity, asphalt roads and telephones, accompanied by deforestation and now problems with the formerly abundant water supply. 
The main problem, he says, is not an influx of outsiders. As the local population has grown, people have subdivided land and built new houses, marginalizing old agricultural practices.The loss of family gardens and farms, he believes, represents a loss of self-sufficiency and a "lack of consciousness."
Zacualpan does not seem to be particularly opposed to Pueblo Mágico status. It is included in the state of Morelos' Pueblos con Encanto (Charming Towns) program, created when the federal Pueblos Mágicos ran into political difficulties. 
When I was last there in March, I was asked if I would write an article, to which I replied that if I do, please take care that too many gringos/foreigners don't move in and change everything.
Leigh Thelmadatter arrived in Mexico over 20 years ago and fell in love with the land and the culture in particular its handcrafts and art. She is the author of Mexican Cartonería: Paper, Paste and Fiesta (Schiffer 2019). Her culture column appears regularly on Mexico News Daily.