Inflation continued to decline in the first half of September, but the annual headline rate remains above the central bank's target ahead of a monetary policy decision next week.
Annual headline inflation was 4.44% in the first half of the month, the national statistics agency INEGI reported Friday, down from 4.64% in August. Consumer prices rose 0.25% compared to the second half of August.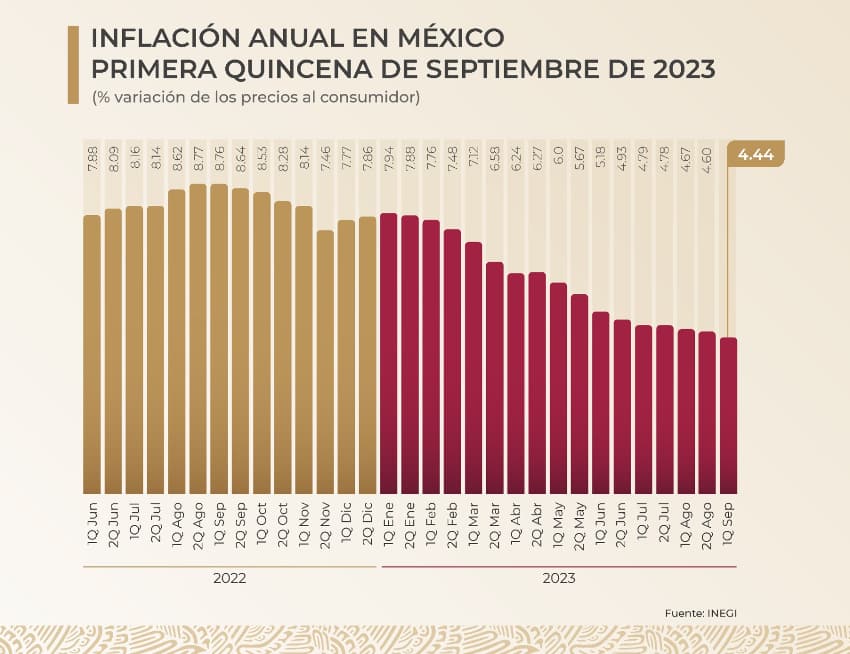 The annual core inflation rate, which excludes volatile food and energy prices, was 5.78%, down from 6.08% in August. The core index rose 0.27% compared to the second half of August.
The annual headline rate is slightly lower than analysts forecast while the core rate is slightly higher. Inflation has declined every month since February, after the headline rate spiked to almost 8% in January.
The publication of the latest inflation data comes six days before the Bank of México (Banxico) board meets to discuss interest rates. Banxico targets 3% headline inflation with tolerance for one percentage point in either direction.
The central bank's benchmark interest rate was raised to a record high of 11.25% in March and kept at that level following monetary policy meetings in May, June and August.
Given that the headline rate remains above the Banxico target, it appears likely that board members will vote once again in favor of maintaining the record high rate next Thursday.
After the Aug 10. monetary policy meeting, Banxico said, "In order to achieve an orderly and sustained convergence of headline inflation to the 3% target, [the board] considers that it will be necessary to maintain the reference rate at its current level for an extended period."
The central bank raised its benchmark rate by 725 basis points during a hiking cycle that began in June 2021 and didn't end until its decision in May to maintain the 11.25% level.
With reports from El Economista and El Financiero