Maybe you, like me, love pineapple in any way, shape or form: fresh, sweet and juicy; cooked and caramelized; in sweet or savory dishes… Even just the smell of a ripe piña on the counter or when you cut one is enough to make me smile in anticipation of the delicious treat ahead. 
And that's been one of those little blessings about living in Mexico: the easy availability of fresh tropical fruits. (Don't even get me started on mangoes!) So it should come as no surprise that Pineapple Upside-Down Cake is high on my list of favorite desserts.
First things first: how to pick a great pineapple?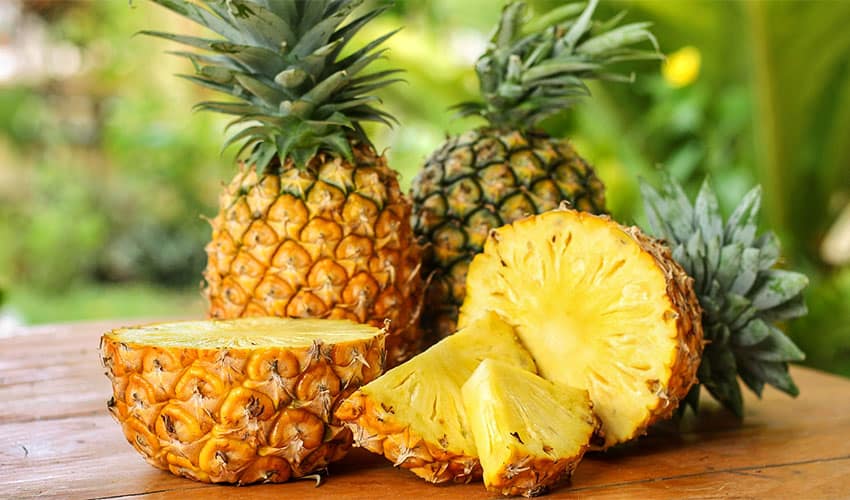 You want one where the golden yellow color is visible "behind" the green, more raised parts of the skin. The picture above shows the difference: unripe and green on the right, ripe and golden on the left. (It drives me crazy watching contestants on "The Great British Bake Off" use bright green, unripe pineapples in their bakes!) 
At that ripe stage, it should smell deliciously sweet, and sometimes you'll be able to easily pull a leaf or two from the top with no resistance, although that's not always the case. Tip from a pineapple lover: when they're in season, the Miel (honey) variety — small, roundish and kind of adorable — are incredible. 
Without a corer, you need to have patience and finesse — and a really sharp knife — to cut your fresh pineapple into perfect rings. Is it possible? Of course. 
My method is to twist and break off the leaves, cut the top and bottom ends off and then cut the whole thing cleanly in half vertically, and in half again, this time horizontally. Next, carefully cut out the cores and then slice into ½-inch half-circles. That's the best I can do, and it's just fine. 
That said, there are all sorts of ways to place the pineapple on your cake: classic rings, half-circles, triangles, even chunks. Slivered or shredded dried coconut, sliced mango, pecans and — yes, if you must — maraschino cherries can be added too. And then there's this Apple Upside-Down Cake, for a horse of another color.  
You could, of course, use canned pineapple, already cut into perfect rings. And you could also just use a packaged yellow cake mix, mixed and poured on top of the pineapple in the pan. But we're made of better stuff than that, now, aren't we? And with fresh pineapples so easy to come by here, there's really no reason not to make this classic dessert from scratch. 
Things to watch out for: Don't cook the sugar syrup too long, or it will turn into candy. You don't need to use a food thermometer — just keep an eye on it, use a timer and don't cook it for more than 2–3 minutes. Do you need to use parchment paper to help the cake come out of the pan? You can, but, personally, I haven't found it necessary. The buttery syrup on the bottom ensures the cake will release easily — as long as you do it when the cake is still warm.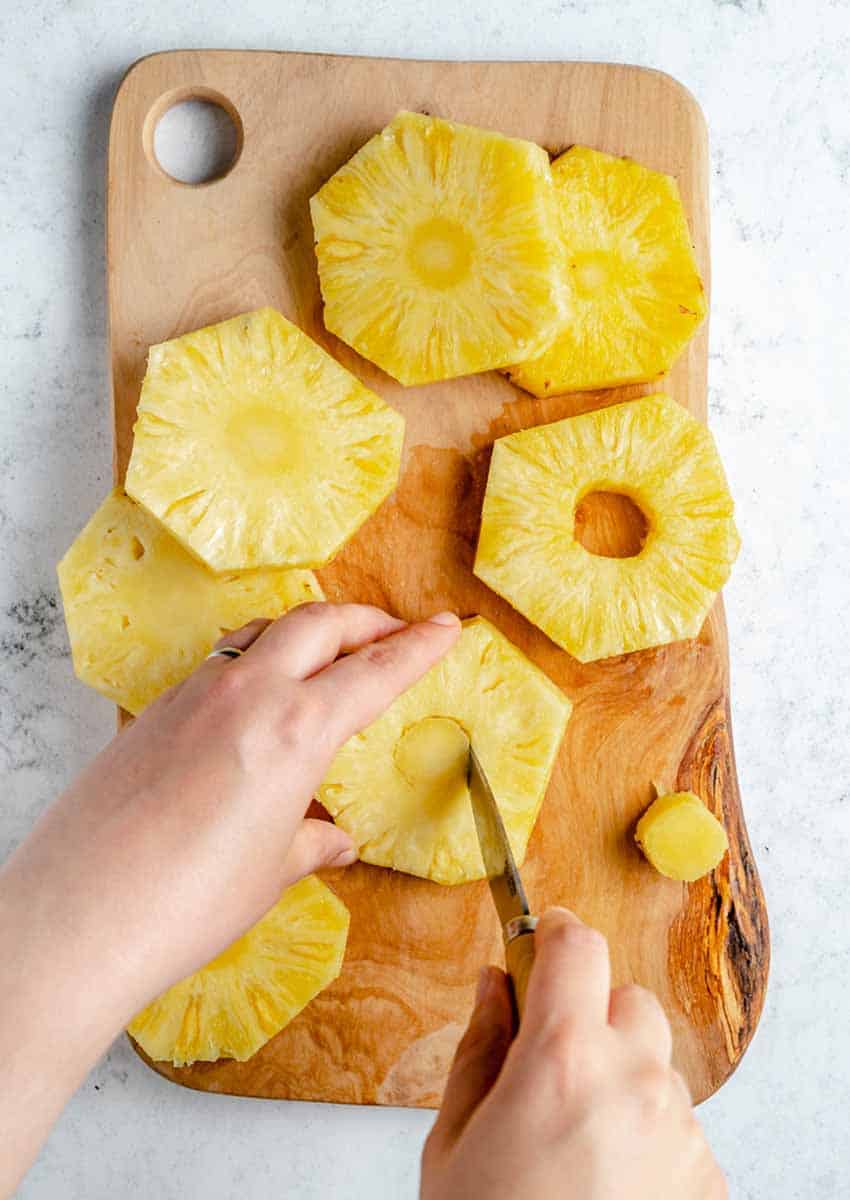 The original recipe calls for using a cast-iron skillet, so use one if you have it. Don't fret though — it works just as well in a cake pan or a stainless steel skillet. Skillet cakes with fruit, while popular for centuries in Europe and then America, only included pineapple after about 1920, when Dole invented a machine to cut pineapples into perfect rings. 
One more note: This cake recipe may seem a bit complicated, but it's really not — there are just a lot of simple steps. You're sifting the dry ingredients (remember, airy flour equals a light cake), beating the egg whites till fluffy, whisking the yolks and then combining everything. These extra steps make a memorable cake.
Fresh Pineapple Upside-Down Cake
For the cake:
1-2/3 cups all-purpose flour

2 tsp. baking powder

¾ tsp. salt

2 large eggs, yolks separated from whites, at room temperature

8 Tbsp. butter, at room temperature

1 cup sugar

½ cup milk, at room temperature

1 Tbsp. vanilla extract
For the topping:
4 Tbsp. butter, cold

¾ cup brown sugar or grated

piloncillo

, packed

One medium fresh pineapple, cut into rings, half-circles or chunks 

Optional

: 1 dozen maraschino cherries, pecans, dried coconut
Preheat oven to 350 F (177 C). Lightly grease a 9-inch cast-iron skillet or a 9×2-inch square or round cake pan.
Whisk or sieve together flour, baking powder and salt. Set aside. Whisk egg yolks; set aside. Beat whites separately until light and frothy; set aside.
With a mixer, cream butter until soft and smooth. Gradually beat in sugar, then egg yolks, mixing until smooth. Add milk alternately with flour mixture, mixing gently but thoroughly after each addition. Fold in beaten whites, then vanilla. Batter will be thick.
To make the topping, melt butter in the skillet, if using; sprinkle sugar evenly on top. Simmer about 2 minutes until sugar lightens in color and begins to bubble and crystallize. If using a cake pan, melt butter and sugar in a saucepan and then transfer to cake pan. 
Remove from heat and gently arrange pineapple on top of hot syrup and pecans or coconut, if using. (Cherries go in after baking.) Spoon batter on top. Bake cake 35–45 minutes, until toothpick inserted in center comes out clean.
Remove cake from oven. Using a knife, loosen edges. Let cool 5 minutes, then lay a plate on top of cake and quickly invert. Lift the pan off the cake, scraping any pineapple or brown sugar from the pan onto the cake, if it sticks. If using cherries, place them atop the warm cake, pressing in gently. 
Best served immediately while warm. Store at room temperature, well-wrapped, for several days; freeze for longer storage. — Adapted from King Arthur Baking
Janet Blaser is the author of the best-selling book, Why We Left: An Anthology of American Women Expats, featured on CNBC and MarketWatch. She has lived in Mexico since 2006. You can find her on Facebook.