Imagine placidly taking in the sights of Mazatlán's beautiful oceanside promenade when you lay eyes upon a five-to-eight-meter tall, 500 kg, colorful and delightfully fantastical creature! You pause to marvel, then keep walking, biking, or driving to realize there are at least 10 more of these gorgeously exciting statues. 
You've encountered a Mazatlán annual tradition: the monigote.
Monigotes, Mazatlan's iconic Carnaval "rag dolls" are giant handmade papier mache sculptures that are a long tradition in this western coastal city's famous public street party. They seem to become more colossal and more popular every year.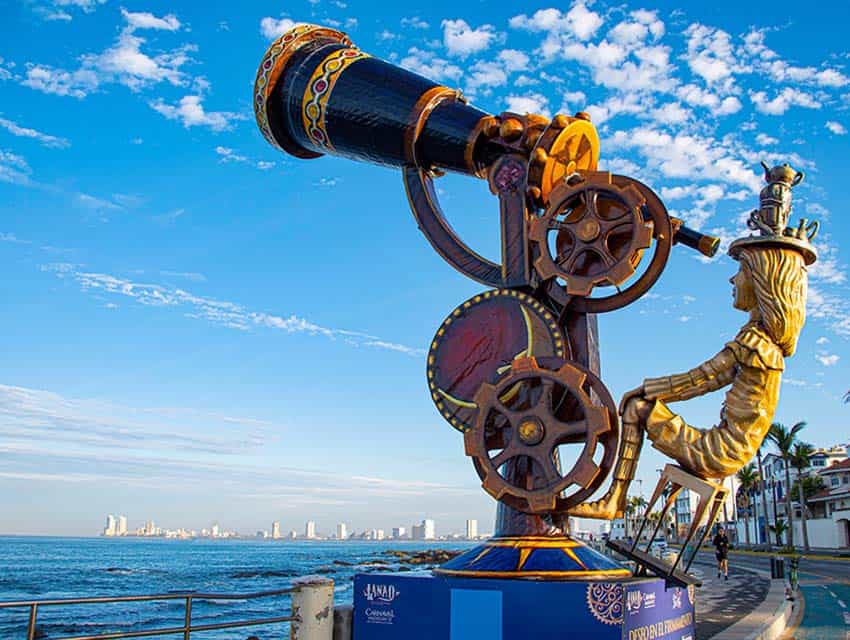 Monigotes have been part of Mazatlán's Carnaval since the 1800s. Each year, the monigotes reflect the Carnaval theme.
For "Festival of the Empires" Mazatlecos were treated to huge warriors from major world civilizations. For "The Magic Lantern," the statues were gigantic likenesses of international film stars. 2023's theme is "Dejavú: 125 Years of Tradition." 
This year, the Pacific port city will celebrate 125 years of its official fiesta máxima from February 16–21.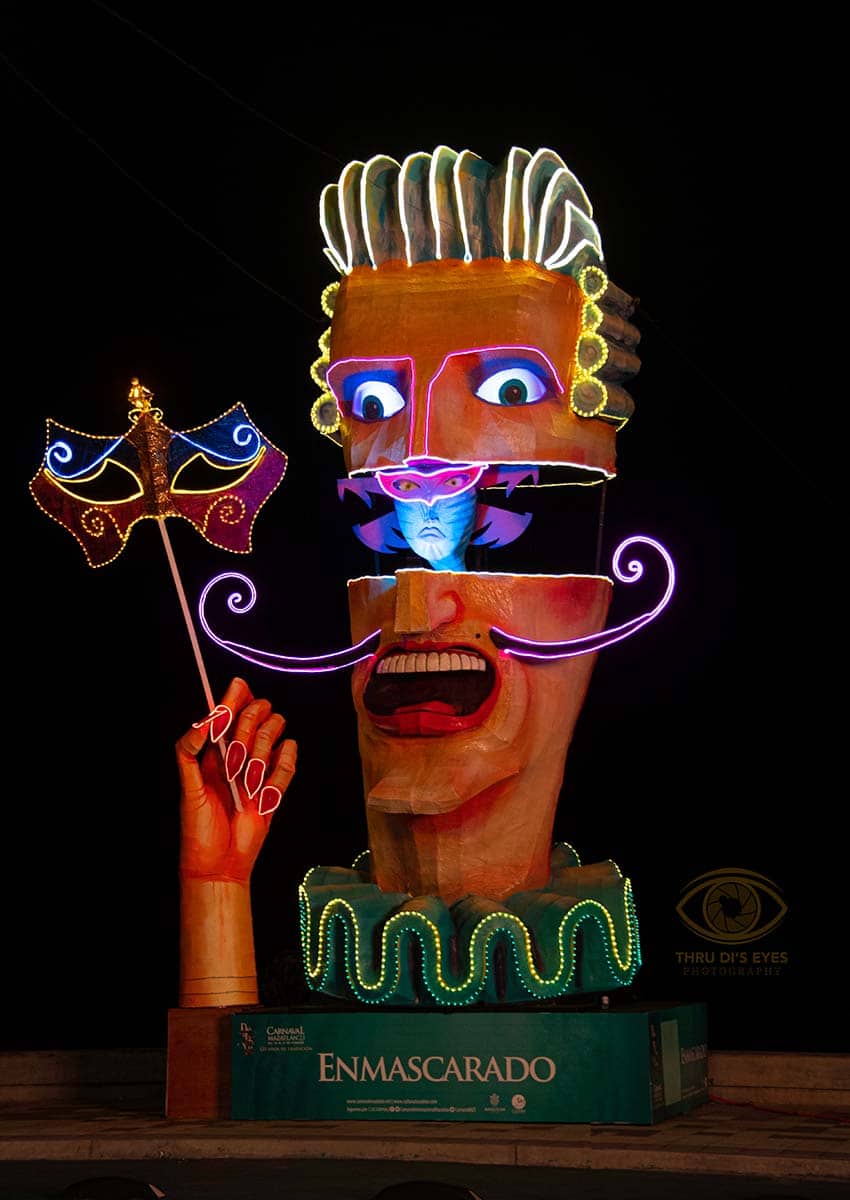 As soon as the year-end holidays finish in early January, mazatlecos begin anxiously awaiting the arrival of the city's monigotes.
Locals and tourists rush to be the first to unveil a new Carnaval giant on social media or to capture Instagram moments with these huge sculptures at sunset or in the glow of night. Local taxis called pulmonías stop traffic so tourists can take photos. 
The tradition was lost in the mid-20th century but revived in 1990 and is now more popular than ever. 
Monigote artists first get their designs approved by the municipal entity CULTURA, which helps put on Mazatlan's Carnaval. The artists then weld metal forms and cover them with manta — a gauze-like cotton fabric.
The textile is in turn covered with paper, then painted and sealed with varnish. In more recent years, LED lighting has been attached to some of these sculptures.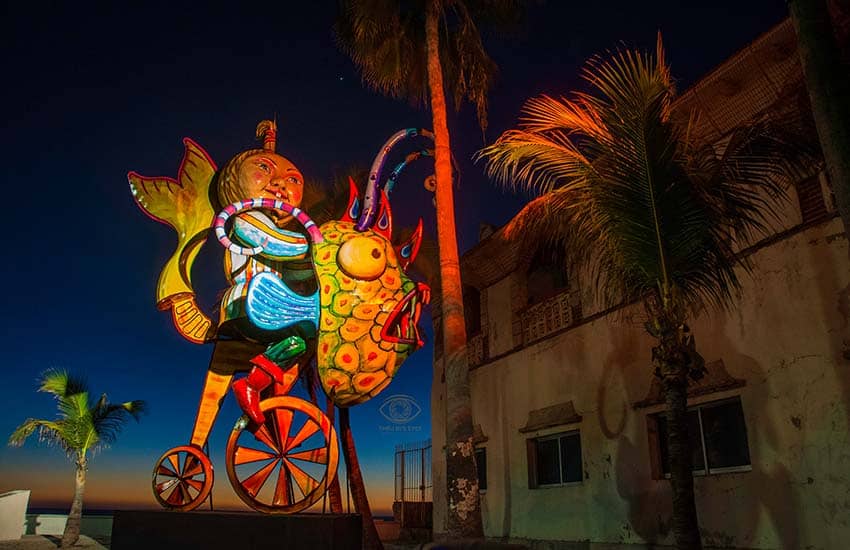 It takes a crane and 25 people to fight the ocean winds and set up each of these whimsical creatures.
Mazatlán's celebration of Carnaval (aka Carnival, the Christian festivities prior to Lent) is widely acknowledged as the third largest one in the world. The city's rich immigrant heritage has blessed it with Mexico's oldest Carnaval tradition, dating back at least to 1827. 
It's a community-wide, intergenerational family event, long associated with regional banda and tambora music. This year's headliner is none other than the city's own international recording stars, Banda MS, who are celebrating their 20th anniversary. 
The festivities include four coronations of Carnaval kings and queens (involving incredible concerts, drama, dance and fireworks); two huge oceanside parades with jaw-dropping floats and dancers; daily street parties with numerous band stages; two or more balls; the Burning of Bad Humor event and a world-class fireworks show in the Olas Altas party zone.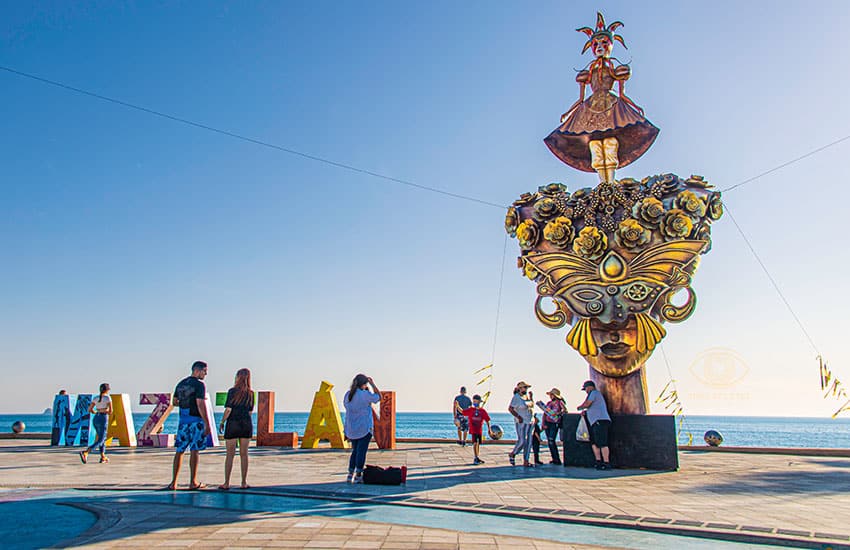 Although most of the street events are free, tickets are required for some events, and there is a nominal entry fee to the Olas Altas party zone.
You can buy tickets at the Ángela Peralta theater and at a ticket office in the historic center.
Dianne Hofner Saphiere is a photographer and interculturalist who has lived in Mazatlán since 2008. Her photographs can be found under "Thru Di's Eyes" on FB, IG or her website, www.thrudiseyes.com. She also runs the expat website www.vidamaz.com.