While "always the bridesmaid, never the bride" could be the song sesame seeds usually sing, their crunchy, nutty flavor perks up many a dish. 
You'll find them in basics like bread and rolls; in sweets like brittles, bars and cookies; and in an international roster of savory dishes that includes everything from tahini and tuna poke to salsas and crusted fish and poultry. 
Japan and China prize sesame oil; Arabic countries make hummus and halvah and use tahini (sesame seed paste) in all sorts of dishes; in France and Sicily, a plethora of traditional breads and breadsticks depend on the little seeds — also called benne — for their crispy, nutty flavor. 
This popularity is partly because the sesame plant grows easily in tropical climates, needing little care. It is drought- and heat-tolerant and well-suited for cultivation in desert areas like India and Africa, which produce the most. 
Mexico is also a big producer of sesame seeds, mainly in the states of Oaxaca and Guerrero. (Interestingly, most of Mexico's crop is exported to the U.S. by McDonald's for its hamburger rolls!) The edible seeds grow in pods that look much like okra and are prized for their high oil content and rich, nutty taste. After pressing sesame seeds to make oil, even what's left is prized as a livestock feed because of its protein content. 
In Mexico, the word for sesame seeds is ajonjolí, and you can find them in bulk in mercados and packaged in grocery stores. Where I live in Mazatlán, there's one farmer at the weekly organic market who grows sesame seeds.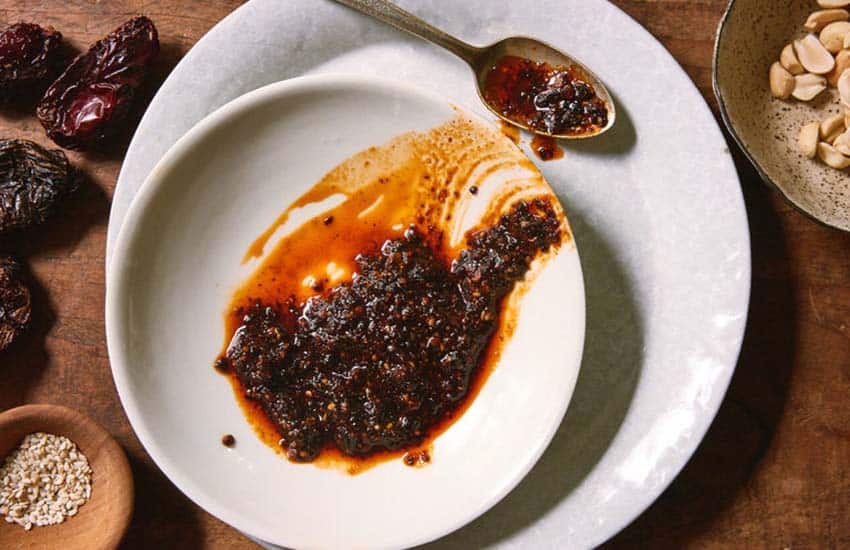 Hulled white sesame seeds are most commonly preferred due to their appearance and slightly sweeter flavor than their black counterparts. Both can be toasted for a more nutty taste and crisper mouth-feel or used to coat fish (most commonly tuna) or chicken before sautéing. Black sesame has a more bitter flavor, although most of us can't taste the difference; feel free to use whichever suits your fancy. 
Where, you might wonder, did the phrase "open sesame" come from, and why does it indicate magic? Well, when sesame seeds are ripe, the pods split open with a discernible pop. Some say that's the origin of the Syrian folk tale "Ali Baba and the Forty Thieves," where the phrase was first used as a secret command to open a hidden cave. 
While you won't need any secret passwords to unlock the secrets of cooking with sesame seeds, it can't hurt to murmur "open sesame" as you try the recipes below. 
Salsa Macha
This traditional Veracruz sauce livens up roasted vegetables, grilled meats or even baked potatoes with sour cream.
 

½ cup raw unsalted peanuts

4 garlic cloves

2 Tbsp. sesame seeds

2 oz. dried chipotle chiles (1½ to 2 cups), stemmed and seeded

1 tsp. salt, or to taste

1 Tbsp. brown sugar, or to taste

3 Tbsp. white vinegar
Heat some oil over medium heat in skillet until very hot but not smoking. Add peanuts and garlic; cook and stir 30 seconds, until peanuts begin to turn color. Don't let them scorch! Add sesame seeds and chiles; stir and fry for a minute or until chiles are lightly toasted.
Remove pan from heat. Transfer contents, including the oil, to food processor or blender. Add salt, sugar and vinegar; blend until almost smooth. (Salsa will have a little texture.) 
Pour into container; cool. Store in refrigerator up to a week.
Sesame-Crusted Fish with Ginger-Butter Sauce
1 cup sesame seeds

4 skinless fish fillets, 6 oz. each (snapper, dorado, sea bass) 

Salt and pepper

3 Tbsp. neutral oil, like corn or canola

2 Tbsp. butter

1 Tbsp. minced or grated fresh ginger

2 Tbsp. soy sauce

¼ cup water
Preheat oven to 200 F (100 C).  Heat large, heavy skillet over medium heat; add oil.
Pour sesame seeds on a plate. Season fillets with salt and pepper, then dredge both sides in sesame seeds, coating as much as possible. Brown fish quickly in hot oil, 1–2 minutes each side. Remove fish to plate or baking sheet and place in oven.
When skillet has cooled slightly, place over medium heat. Add butter. Once it melts, stir in ginger, soy sauce and ¼ cup water. Return fish to skillet. Turn heat to medium; cook fish 1–3 minutes until desired doneness, turning several times. (If needed, add 2–3 Tbsp. water.) Fish is done when a knife meets little resistance at fillet's thickest point. 
Serve at once.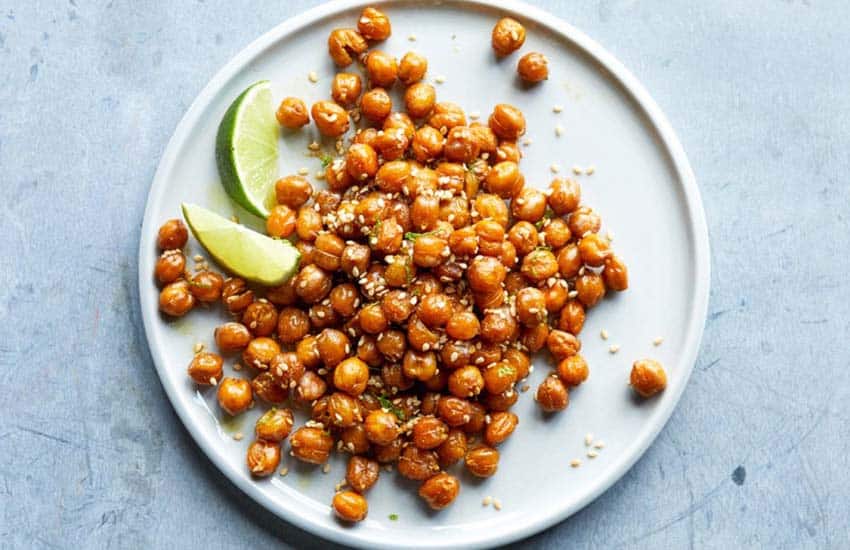 Crunchy Chickpeas with Sesame and Lime
1 (15-oz.) can chickpeas, drained and patted dry

1½ tsp. sesame seeds

2 Tbsp. olive oil

1 tsp. cumin

2 tsp. lime zest

Salt
Heat oven to 400 F (200 C). Spread chickpeas evenly on sheet pan. Roast until crisp and golden in spots, shaking pan occasionally, 20–25 minutes. Turn off oven, leaving chickpeas for another 10–15 minutes; check occasionally to make sure they don't burn. 
Meanwhile, toast sesame seeds 2–3 minutes in large skillet over medium heat, stirring often. Set aside; wipe out skillet. 
Using the same pan, heat olive oil over medium-low heat. Add cumin, cooking and stirring 1 minute until fragrant. Stir in sesame seeds and chickpeas. Toss until everything is well coated. 
Remove from heat, stir in lime zest, season with salt. Serve warm. Store in airtight container for up to 1 week.
Black and White Sesame Seed Brittle
2 sticks unsalted butter

1 cup sugar

¼ cup water

½ tsp. salt

3 Tbsp. black sesame seeds

3 Tbsp. white sesame seeds
Line large baking sheet with parchment paper. In medium, heavy-bottomed pot, combine butter, sugar, water and salt; cook, stirring, over medium-high heat until mixture reaches 260 F (125 C) on a candy thermometer. Add sesame seeds and continue cooking, stirring constantly, until mixture reaches 350 F (180 C) or until sugar mixture is a dark golden-brown. 
Remove from heat; immediately pour mixture into prepared pan, spreading into an even layer about ¼ -inch thick. Cool at room temperature until firm. Once brittle has set, break into pieces.
Janet Blaser is the author of the best-selling book, Why We Left: An Anthology of American Women Expats, featured on CNBC and MarketWatch. She has lived in Mexico since 2006. You can find her on Facebook.