Last weekend at one of my favorite vendor's stands at the local organic market, I spied a small bag of — could it be?! — bright green Padrón peppers leaning up against a basket of heirloom tomatoes. Had someone forgotten them, I wondered? But no, Lorenzo had, in fact, grown them, and these were the first small harvest.
To say I was thrilled would be an understatement. I've loved these spicy little peppers ever since I first ate them a decade ago at a huge farmers' market in Los Angeles where they were being served from a food truck. Since then I've learned that grilled or broiled Padrón peppers, drizzled with a flavorful olive oil, are a standard Spanish tapa, their slightly spicy, earthy flavor the perfect accompaniment to other, more mild dishes.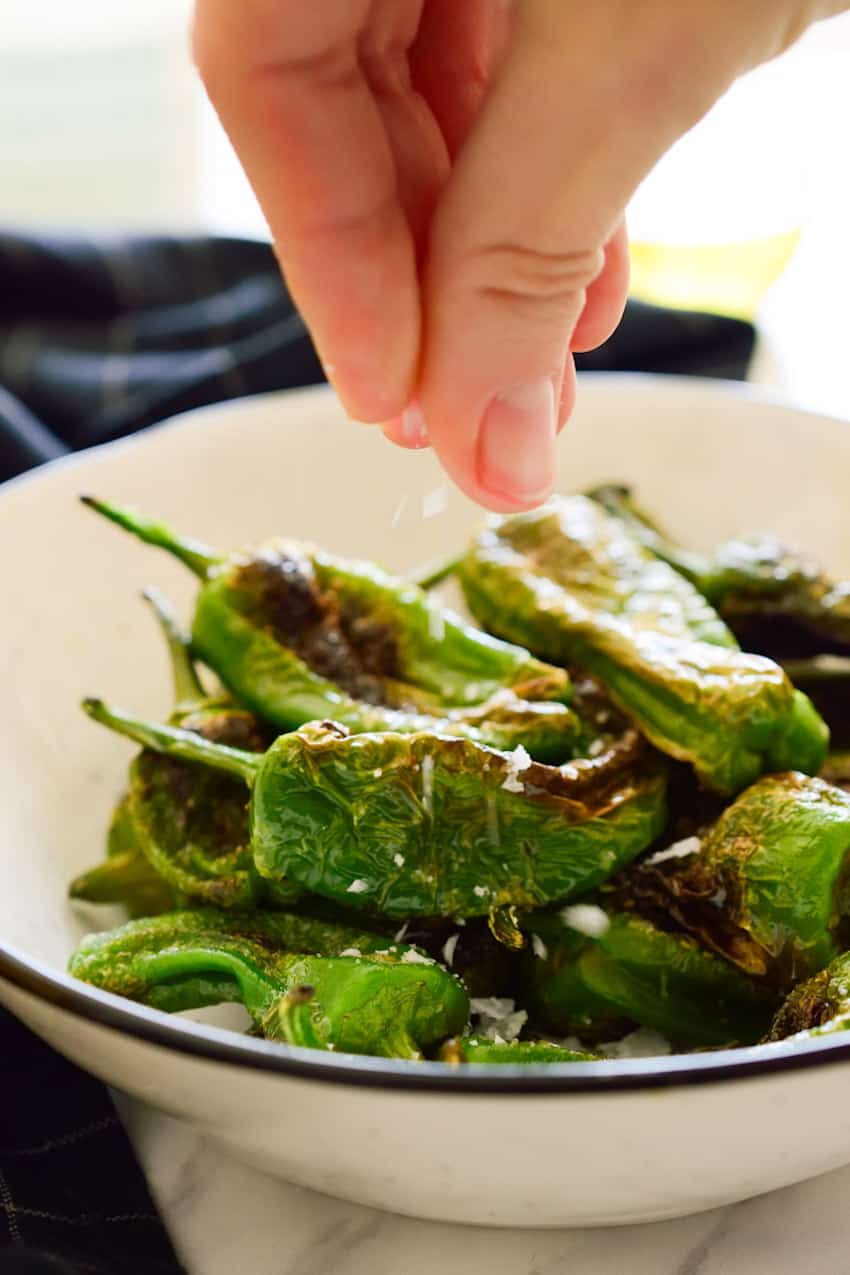 I won't go so far as to say I cooked up a table full of tapas and invited friends over, but the Padróns did turn my own personal happy hour into something special.
Like shishito peppers (their longer, thinner cousins), Padróns are thin-walled, making them easy to broil or grill and blister. They have a mild taste, only somewhat spicy, although every once in a while, (plant biologists say every 10–20 peppers) one will be really hot. A popular northern Spanish adage says, "Os pementos de Padrón, uns pican e outros non." ("Padrón peppers, some are hot, some are not."
This variety of pepper originated in Galicia, Spain, in the municipality of — you guessed it — Padrón. Like Parmesan-Reggiano and Champagne, Pimientos de Padrón (a.k.a., Pimientos de Herbón) have a protected designation of origin. They're picked while small and unripe, usually curled in somewhat of a "C" shape. Nowadays, they're also grown in the Caribbean, South America and some parts of the United States.
The most popular method of cooking Padróns is to sauté them in hot oil until they blister, then sprinkle with coarse salt and eat while they're still hot. It's easy, simple and decadently delicious. Use a high-quality, aromatic Spanish olive oil; they're meant to be oily, so you want it to be as flavorful as possible. (Purists may prefer to use a neutral oil for frying and save the olive oil for drizzling once they're off the heat. Why? Olive oil turns bitter when heated, although not everyone will taste it.) They can also be stuffed or made like poppers, should you feel so inclined (recipe below). Either remove the stems before cooking or leave them intact for holding while eating; your choice.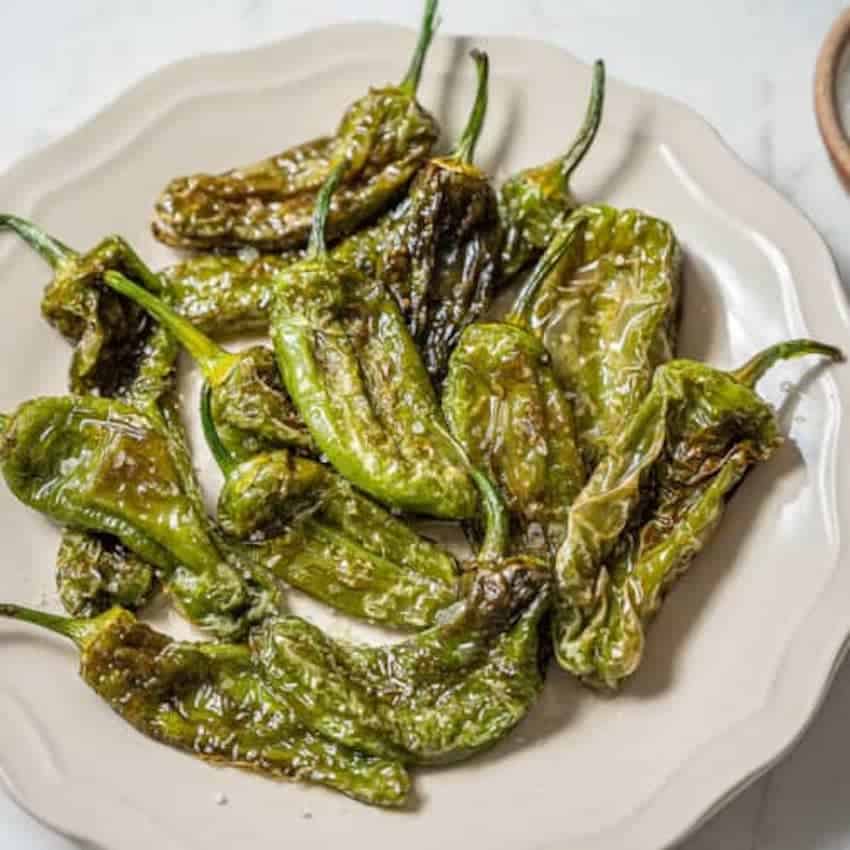 A few tips: Dry the peppers well after washing for the best blistering. Use a very hot cast-iron skillet if you have one; you want to heat the oil almost to the smoking stage. While the traditional way to serve Padróns is simply with a generous dusting of a coarse sea salt like Maldon, I also like to dip them in mayo (somehow, they taste like artichokes, what can I say?), sprinkle them with Parmesan or squeeze a bit of fresh lemon juice over them. 
If you can't find Padrón peppers, shishito peppers are a similar substitute, and actually are a little easier to cook with because they're straighter in shape.
Pimientos de Padrón (Spanish-Style Blistered Padrón Peppers)
1 Tbsp. neutral oil, like canola or grapeseed

12 oz. Padrón peppers

Coarse sea salt (like Maldon)

2 Tbsp. extra-virgin olive oil
Heat oil over high heat in a cast-iron skillet big enough to fit the peppers in a single layer. Heat until very hot (almost smoking), then add peppers. Cook without moving until blistered on one side, about 30 seconds. Turn peppers a couple of times until they're tender-crisp and blistered all over, about 2 minutes total. Remove from pan onto paper towels. Sprinkle with coarse sea salt and serve immediately.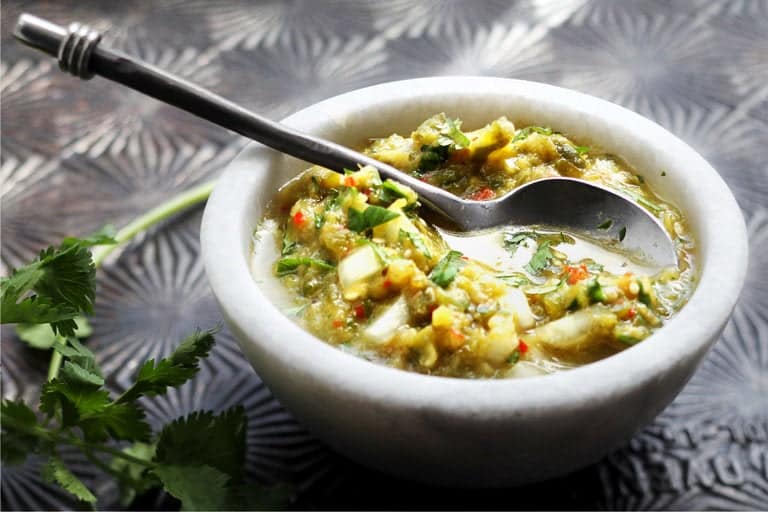 Pineapple Tomatillo Salsa
Tastes best after chilling at least an hour.
1 lb. tomatillos (about 6 medium)

6 Padrón or shishito peppers, stems removed

1 Tbsp. olive oil

1 cup diced fresh pineapple

2 cloves garlic, smashed

1 tsp. dried oregano

½ tsp. salt, or to taste

1 cup diced onion

½ cup fresh cilantro, finely chopped

Juice of 1 lime

Optional

: 1 habanero, serrano or jalapeno pepper, stem and seeds removed
Remove husks from tomatillos and rinse well. Halve the tomatillos and Padrón peppers.
Set a skillet over medium-high heat; add olive oil. When oil is hot, add tomatillos, Padrón and other peppers, pineapple, garlic, oregano and salt. Cook, stirring occasionally, until everything starts to char, 5–7 minutes.
Transfer everything in the skillet to a blender or food processor; add ½ cup water. Blend until almost puréed. Pour mixture into a bowl; chill for 1 hour. Stir in onion, cilantro and lime juice. Season with salt to taste and serve.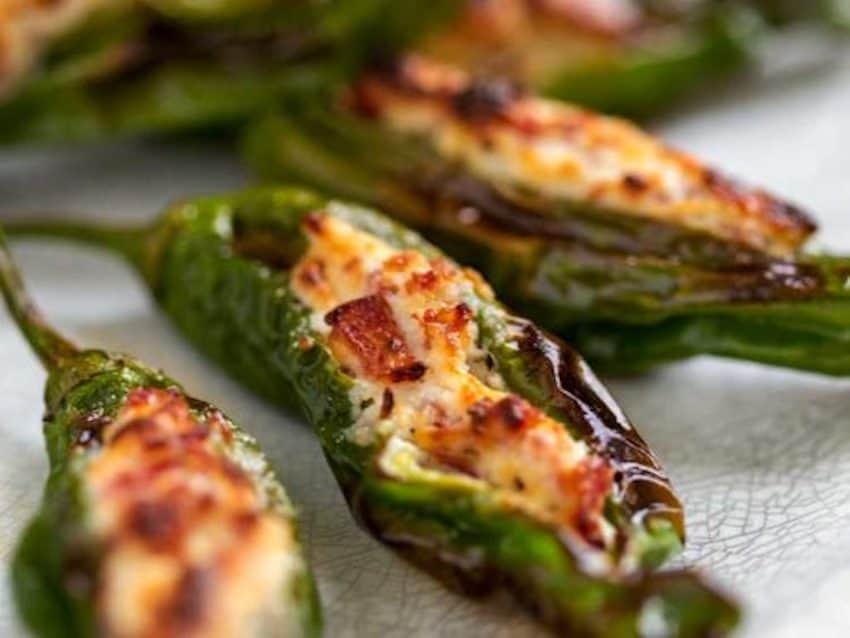 Baked Padrón Poppers
12 Padrón peppers, as straight as possible

2 oz. very thinly sliced Serrano ham, prosciutto or dry salami

6 oz. cream cheese, softened

4 oz. grated Manchego cheese

1 Tbsp. finely minced chives or scallion greens

1 ¼ cups panko bread crumbs

2 Tbsp. extra-virgin olive oil

Smoked paprika
If using Serrano ham, preheat a toaster oven or regular oven to 400 F (200 C). Lay ham on a baking sheet lined with parchment or foil. Bake 6–8 minutes until beginning to crisp. Remove from the oven, cool, then crumble into small pieces. Set aside. 
Reduce oven temperature to 375 F (190 C). Slice peppers in half lengthwise, preserving stems if possible. Use the edge of a metal spoon to remove any seeds and ribs.
In a small bowl, combine cream cheese, Manchego, chives and chopped ham. Using a small spoon, fill pepper halves with the mixture. In another bowl, combine panko with the olive oil. Dip each popper into panko mix, filling side down, pressing the panko with your fingers to make it adhere. Dust each popper lightly with paprika.
Arrange poppers in a single layer on a prepared baking sheet. Bake 20–25 minutes or until the peppers soften and panko is golden brown. Remove from the oven; let cool slightly and serve.
Janet Blaser is the author of the best-selling book, Why We Left: An Anthology of American Women Expats, featured on CNBC and MarketWatch. She has lived in Mexico since 2006. You can find her on Facebook.