Yesterday I had to take my computer for a (thankfully) small repair, to an expat who's had a business here for more than a decade. Through the years, he has moved steadily into less expensive, more "Mexican" neighborhoods, whether out of necessity or desire I don't know. 
Using the Google map he sent, I packed up my laptop and headed inland, driving away from the beachfront malecón, away from the main expat enclaves in centro histórico and the hotel zone. As I went deeper into the neighborhoods, I passed cocinas económicas, several tapicerías, a storefront church next to an alcohólicos anónimos (AA). Each block had its own little tienda with the same onions, tomatoes and bedraggled video game machine on the sidewalk; there was no Walmart, Sam's Club or Home Depot, Wings Army or McDonald's. Abuelas were outside sweeping and chatting; a few dogs meandered here and there.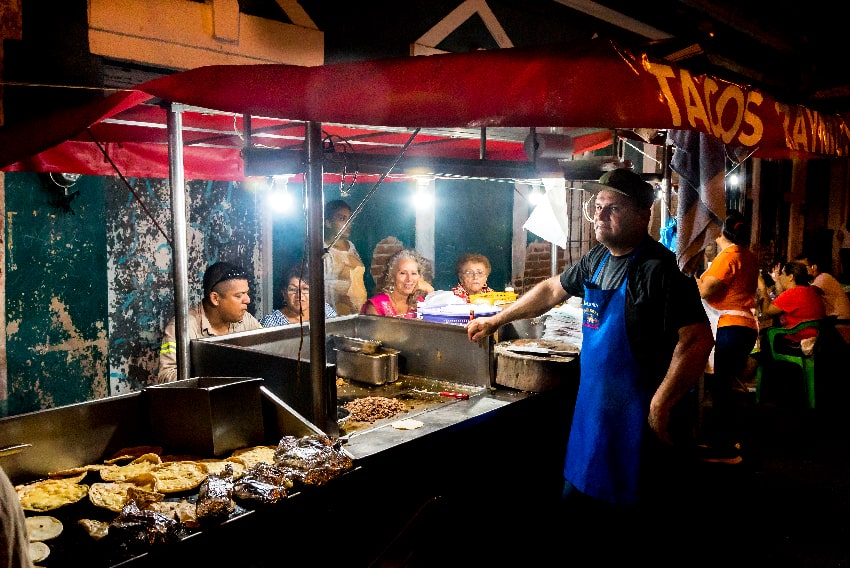 Memories came flooding back of the Mazatlán I'd found when I first moved here almost 20 years ago, of a vastly simpler city and way of life. It was only a few minutes' drive, but it felt worlds away from the overwhelming tourism, traffic and development that characterizes Mazatlán—and, dare I say, much of Mexico—today. 
Like many of you, I'm full of conflicting emotions about the giant condo towers, the tremendous and constant tourism, the traffic, the crowded beaches, restaurants, stores, plazas and sidewalks. There's a secondary set of problems as well: the insufficient infrastructure and management for trash, water and cell signals; woefully inadequate parking for the thousands of people coming on vacation; the sudden need for reservations at even the smallest neighborhood café or coffee shop. 
As the city has "grown up" and taken its place as a popular (very popular!) tourist and vacation destination, both for foreigners and folks from other parts of Mexico, the small, unpretentious town I was originally attracted to is all but gone. And it's not only here in Mazatlán; I hear the same thing from friends in San Miguel de Allende, Puerto Vallarta, Ajijic and Guanajuato. I know the other side of this is increased income and opportunity for many locals, and from my privileged American position I do appreciate that. Yet I still have to ask, "At what cost?"
A new friend I've been spending a lot of time with lately, who is also new to Mexico, affords me a different perspective. Let's call her Annie. She moved to Mazatlán last fall, following her dream of a new and different life, with less stress, a lower cost of living, more adventure and better weather than her home in the Pacific Northwest.
I have a car (she doesn't) and so I've been taking her out and about on errands to help get her apartment set up. I'd forgotten what it was like to be the "stranger in a strange land," the almost guaranteed frustration and aggravation that often accompanies even the most basic of chores here as one attempts to get settled. Mostly she remains enthusiastic, patient and open to whatever it is that's coming next. Often (embarrassingly) I'm the one who's irritated and annoyed.
Being around her has made me remember when I first got here, the struggles and challenges and "surprises." I remember my first few years as an expat, before any of the big chain stores even existed, when the only places to shop were small local stores. We had to learn about our neighborhoods, practicing our Spanish with incredibly tolerant locals, to try and find things and services we needed or wanted. I used to have an ongoing list of stuff to bring from the U.S., and I can still recall the excitement of "finally" having turmeric, organic cotton sheets, Edison bulbs or a really nice stainless-steel pan. One learned to do without and to let go of so much, and to really live simpler, without so many material options. 
The city has changed in so many ways it's hard to even remember what it was like—or what I was like—whereas Annie's outlook is fresh and optimistic, full of good-natured enthusiasm. She's appreciative to be "living the dream" she'd imagined for so long. For her, Amazon Mexico, those big box stores and U.S. fast food chains are just accepted as part of her experience here; there's no judgment or concern that her "Mexican experience" has been changed by their presence.
Truth be told, I don't shop at the little tienditas or mercados much anymore either, preferring instead the clean, air-conditioned comfort and convenience of the big chains. (Once the weather cools off and the weekly organic farmers' market begins in November my habits will change, though.) I find myself eating less traditional Mexican food and more plant-based, "heart-healthy" meals, and as some of you know, Italian food is my go-to for comfort. 
Here on the coast, we're deep in the throes of the summer doldrums, and it's too hot, day and night, to do much of anything. Perhaps there's too much time to think, but hanging out with my new friend has been a wake-up call for me, another reminder to count my blessings. Her buoyant happiness even as the power goes out (again), there's a cockroach in the toaster oven (again) or a hundred other only-in-Mexico scenarios unfold makes us both chuckle (again).
Janet Blaser is the author of the best-selling book, Why We Left: An Anthology of American Women Expats, featured on CNBC and MarketWatch. She has lived in Mexico since 2006. You can find her on Facebook.