When I first got here 17 years ago, there was no such thing as Amazon México. Mercado Libre was in its infancy, many businesses didn't accept credit cards — especially foreign ones — and warnings circulated constantly about widespread fraud and theft if you did use a credit card at, say, a gas station or — heaven forbid — online with a Mexican company. In fact, online shopping of any sort was something to be avoided. 
Well, that was then, and this is now! Amazon México offers a wealth of wonderful shopping options, with safe, secure credit transactions, (usually) speedy and reliable delivery, and an easy return process. And while prices for many imported products seem to have gone up recently — probably due to the peso's increase in value — if you really want the item, the cost may be worth it to you.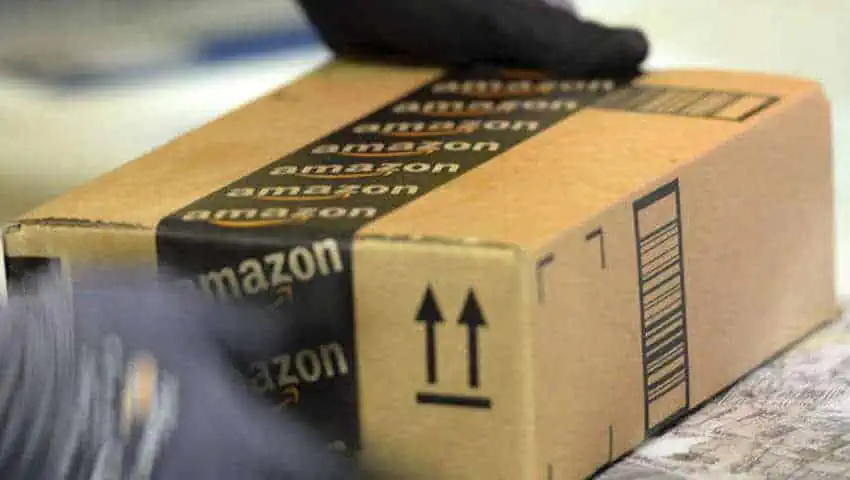 The first purchases I made on Amazon México were a classic midcentury modern wooden standing lamp and a beautiful Persian-style rug for my living room. I had exhausted the local shopping options and was feeling desperate enough to try the then-new Amazon México.
I'll admit I was skeptical: What would I find? Would delivery be as seamless as in the U.S.? And, if I didn't like the items once they arrived, could I return them easily as well? 
Well, just like on Amazon U.S. (or elsewhere), there's a big drop-down menu on the website with categories and detailed answers to most questions. The same holds true with the description of each item. You'll see similar items, what people are buying, any special discounts, Prime membership offers, color and size options, reviews (calificaciones), the item's return policy (política de devoluciones), whether it's imported, the shipping time, and more.
The tricky thing, as you might note from the translations above, is that it's all in Spanish, and on some browsers there's no way to change it into English (although you can search in English and results come up in Spanish, go figure). Chrome users will be able to click anywhere on the page and choose "Translate to English" in the dropdown menu.
The rest of us will need to download or bookmark Google Translate, and copy and paste whatever subject you need more information about. Or use your smartphone's camera translation feature and point it at the page on your computer. The site is set up almost exactly like its northern cousin, so don't be nervous.
So, if you haven't by now, download or bookmark Google Translate, and copy and paste whatever subject you need more information about. Or use your smartphone's camera translation feature and point it at the page on your computer. The site is set up almost exactly like its northern cousin, so don't be nervous.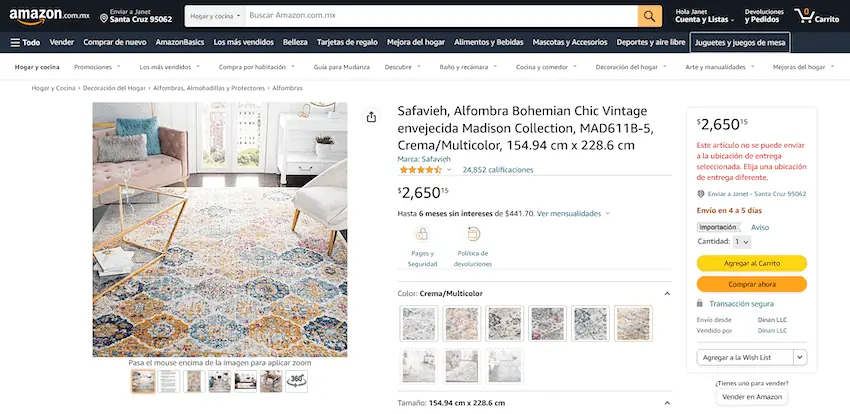 You can also buy and redeem gift cards, make lists and registries, save items for later, track orders, set up Alexa…in short, everything you can do with Amazon U.S.
And the lamp and rug? They're exactly what I wanted. Since then, I've ordered many other things from Amazon México, from organic bread flour to a new TV remote. 
So without further ado, here are some tips on ordering from Amazon México:
Ordering
Once you set up an account with Amazon México, you can order just like you would anywhere. Your credit card(s), shipping addresses and payment methods are all saved. When you make an order, you get a confirmation email almost immediately. 
Can you order things from Amazon U.S. to be sent to a Mexican address? Yes, but you'll pay a lot for the shipping and customs fees — much more than if you order from Amazon México. Sadly, you won't get the same options, so you'll have to consider how much you want whatever it is with how much it's going to cost you.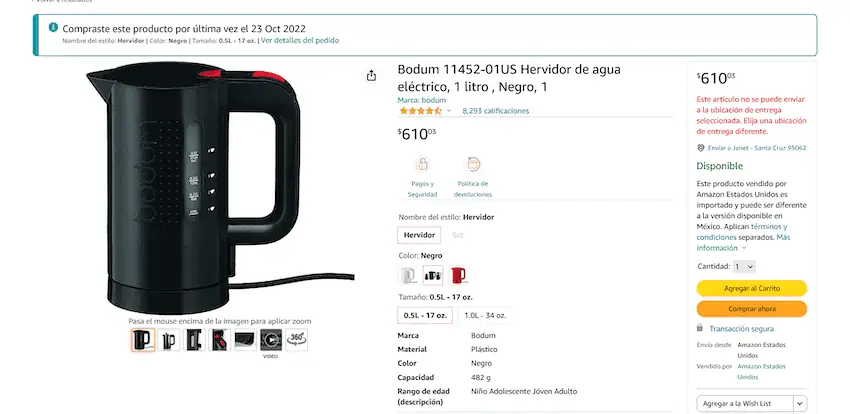 Imported items/customs fees
Items that are imported will be designated Importación, and there may be further alarming looking words — sometimes in red — about customs and import costs. Click on those links and you'll see the maximum possible import fees, which won't be charged until the item has been delivered. My experience has been that the fees were negligible (under 100 pesos) except for a tower fan (247 pesos). Since the fan itself cost close to 2,000 pesos. I was OK with paying that fee. 
Breville, Bodum and Cuisinart small kitchen appliances, Lodge Dutch ovens and OXO kitchen accessories are all available on Amazon Mexico, and although the cost for some items is more than in the U.S., they're all high-quality and will last a lifetime. I recently purchased a Bodum electric tea kettle and the cost was the same as on Amazon US.
How does Amazon Prime work in Mexico?
You must have a separate Amazon Mexico Prime account to receive the advantages of a Prime membership (free shipping, Prime video, Amazon Music, etc.) in Mexico. Your U.S. Prime account will not work. The first month is free and then the cost is $99 pesos (about $5 dollars) a month, billed automatically.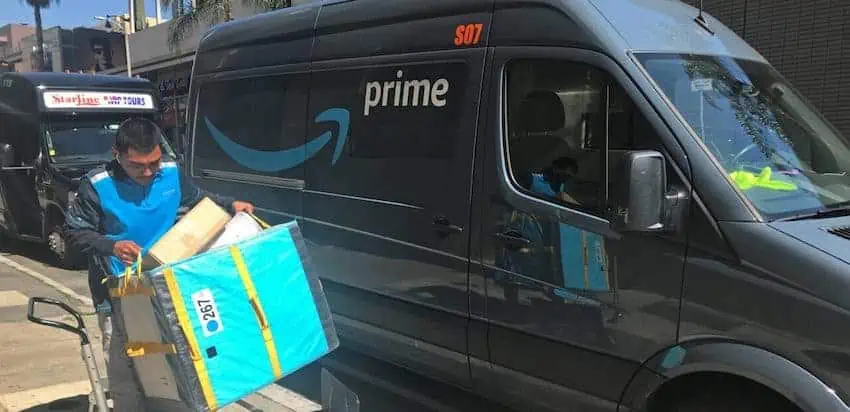 Facturas
Don't worry about this — if you don't want a factura —  a government-certified invoice mostly used in Mexico as proof of purchase for claiming tax deductions — just ignore the offers to generate one; you would need a Mexican tax identification number to do it. And if you do have a business and need one, you should know by now what you're doing. 
Returns
Let's say you receive your order and it's not what you want. Go back online  — just like you would in the U.S. — and click on devolver o reemplazar productos. The site will walk you through the return process step-by-step, including giving you a return label to print or download to your phone. 
Most — but not all — items can be returned within 30 days of delivery for a full refund; it depends on the seller's policy, so read the fine print in the item's description carefully before you order. Save the original packaging to use for your return; it has the order and shipping codes printed on it. You can track returns in your account just like you would in the U.S., and as soon as Amazon receives the item, your credit card will be refunded in full, usually within 15 days. If an item is defective, it must be returned with an explanation, a credit issued and another item ordered.  
The first time I returned something — a wetsuit that was too big — I was leery as to whether the process would work. But it all went smoothly, from repackaging the suit in the bag it came in, to dropping it off at a local DHL office (which gave me a receipt I later checked on my account), to being able to see when it was received by Amazon and my credit card refunded. I did take photos of the package with the wetsuit peeking out, which isn't a bad idea. 
This is not to say mistakes don't happen; I'm sure there are horror stories of lost items or refunds that never came through.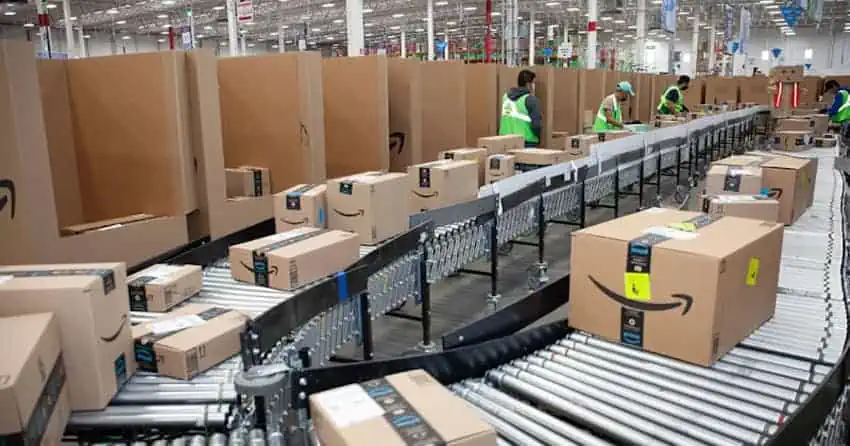 Problems and getting help
Amazon tries to solve issues and problems with information online, accessed through a series of drop-down menus appearing in response to your questions and answers. That said, there is a "live chat" feature — and you can request an English-speaking rep. 
Look for the link that says Ayuda, then keep following the prompts until you see the live chat option. If you are returning an item, once you start the return process, answering questions and prompts will eventually lead you to an option to request a phone call or live chat with a representative.
Ask for an English speaker.  
Can't find it? Google "Amazon Mexico Live Chat" and go from there.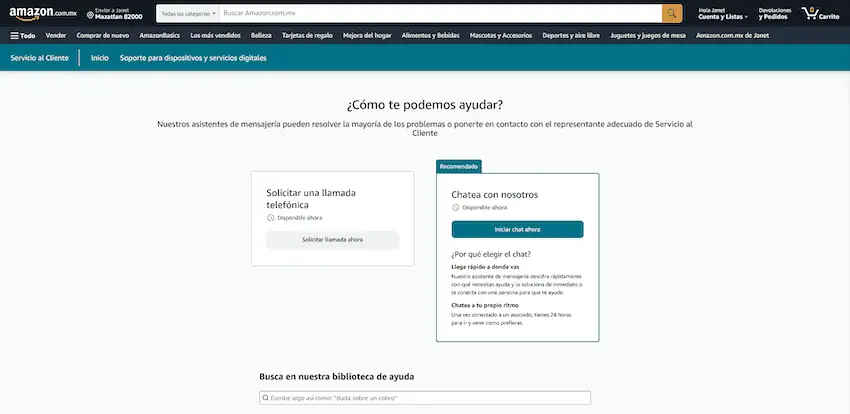 Delivery
Depending on where in Mexico you are, delivery is more or less reliable, dependable and quick, and often deliveries arrive earlier than expected. In Mazatlán, where I live, delivery is consistently all of those things. I feel fortunate: Friends in smaller towns (Chapala, for instance) have had very different experiences with their orders. Part of this is because different vendors use different carriers. Some let you track your package; others tell you nothing. 
Thankfully, unlike in the U.S., drivers won't leave packages on the doorstep, although friends in Guanajuato say some delivery people throw packages over the high wall surrounding their house if they're not home to receive it. 
That's not official Amazon policy, but, hey, we're in Mexico, folks.
Janet Blaser is the author of the best-selling book, Why We Left: An Anthology of American Women Expats, featured on CNBC and MarketWatch. She has lived in Mexico since 2006. You can find her on Facebook.