Five men were decapitated after being murdered by Jalisco New Generation Cartel (CJNG) members during a lengthy offensive in Tepalcatepec, Michoacán, according to local authorities.
The powerful and notoriously violent cartel began an attack in the Tierra Caliente municipality on Tuesday evening and remained on the offensive late on Wednesday, authorities said.
The CJNG initially tried to take control of the city of Tepalcatepec but its incursion was met with resistance from residents and the National Guard, the newspaper El Universal reported.
Two National Guard members and a resident were wounded in the clash but were reported in stable condition after receiving medical treatment.
The CJNG subsequently switched its focus to the community of La Estanzuela, located near the border between Tepalcatepec and the Jalisco municipality of Jilotlán.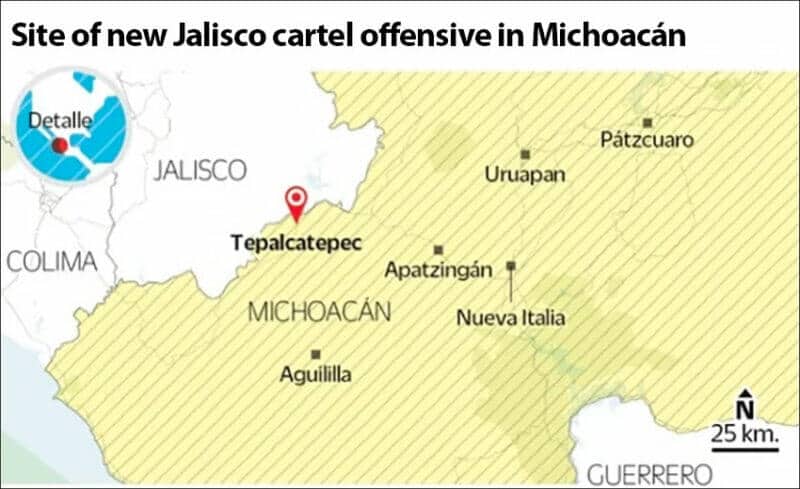 Municipal authorities reported that five men manning a checkpoint designed to keep criminal groups out disappeared during the cartel's offensive in the area. The authorities said CJNG sicarios called family members of the five men from their cell phones to advise they had beheaded them.
A young man who witnessed the attack said his grandfather, father and brother were among the victims. He said the cartel members first shot the men dead before cutting their heads off.
He said he was able to hide and avoid the assault after the cartel members detonated explosives carried by a drone prior to the direct attack on the men. The witness said the armed men took the slain men's heads as "trophies."
In addition to carrying out armed attacks, the CJNG circulated audio messages threatening to kill Tepalcatepec residents, El Universal said.
"We're here now, dogs. Nothing but [members of the] four letter [cartel]. We're going to kill all of you," one recording said.
The CJNG has been trying to take control of the city of Tepalcatepec since August 2019. In September of that year it published a video to social media urging citizens to run Juan José "El Abuelo" Farías out of town.
Farías is a former self-defense force leader who is now allegedly a leader of Los Viagras crime gang, part of Cárteles Unidos, which is engaged in a bitter turf war with the CJNG in the Tierra Caliente region of Michoacán.
Attendees at a virtual security conference this week warned that the armed conflict between the two cartels will only escalate without federal intervention.
Headed by Michoacán native Nemesio "El Mencho" Oseguera Cervantes – one of the DEA's most wanted fugitives – the CJNG has previously carried out lengthy offensives in Michoacán aimed at seizing control of territory from rival criminals and authorities. It has taken control of several ranches and communities in Tepalcatepec this year.
Scores of people have been killed in clashes in recent times in Tierra Caliente municipalities such as Aguililla, Buenavista and Apatzingán, while thousands of residents have been displaced by the violence.
With reports from El Universal