Migrants who crossed the Mexico-United States border between official ports of entry were stopped by U.S. authorities on over 250,000 occasions in December, an increase of over 40% compared to the same month of 2021.
United States Customs and Border Protection (CBP) reported Friday that there were 251,487 "encounters" along the southwest land border last month, a 40.3% increase compared to December 2021 and a 7% spike compared to November.
The figure — which includes migrants stopped on more than one occasion in December — is the highest for any month since U.S. President Joe Biden took office in January 2021.
CBP said that the number of unique individuals encountered along the border in December was 216,162, an 11% increase compared to November.
The agency said that "the large number of individuals fleeing failing communist regimes in Nicaragua and Cuba" contributed to the surge in illegal border crossings in December.
CBP encounters with Cubans increased more than fivefold on an annual basis to almost 43,000, while Nicaraguans were stopped on over 35,000 occasions in December, an increase of over 100% compared to a year earlier.
The surge in the arrival of Cubans and Nicaraguans came just before the Biden administration announced measures on Jan. 5 to deter their illegal entry to the United States.
Among the measures to enhance security and reduce unauthorized migration at the United States' southern border is a commitment by Mexico to accept as many as 30,000 Venezuelan, Nicaraguan, Haitian and Cuban expelled asylum seekers per month.
CBP Acting Commissioner Troy Miller said that the number of Venezuelans unlawfully crossing the border declined significantly in late 2022, and "early data suggests the expanded measures for Cubans, Haitians, and Nicaraguans are having a similar impact."
"… Importantly, we are continuing to see a shifting migration pattern, with individuals from Mexico and northern Central America accounting for just 24% of unique encounters in December, a significant drop from the 42% they represented a year ago, as more migrants arrived from countries like Cuba and Nicaragua," he said.
Biden, who visited the United States' southern border two weeks ago, has faced intense pressure from Republicans to do more to stop illegal immigration from Mexico.
The U.S. president, President López Obrador and Canadian Prime Minister Justin Trudeau made a number of commitments to address the issue after meeting at the North American Leaders' Summit in Mexico City earlier this month, among which was to tackle the root causes of irregular migration and forced displacement.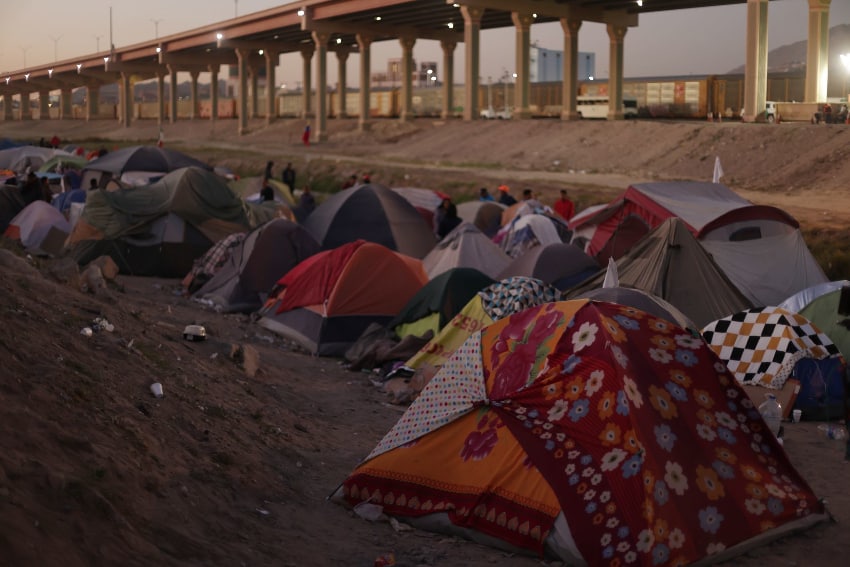 Many migrants who attempt to enter the U.S. illegally first cross Mexico's southern border with Guatemala. They then undertake a perilous journey through Mexico, traveling on foot, in cramped conditions in tractor-trailers and/or on a freight train colloquially known as "The Beast."
Among the measures Mexico has taken to stem the flow of migrants through the country is the deployment of the National Guard and National Immigration Institute agents.
The federal government has also extended its "Youth Building the Future" apprenticeship scheme and the the "Sowing Life" reforestation/employment program to Central American countries as part of efforts to deter northward migration.
But with ongoing problems in Central America as well as in countries such as Venezuela, Cuba, Haiti and Peru, migrants have continued to illegally cross the Mexico-United States border in large numbers.
U.S. border officials apprehended migrants a record 2.2 million times in U.S. fiscal year 2022, which ended in September, while over 700,000 encounters were recorded in the first three months of FY 2023.
With reports from Associated Press