A key prosecution witness provided damning testimony this week against former federal security minister Genaro García Luna at the latter's criminal trial in a United States federal court in Brooklyn, New York.
Former Sinaloa Cartel member Jesús "El Rey" Zambada testified Monday that he delivered US $5 million in cash to García Luna, who was arrested in Dallas, Texas, in Dec. 2019 on charges that he allowed the cartel to operate in exchange for multimillion-dollar bribes.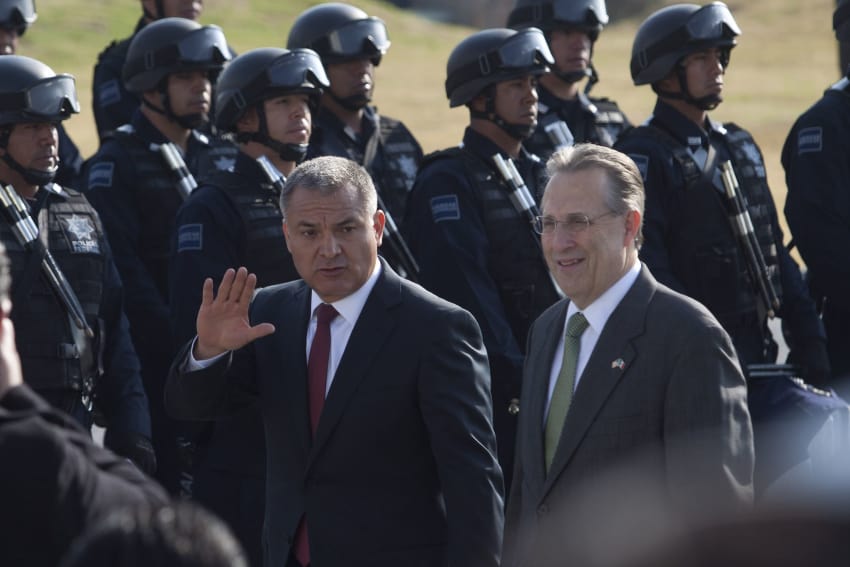 The witness, brother of Sinaloa Cartel leader Ismael "El Mayo" Zambada, told jurors that the accused received US $3 million in 2006 while serving as head of the now-defunct Federal Investigation Agency (AFI) and an additional US $2 million weeks later when he had assumed the security minister role in the government led by former president Felipe Calderón.
According to his testimony, the cash – allegedly handed to García Luna in a private room at an upscale Mexico City restaurant by a lawyer who served as an intermediary – was to buy protection for the notorious Sinaloa Cartel, formerly led by convicted drug trafficker Joaquín "El Chapo" Guzmán.
"He was going to provide protection to my brother. He's not going to bother him. He was going to let him keep on working just as he had been," Jesús Zambada testified through an interpreter.
The witness, who is on supervised release after completing a 12-year prison sentence in the U.S. on drug trafficking and other convictions, gave similar testimony during El Chapo's 2018-19 trial in the United States.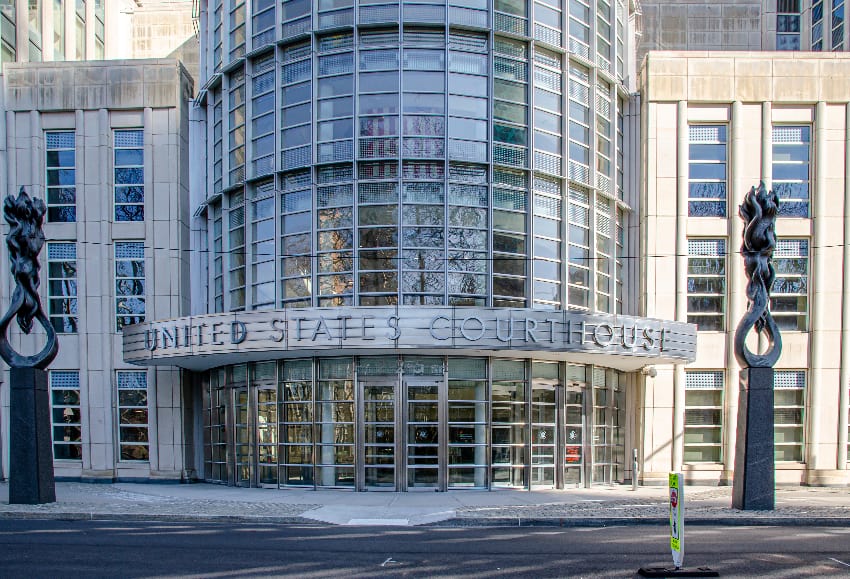 Zambada said Monday that he didn't directly discuss the bribes with García Luna, but saw him and two associates leave the Champs Elysées restaurant with the money after the first meeting.
He asserted that the intermediary told him that the security official would shield the Sinaloa Cartel.
The witness, according to an Associated Press report, "said he was told that when the cartel wanted friendly police commanders in various locales, García Luna would help."
"And indeed, the cartel was able to get its preferred commanders placed," Zambada said.
The alleged intermediary, Óscar Paredes, died in 2010.
Jesús Zambada also claimed on Monday that Arturo Beltrán Leyva, a now-deceased leader of the Beltrán Leyva Cartel, also paid large bribes – US $1.5 million per month – to García Luna during his career as a high-ranking security official.
The witness told jurors that he worked as the Sinaloa Cartel's chief at the Mexico City International Airport from 2000 until his capture in 2008, and that he had the support of Federal Police deployed there. Drugs were brought into the country from Venezuela on passenger, cargo and private airplanes, said Zambada, who estimated that the Sinaloa Cartel at the time was shipping some 100 tonnes of narcotics to the United States on a monthly basis.
Officials with the federal Attorney General's Office and the AFI, as well as Federal Police officers were on the Sinaloa Cartel payroll, he said. Zambada said that the support the Sinaloa Cartel received from the government and police via its arrangement with García Luna allowed the organization to grow and prosper.
Before Zambada presented his testimony, García Luna – who is also accused of making false declarations to U.S. immigration officials – indicated that he wouldn't testify at his own trial. He denies all the charges he faces.
Zambada also told jurors that he paid US $3 million in bribes to Gabriel Regino, who served as deputy public security minister in the Mexico City government when President López Obrador was mayor between 2000 and 2005. The payments were allegedly made because the Sinaloa Cartel believed that Regino would become federal security minister if López Obrador won the 2006 presidential election.
Regino defended himself via posts on his Twitter account on Tuesday.
A lawyer for García Luna, César de Castro, asked Zambada on Tuesday whether he recalled telling U.S. authorities in 2013 that he delivered US $7 million in funding for the 2006 presidential campaign of López Obrador, who narrowly lost the election that year to Felipe Calderón.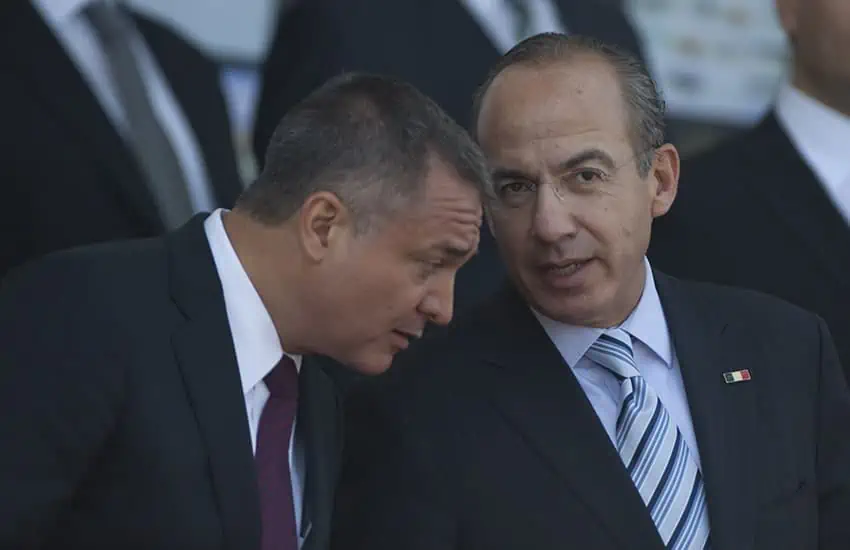 The witness said he hadn't made that declaration. "I couldn't have said it because it isn't true," he claimed.
García Luna's wife, Linda Cristina Pereyra, also provided testimony on Tuesday. She rejected the prosecution's claim that she and her husband purchased properties and businesses with bribe money.
Mortgages and loans partially funded the purchases, Pereyra said, adding that bonuses and a payout her husband received when he finished his tenure at the AFI provided additional capital. Profits made from selling properties also helped finance subsequent purchases, she said.
García Luna owned properties and businesses in both Mexico and the United States, where he moved in 2012 and began working as a Miami-based security consultant.
Pereyra declared that she was providing testimony to support her husband "with the truth."
Closing arguments were presented Wednesday, 3 1/2 weeks after the trial began.
Sinaloa Cartel leaders, including "El Chapo" Guzmán, "paid the defendant bribes for protection – and they got what they paid for," said prosecutor Saritha Komatireddy.
Numerous other witnesses, including cartel bosses, drug traffickers and police officers, testified against García Luna, one of the highest-ranking Mexican officials to be accused of colluding with a drug trafficking organization.
Komatireddy told jurors that the witnesses should be trusted, declaring that they had direct knowledge of bribes paid to the former security minister and didn't coordinate their accounts.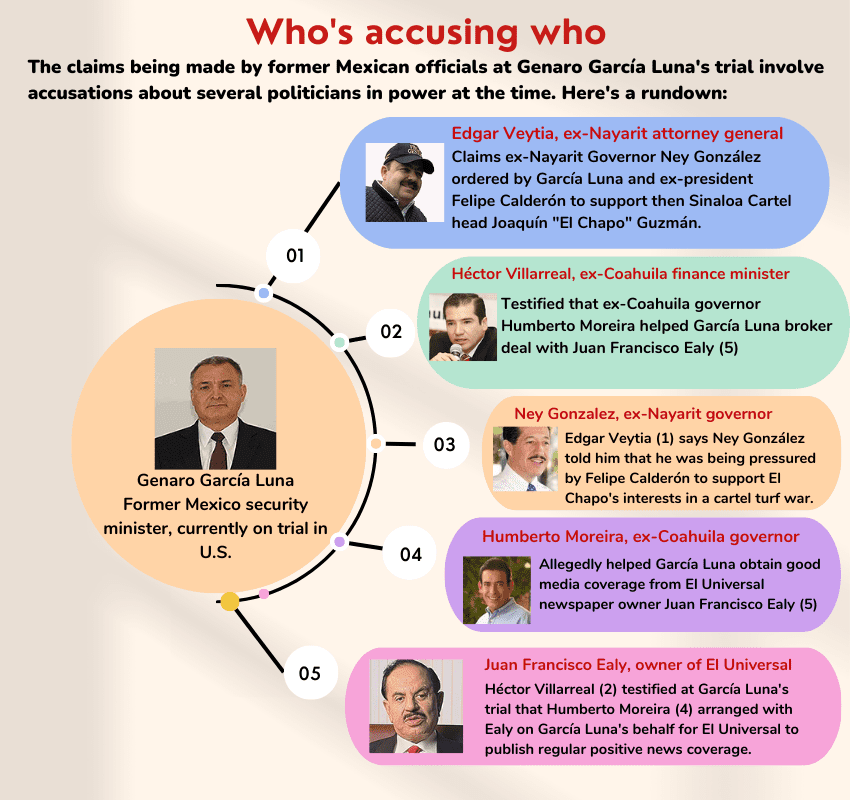 "I'm not asking you to like them," the prosecutor said. "These people are criminals. But it takes one to know one."
Defense lawyers, AP reported, "have argued that the prosecution is relying on untrustworthy criminals who are cooperating with the government to trim their own sentences or to avenge themselves on García Luna for trying to crack down on the drug trade."
The 54-year-old former security minister could be sentenced to decades in prison if convicted. It is unclear when a verdict in the case will be handed down.
García Luna also faces charges in Mexico, and warrants for his arrest have been issued by Mexican courts. The federal Attorney General's Office said in January that proceedings aimed at securing his extradition are continuing "within the framework of the corresponding legal limitations."
The Mexican government has filed a lawsuit in Florida that seeks to recover hundreds of millions of dollars in assets that García Luna allegedly acquired in the U.S. with proceeds of criminal activities.
With reports from El Financiero, CNN Español, AP, Reforma, Animal Político, El Universal, EFE, Excélsior and Reuters