Sons of convicted drug trafficker Joaquín "El Chapo" Guzmán Loera have denied their involvement in the illicit fentanyl business in a rambling four-page letter sent to the Mexican media outlet Milenio.
"We have never produced, manufactured or commercialized fentanyl or any of its derivatives," the brothers said, contradicting an accusation leveled at them by United States authorities last month.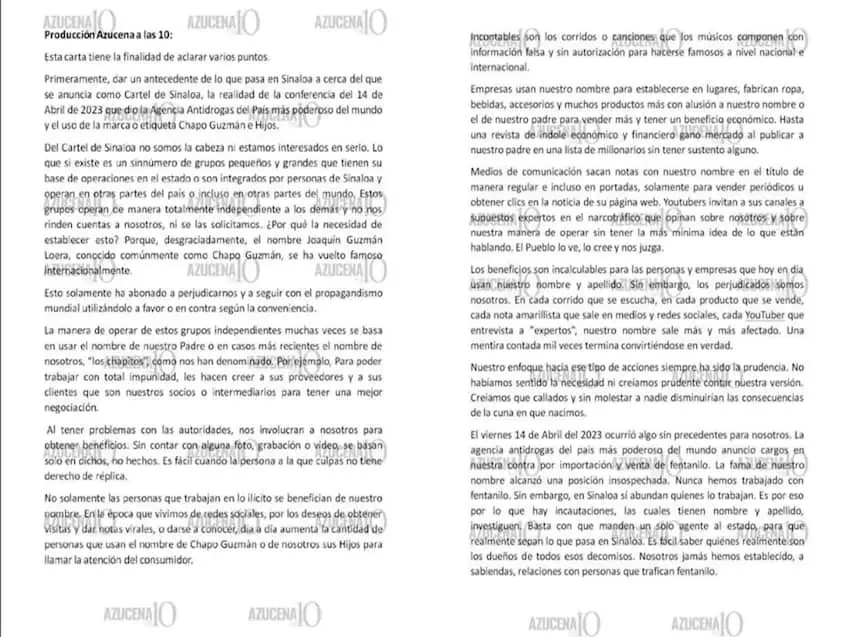 "We are victims of persecution and have been made into scapegoats," their letter claimed.
José Refugio Rodríguez, a lawyer for "Los Chapitos" — as the sons of Guzmán are colloquially known — confirmed the unsigned letter's authenticity.
Milenio's publication of the memo on Thursday came almost three weeks after the United States Department of Justice unsealed drug trafficking and other charges against more than 20 Sinaloa Cartel members and associates, including Ovidio Guzmán López, Jesús Alfredo Guzmán Salazar, Iván Archivaldo Guzmán Sálazar and Joaquín Guzmán López.
United States Deputy Attorney General Lisa O. Monaco said at the time that the "fentanyl crisis" in the United States is "fueled in large part by the Sinaloa Cartel," while Attorney General Merrick Garland called the cartel "the largest, most violent, and most prolific fentanyl trafficking operation in the world."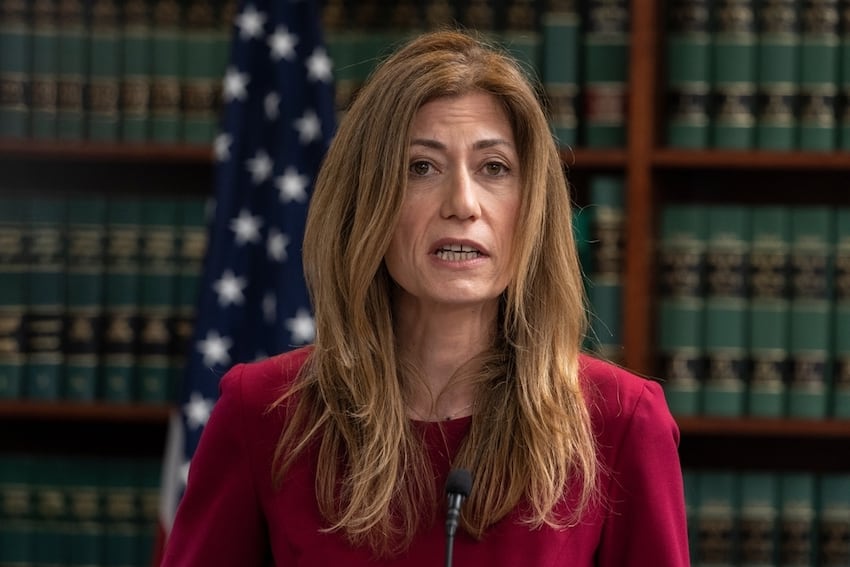 Anne Milgram, administrator of the Drug Enforcement Administration (DEA), said last week that the Sinaloa Cartel and the Jalisco New Generation Cartel (CJNG) pose "the greatest criminal threat the United States has ever faced," and asserted that Los Chapitos "pioneered the manufacture and trafficking of the deadly fentanyl that is flooding our country today and is responsible for countless American deaths."
Milgram said April 14 that the DEA had "proactively infiltrated the Sinaloa Cartel and the Chapitos network," over the past 1 1/2 years, obtaining "unprecedented access to the organization's highest levels" and following them "across the world."
Ovidio, who is fighting extradition to the United States, was detained in January, while brothers Jesús, Iván and Joaquín are at large.
El Chapo, who is serving a life sentence in a United States prison after being convicted on drug trafficking, conspiracy to murder and other charges in 2019, reportedly has 10 sons. It was unclear how many of them were responsible for the letter.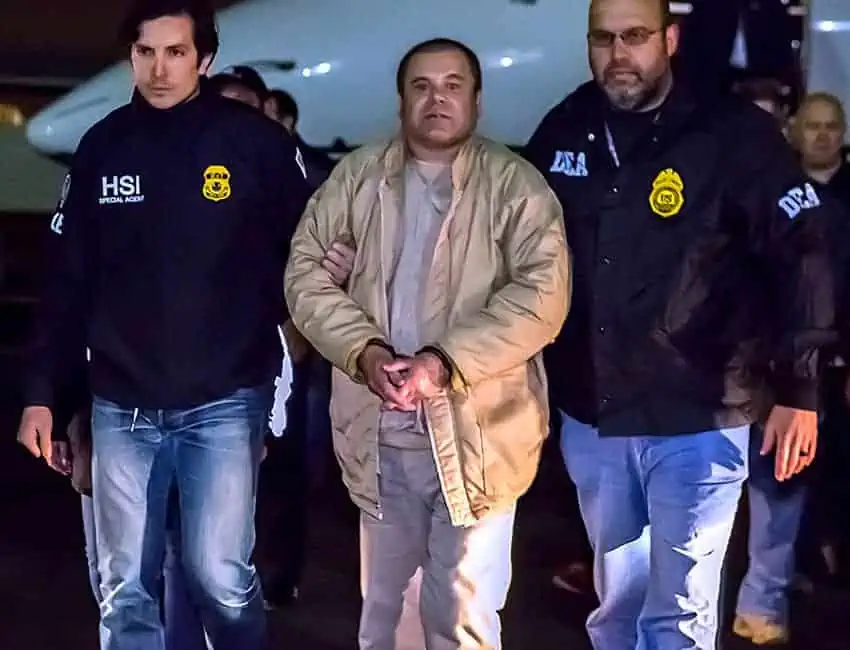 Los Chapitos said that the purpose of their letter, which was addressed to the production team of a Milenio Televisión program, was to "clarify several points."
They asserted that they are not the "head" of the Sinaloa Cartel and are not interested in leading the criminal organization. They also claimed that small and large "independent" cells of the cartel use their name or that of their father while carrying out illicit activities.
"For example, to work with complete impunity, [the cells] make their suppliers and customers think that they are our partners or intermediaries in order to negotiate better," the brothers said.
When they have problems with authorities, the letter continued, "they involve us to obtain benefits," even though they have nothing to back up their claim that they are associates of Los Chapitos.
The brothers also railed against musicians and companies for using their name or that of their father for their own financial gain in songs known as narcocorridos or on products such as clothing and beverages.
"Media outlets regularly publish stories with our name in the headline, or even on front pages, just to sell newspapers or get clicks … on their web pages," they added.
The letter also asserted that Iván Guzmán Salazar never said that Los Chapitos would "flood" the streets of the United States with fentanyl and rejected accusations they had fed people to tigers or killed adversaries with baseball bats.
"We don't have nor have we had tigers. Easy and simple to investigate," the brothers wrote.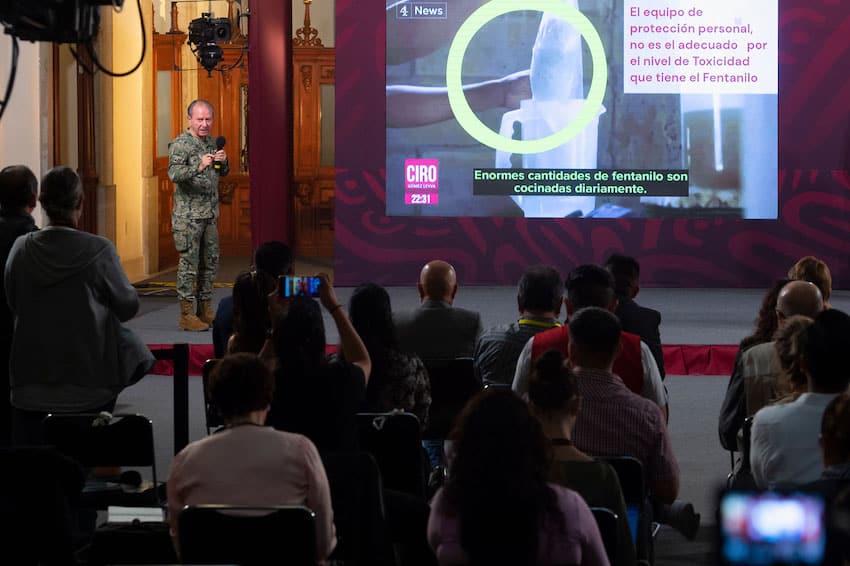 "… The use of our name by other people to get rid of problems, avoid problems or solve problems is becoming a real danger for us," they said toward the end of the letter.
"If they are caught, whoever they are, [they should] face up to their own situation without involving us. … We will always look out for our own safety and that of our family. We didn't choose to be where we are. No one can choose their birthplace. We would have liked to have chosen a different life with a good education … [but] that was denied at the time due to the hunt for our father," Los Chapitos said.
They claimed that no judge will treat them fairly due to the fear of persecution, and challenged the media and authorities to "thoroughly investigate the issue of fentanyl" in Sinaloa and Mexico.
"Who produces it? Where are the ingredients obtained? How does it get to the United States? We are certain that any impartial investigation will reach the same conclusion. The sons of Joaquín Guzmán Loera … have never produced, manufactured or commercialized fentanyl…"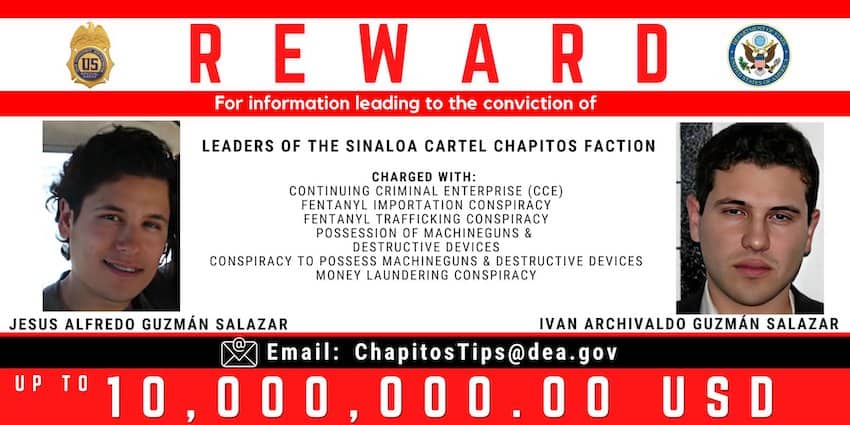 The case against Los Chapitos comes as Mexico and the United States ramp up cooperation to combat fentanyl.
The two countries committed in Washington last month to "continue joint work to dismantle the fentanyl supply chain and the Sinaloa Cartel and the Jalisco New Generation Cartel on both sides of the border." Mexican and U.S. officials also met at the U.S.-Mexico Synthetic Drug Conference in Mexico City in late March.
The Los Angeles Times reported that the letter sent to Milenio by Los Chapitos was probably "an effort to drum up some public sympathy south of the border as U.S. authorities increasingly press their Mexican counterparts to take down the three fugitive brothers."
Mike Vigil, the DEA's former head of international operations, told the Times that he firmly believes the Los Chapitos "are feeling the pressure."
In disseminating a letter, "they are probably trying to gain some public support from politicians who may want to extradite them," he said.
President López Obrador told reporters Thursday that he was aware of the letter but declined to comment on it. He said last month that he did not expect the extradition of Ovidio Guzmán to happen quickly.
"He resorted to the argument or the excuse … that he who was detained wasn't him, that he wasn't … Ovidio," López Obrador said, referring to a bizarre claim made at an extradition hearing in March. "… It has to be proven that [the person detained] is Ovidio, so it takes time."
With reports from Milenio and The Los Angeles Times