Mexico and the United States need to "act quickly" in the fight against climate change, U.S. Ambassador Ken Salazar said Tuesday after a meeting in Oaxaca attended by officials including President López Obrador and U.S. Special Presidential Envoy for Climate John Kerry.
In a statement on the Embassy's website, Salazar said that U.S. and Mexican officials spoke about "crucial issues for our countries and the whole world."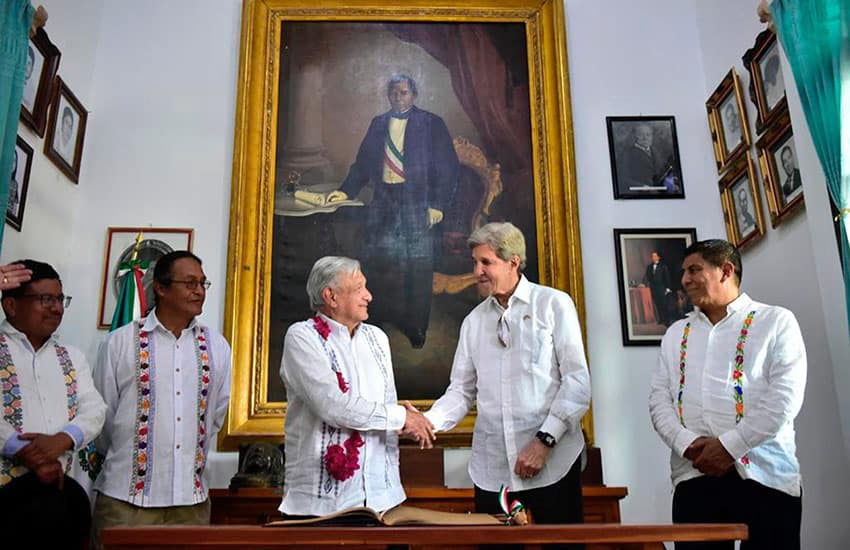 The two countries need to "confront climate change together" and make the transition to using clean energies, he added.
"The recent report from the United Nations Intergovernmental Panel on Climate Change … is an urgent call to act against climate change. We have to act quickly and efficiently because we are running very behind. Our conversations were directed at that as well as complying with our climate commitments," Salazar said.
Foreign Affairs Minister Marcelo Ebrard said at the United Nations Climate Change Conference in Egypt (COP27) last November that Mexico would collaborate with the United States to double its capacity to produce renewable energy.
Ebrard, who also participated in Tuesday's talks, also announced at the time that Mexico would aim to reduce its greenhouse gas emissions by 35% by 2030, a target five percentage points higher than expected.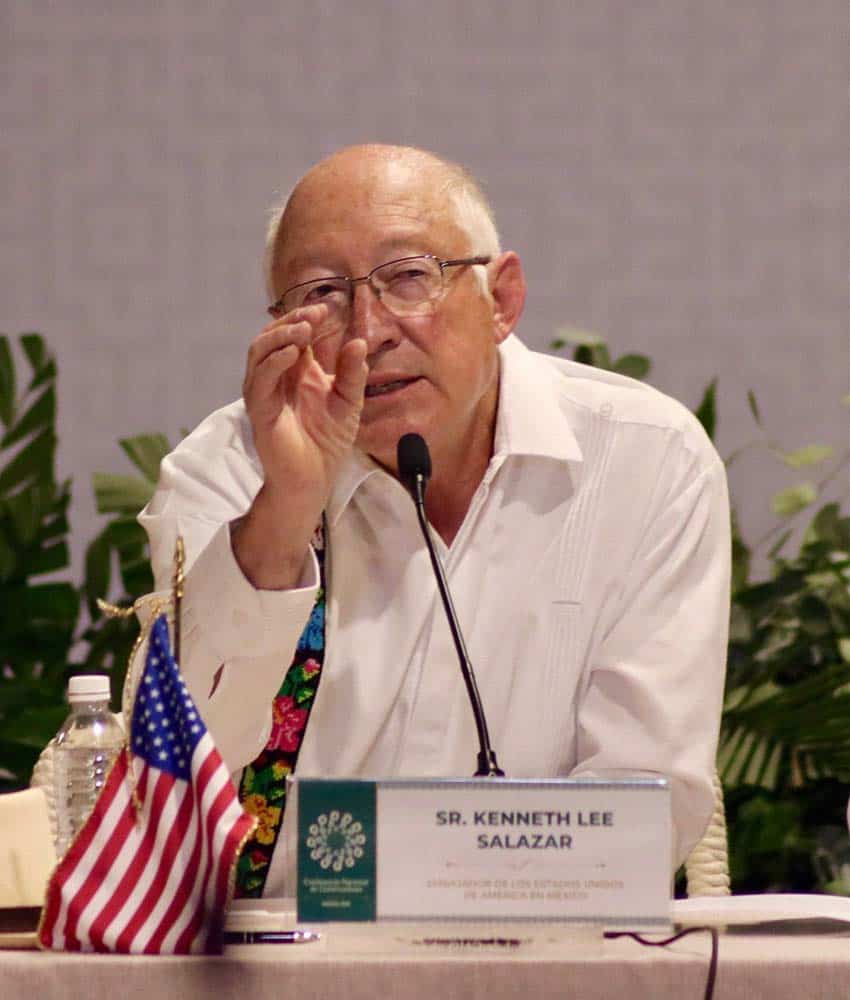 Salazar said in his statement Tuesday that officials spoke about future solar and wind projects but did not offer specifics. The ambassador added that they discussed "steps to follow to reduce emissions more quickly."
"In this meeting we held serious conversations and learned more about the basic structure needed in this energy transition," Salazar said.
"… The private sector plays a crucial role, both in investment and financing as well as in technology. … We're ready for [private companies] to be part of this work to provide clean, affordable and reliable energy to our nations," he said.
However, under López Obrador's leadership, Mexico's government has not been particularly welcoming of private energy investment, including in the renewables sector. It has implemented policies that favor the state-owned Federal Electricity Commission (CFE).
Both the United States and Canada are challenging these policies under provisions of the USMCA free trade pact. Their challenges argue that U.S. and Canadian energy companies operating in Mexico are being treated unfairly.
With regard to U.S. cooperation with Mexico in the fight against climate change, Salazar said that progress has been made since Kerry made his first visit to the country as climate envoy in late 2021.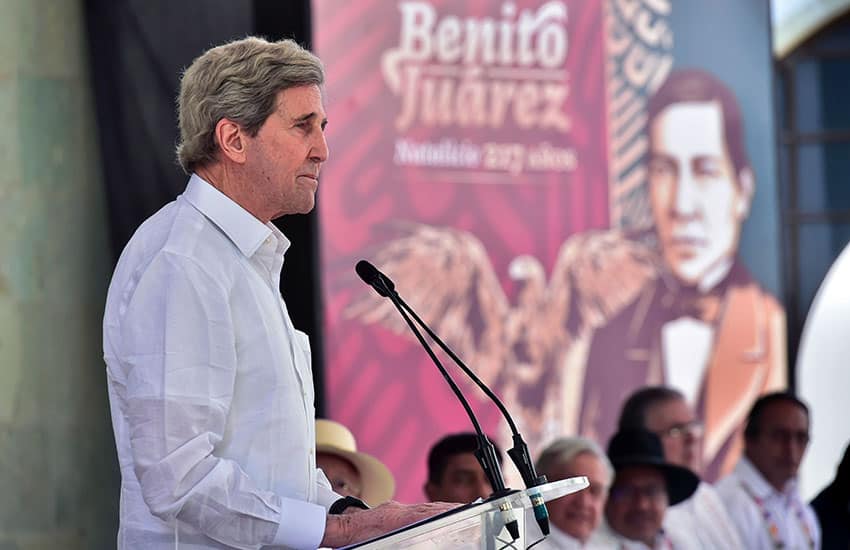 "However, the work can't stay on the table. We have to deepen it and make it a reality. We can and we must do more in favor of the prosperity and well-being of our families and for the future of the planet," he said.
At a press conference after Tuesday's talks, the ambassador made it clear that he hoped CFE chief Manuel Bartlett would travel to Washington D.C. as soon as possible for talks aimed at accelerating the growth of the renewables sector in Mexico.
Salazar expressed that view after Bartlett said at the same press conference that the next bilateral climate meeting would take place in two or three months.
"With all respect, Manuel, we have to [hold the meeting] sooner than in two or three months because there is a lot of work to do," Salazar said, adding that it was time to put "the action plan" into effect.
The CFE uses nonrenewable sources, including coal, gas and fuel oil, to generate most of its electricity, but the commission also operates renewables facilities, including hydroelectric plants and a large solar farm in Puerto Peñasco, Sonora, that was officially opened in February even though it is not yet fully operational.
While López Obrador has praised the Sonora solar plant and has shown muted support for other renewable projects, he has championed the continued use of fossil fuels and argues that the transition to clean energy cannot be carried out hastily.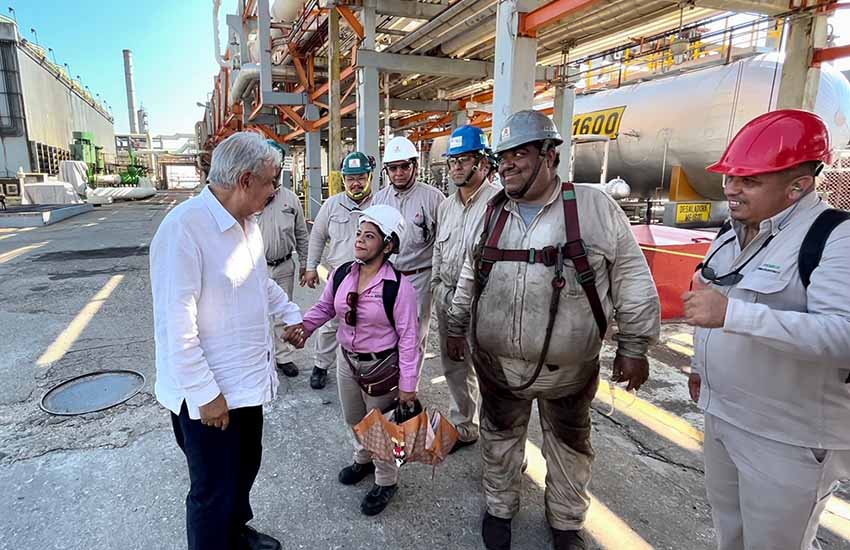 The president said earlier this month that he and Secretary General of OPEC Haitham al-Ghais — who praised Mexico for investing in oil refineries during a visit to Mexico City —understood each other very well given their shared commitment to the oil industry.
Despite that commitment, López Obrador has pledged that his government will work independently, and with the United States, to combat climate change.
Kerry welcomed Ebrard's more ambitious commitments announced at COP27, saying at the time that Mexico and the United States have a shared "vision" for a clean energy future in North America.
Before the conference in Egypt, Ebrard said that Mexico needs to increase renewable energy production "at a rate even faster than the United States" to ensure it can comply with any clean energy requirements the U.S. imposes on exports to that country.
In addition to attending the climate talks on Tuesday, Kerry, at López Obrador's invitation, also attended a ceremony in San Pablo Guelatao, Oaxaca, to mark the 217th anniversary of the birth of Mexican president Benito Juárez.
In a brief speech, Kerry said that he saw "a wisdom in [López Obrador's] leadership that wants to undo some of the wrongs of the past and help to promote the interests of the people."
"And it is clear to me that he understands the degree to which our futures are now inextricably linked," said Kerry, who has now made seven trips to Mexico as climate envoy.
"That is not a political statement; that is not an ideological statement," he added.
"That is a statement based on the reality of science and the report that just came out a few days ago from the United Nations warning all of us that we must take the steps necessary to reduce the rate of increased warming on the planet," Kerry said.
With reports from El Universal and Aristegui Noticias