A day of violent chaos following the arrest of cartel leader Ovidio "El Ratón" Guzmán in Culiacán, Sinaloa, left 29 people dead: 10 soldiers and 19 alleged criminals, according to the Defense Ministry.
The violence broke out after Mexican security forces captured Guzmán — son of jailed capo Joaquín "El Chapo" Guzmán, and leader of the "Los Chapitos" faction of the Sinaloa Cartel — in a town in the municipality of Culiacán, in the early hours of Thursday morning.
"[The criminals] managed to regroup with the intention of rescuing Ovidio 'N,'" Defense Minister Luis Cresencio Sandoval explained at a press conference on Friday morning. "The aggressors used 50-caliber machine guns, so it was necessary to give fire-cover from airplanes."
#VIDEO 📹| Desde el aire disparan Fuerzas Armadas en balacera en Jesús Maria, en #Culiacán pic.twitter.com/5chSreJ4gg

— Los Noticieristas (@noticieristas) January 5, 2023
Immediately after the arrest, Guzmán's followers launched a series of armed attacks and 19 blockades around Culiacán, terrorizing the city for around 12 hours.
Gunmen fired at one military and one commercial airplane at Culiacán International Airport, causing air traffic to the city to be suspended and the airports of Culiacán, Mazatlán and Los Mochis to be closed. Several bus lines also suspended transport through the region. Authorities ordered schools and businesses to close and local people to take shelter as the battle raged through the city.
"The authorities counted 19 dead among the lawbreakers and detained 21 people, seizing Barrett rifles, machine guns, 26 handguns, magazines, cartridges and 13 vehicles," Cresencio said. "Ten soldiers, emphasizing their values, lost their lives in the line of duty."
Despite the anarchy, authorities insisted that no civilians were killed, presenting this as a vindication of AMLO's approach to the struggle against drug cartels.
"Action was taken to take care of the civilian population so that there were no innocent victims," President López Obrador emphasized.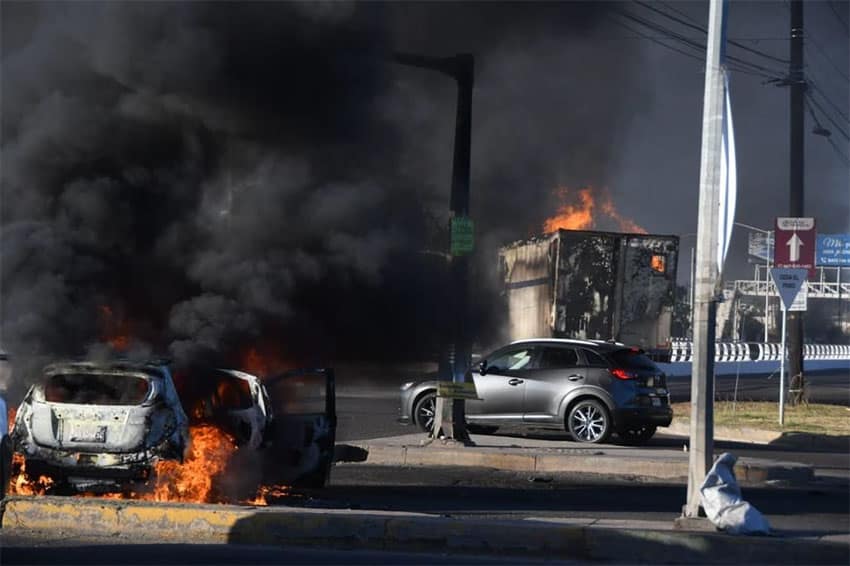 "We didn't come to win a war; we came to build peace," added Rosa Icela Rodrígez, minister of security and citizen protection. "This operation demonstrated the new behavior of the government of Mexico; Human rights and well-being are prioritized."
In October 2019, Ovidio Guzmán was captured but then swiftly released, after a similar wave of violent retribution by Sinaloa Cartel members — known as the "Culiacanazo" — sparked fears of mass civilian casualties. AMLO insisted at the time that he supported the controversial decision.
All the same, Thursday's successful operation is a welcome boon for his government, particularly coming just days before the presidents of the United States and Canada are due to visit Mexico for the North American Leaders Summit.
By Friday morning, local authorities reported a return to relative calm in Culiacán.
"There has been no incident during the course of the night; we consider that the conditions exist to return to normal activities," Sinaloa security secretary Cristóbal Castañeda said on Twitter. "Shops and businesses can be reopened. The authorities of the three levels of government continue in coordination and we will maintain operations and patrols in the city."
With reports from Milenio, Animal Político and Forbes