The biggest news in Mexico this week was undoubtedly Hurricane Otis, which devastated Acapulco after making landfall as a powerful Category 5 storm early Wednesday morning.
In addition to traveling to the resort city to see the damage with his own eyes, President López Obrador presided over another five morning press conferences, or mañaneras, where he responded to questions about the hurricane and spoke about a range of other issues.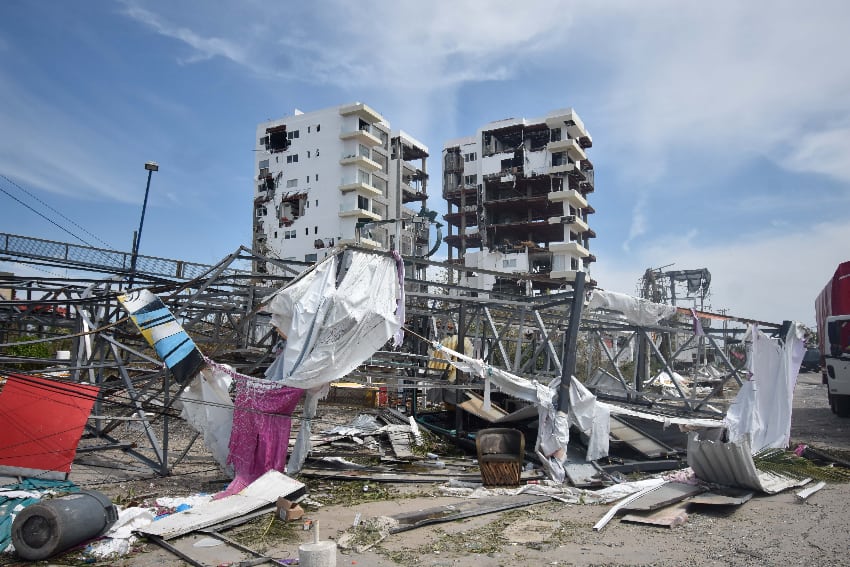 AMLO to press Biden to hold talks with Cuba 
At his Monday press conference, López Obrador said he would lobby United States President Joe Biden to open dialogue with Cuba when he sees him at the APEC Leaders' Meeting in San Francisco next month.
Speaking a day after the governments of 10 countries agreed at a regional migration summit in Chiapas to propose "comprehensive dialogue about their bilateral relations" to the U.S. and Cuban governments, AMLO said that the aim of the talks would be to "resolve outstanding issues" between the two countries, "especially everything related to the blockade on Cuba, which very much affects the [Cuban] people."
The United States has maintained an embargo against Cuba for more than six decades.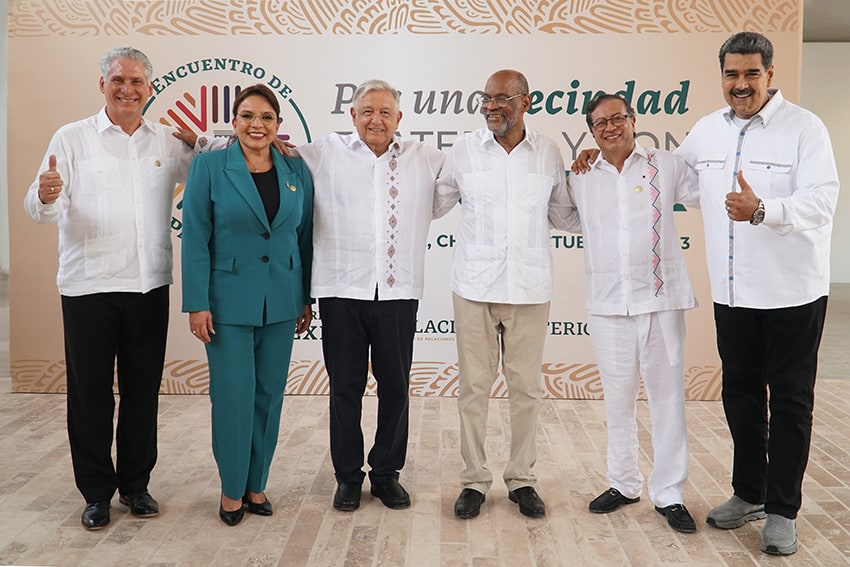 "Regardless of the differences [between the U.S. and Cuba] … that exist for political and ideological reasons, this measure of cutting off a country inflicts a lot of harm on human beings and is a flagrant violation of human rights because it prevents those who live in Cuba from being able to have food supplies … and from being able to purchase oil, fuel and other goods," López Obrador said.
"So it's important for dialogue to be reopened. It was possible in the time of president Obama, he even visited Havana and sanctions were removed. However, economic and commercial exchange is now closed and there is no bilateral dialogue," AMLO said, adding that he hoped talks for "fundamentally humanitarian reasons" could be held as soon as possible.
A pro-woman president?
Asked later on Monday about the National Electoral Institute's (subsequently confirmed) plan to oblige political parties to nominate women in at least five of nine gubernatorial elections to be held next year, López Obrador expressed support for the idea.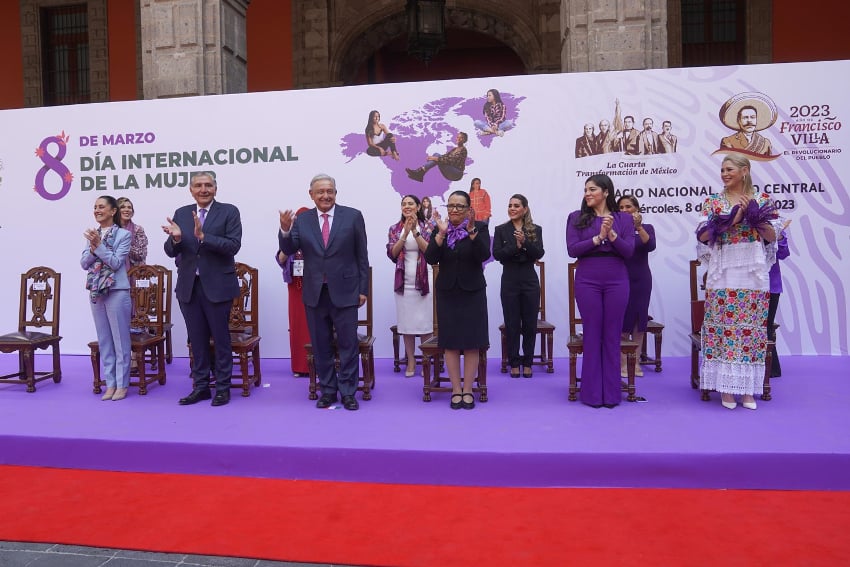 "I'm pro-woman," declared the president, who told reporters last year that he gets up at 5 a.m. every day to prevent violence against women.
He added that he was "always" in favor of "giving more preference to women."
AMLO, who hopes that a woman – Claudia Sheinbaum – will succeed him as president next year, has maintained a cabinet of men and women in roughly equal numbers throughout his presidency, but former interior minister Olga Sánchez asserted in 2020 that there was "considerable" misogyny in the federal security cabinet, a remark she later revised.
While he regularly expresses his support for women and emphasizes the importance of women's issues, López Obrador has been criticized for not doing enough to combat gender-based violence, and has even been accused of having a woman problem.
The president, however, has described claims that his administration is anti-women as a "vile manipulation" of reality.
Monday morsel
The Tulum airport will open Dec. 1 and the maiden flight of the new state-owned airline Mexicana will take off from the Felipe Ángeles International Airport on Nov. 30, AMLO said near the conclusion of the presser.
Homework for Supreme Court justices
On Tuesday morning, after once again railing against the high salaries and privileges of Supreme Court justices, López Obrador came up with 10 questions for the ministers of Mexico's highest court.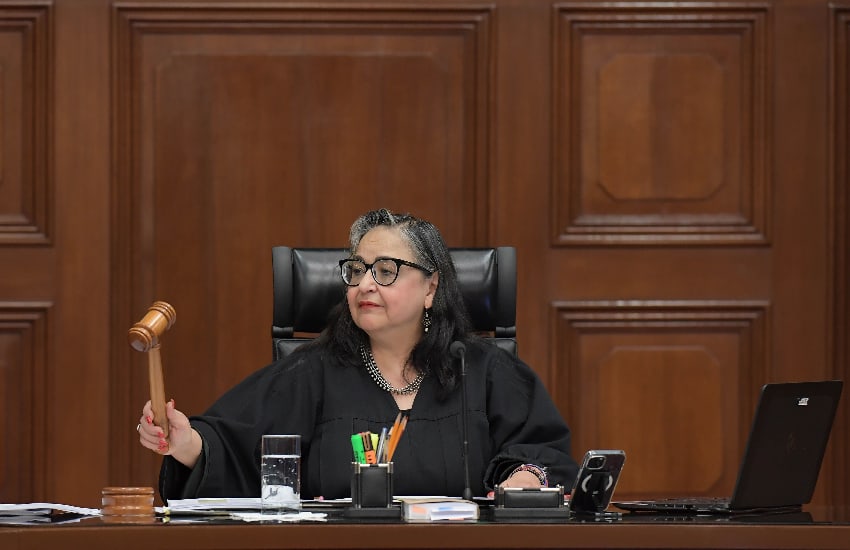 Why do you earn 700,000 pesos a month?
Why aren't judges, magistrates or Supreme Court justices ever punished for corruption?
Why was a man who had the "complete confidence" of disgraced former security minister Genaro García Luna hired to manage the office of the chief justice of the Supreme Court?
Why do you use "legal chicanery" to release criminals?
What have you done in favor of the majority of the people of Mexico?
Why didn't you allow the people to be consulted when Mexico's oil sector was privatized?
Why didn't you provide legal protection when workers' pensions were privatized?
Why didn't you agree to punishing those responsible for the ABC Daycare fire?
Why did you "agree to, promote and support" the desafuero (stripping of immunity from prosecution) of the current president when he (I) was Mexico City mayor?
Why, instead of punishing white-collar criminals, do you release them and return stolen goods to them?
Perhaps not expecting that justices will complete his assignment, AMLO – who has been angered by Supreme Court decisions against his government's legislative agenda – set no due date.
AMLO laments another massacre of police
Asked about the murders on Monday of 12 police officers and a municipal security secretary in Guerrero, López Obrador conveyed his condolences to the families of the deceased.
"What happened in Coyuca de Benítez is very regrettable, it was practically an ambush on police. I send a sincere, affectionate hug to the families of the police officers. It hurts a lot when a human being loses his or her life, whether it's a police officer or any person," he said.
"But we're attending to [the situation], there is now a National Guard deployment of about 300 troops [to Coyuca de Benítez]," AMLO said.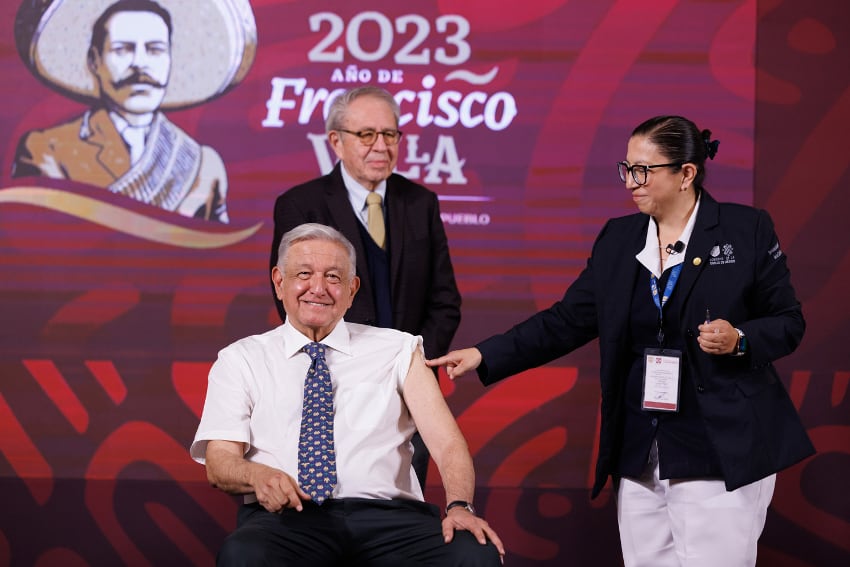 Among Mexico's 32 federal entities, Guerrero has recorded the second highest number of police murders in 2023 with 34, according to Causa en Común, a Mexico City-based non-government organization that tracks killings of officers.
Tuesday tidbit
At the end of the press conference, a nurse rolled up the president's left sleeve and administered COVID-19 and influenza vaccines. "It's better to prevent, much better. … The vaccines are very safe and they help," AMLO said just before he got his shots.
Ethical social mobility 
"I'm in favor of social mobility," AMLO declared during his Wednesday press conference.
"What is social mobility? It's the child of a campesino, a laborer, a shopkeeper, a professional, being able to climb the social ladder with work, with study, in accordance with the law," he said before asserting that the opportunity to move from one social class was "destroyed" by neoliberal policies implemented by previous governments.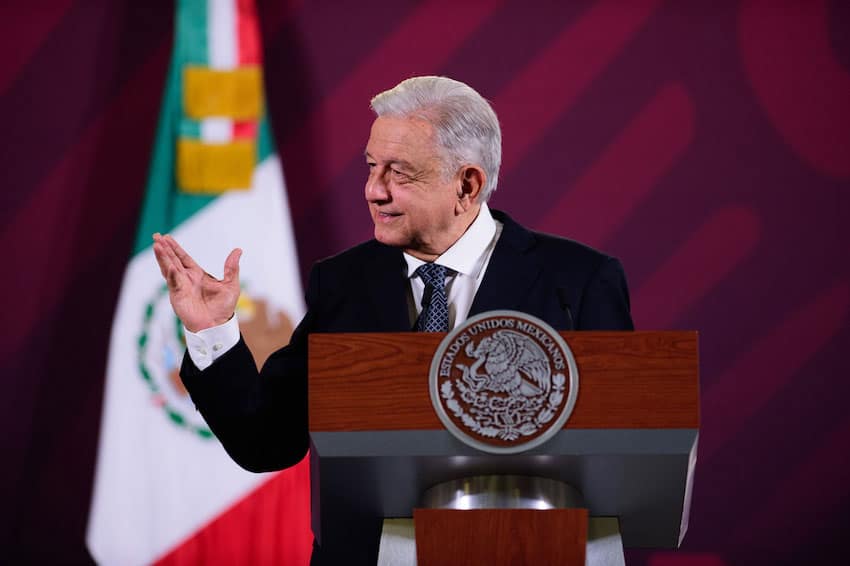 "… We want millions of Mexicans to come out of poverty and … we're working on that, but we want them to be part of a middle class with values, with human principles, not classist, not cunning, because sometimes [those who who move to a higher social class] are even worse than those who inherited fortunes, they become enemies of their own people, their own class," López Obrador said.
A bright future for Sonora 
"Sonora has a lot of future, it's currently growing and it's going to grow more," AMLO said later on Wednesday. "I believe that the development of Sonora for new generations is guaranteed. And I'm going to speak about five or six factors."
The "hard-working" and "entrepreneurial" people of Sonora, the presence of lithium in the state and the construction of a solar plant and other energy projects there are all advantages, López Obrador said.
In addition, a permit has been issued for a gas liquefaction plant in Puerto Libertad and Sonora borders Arizona and Arizona is a "production center for semiconductors," he said, adding that the port of Guaymas is "very important."
AMLO also noted that Sonora is a large producer of copper.
"With all the industrial reconversion, one of the most in demand mining resources will be copper because the entire automotive industry will need three to five times more copper than what is currently used," he said. "And where's the copper?"
Wednesday wisdom
"Who produces wealth?" AMLO questioned at one point in the presser. "Only those who invest capital? No, workers do as well and sometimes that isn't taken into account."
A "totally devastating" hurricane and an enjoyable (albeit muddy) walk
Security Minister Rosa Icela Rodríguez announced Thursday morning that the preliminary death toll from Hurricane Otis was 27, with four additional people unaccounted for.
AMLO said that an off-duty soldier was among the dead and that three navy marines were missing.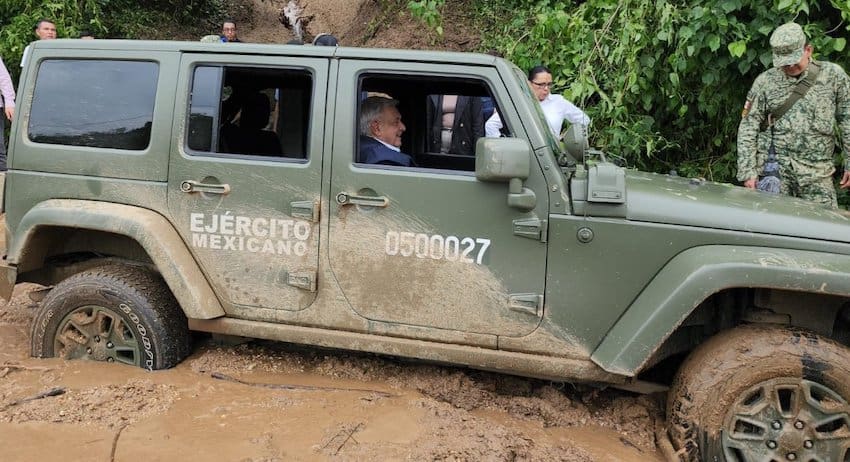 Guerrero Governor Evelyn Salgado joined the press conference by phone and declared that Otis "has been totally devastating for our port," where hotels, stores, restaurants, apartment buildings and houses were rendered "denuded shells" by the almost 300 km/h winds, according to one report.
Near the end of a press conference dominated by information about the situation in Guerrero, López Obrador recounted a story from his overland journey to Acapulco on Wednesday to inspect the damage caused by the hurricane.
He noted that he was forced to abandon the vehicle he was traveling when it reached a blocked section of the Autopista del Sol, the highway that links Acapulco to central Mexico.
"We got stuck yesterday and we walked. I really enjoyed it because I hadn't walked for a long time, I had a problem with my heel and the doctor told me that I'd be able to walk a kilometer in five or 10 days because it hurts a lot. Those of you who have had this [problem] know what I'm talking about," AMLO said.
"But yesterday I walked about three, four or five kilometers after we got stuck and my heel was fine, it held up without problem. And then … on the other side there was a mining company truck and they gave me a ride … to Acapulco," he said.
A "relationship of respect" with a presidential aspirant 
Toward the end of the Thursday presser, a reporter asked the president about Nuevo León Governor Samuel García's decision to take leave to seek to compete in the 2024 presidential election as a candidate for the Citizens Movement party.
"I support Samuel because he's the governor of Nuevo León. In addition, we've had a good relationship of respect, even though … the origins of our organizations are different," López Obrador said.
"In government we've acted in a coordinated way and I can't say more than that. The political-electoral part [of public life] no longer corresponds to me, I just always wish the best for Samuel," he said.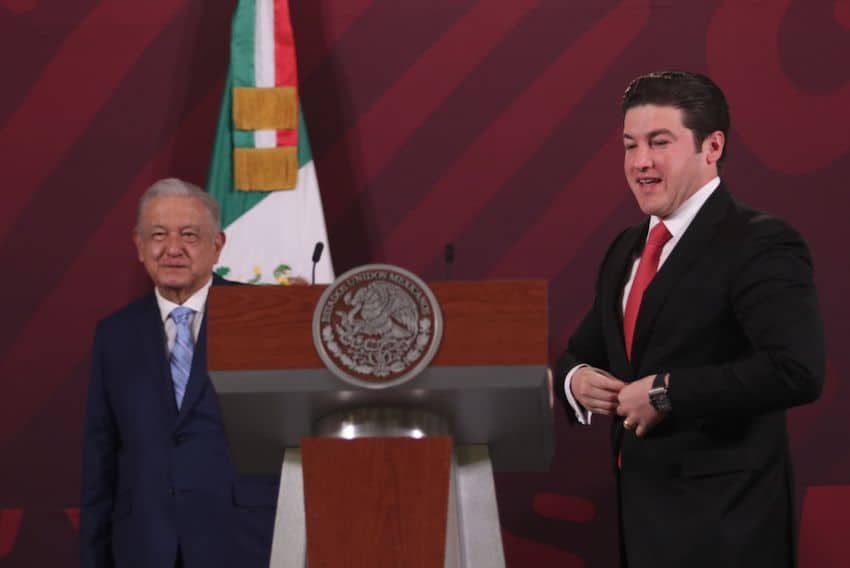 AMLO's opinion of the Nuevo León governor stands in stark contrast to views he has expressed about the candidate for the Broad Front for Mexico opposition alliance, Xóchitl Gálvez.
García's inclusion in the presidential contest could split the anti-Morena vote, benefiting the ruling party candidate – and López Obrador protégé – Claudia Sheinbaum.
Thursday trivia
At one point in the presser, AMLO mentioned Manuel González Flores – Mexican president from 1880 to 1884 – describing him as a "buddy of Porfirio [Díaz]" and clarifying that he was born in Tamaulipas, not in Spain like "his critics said."
"We were lucky, nature, the Creator, protected us" 
Early in the Friday presser, National Defense Minister Luis Cresencio Sandoval reported that the Hurricane Otis death toll remained at 27, with four other people still missing.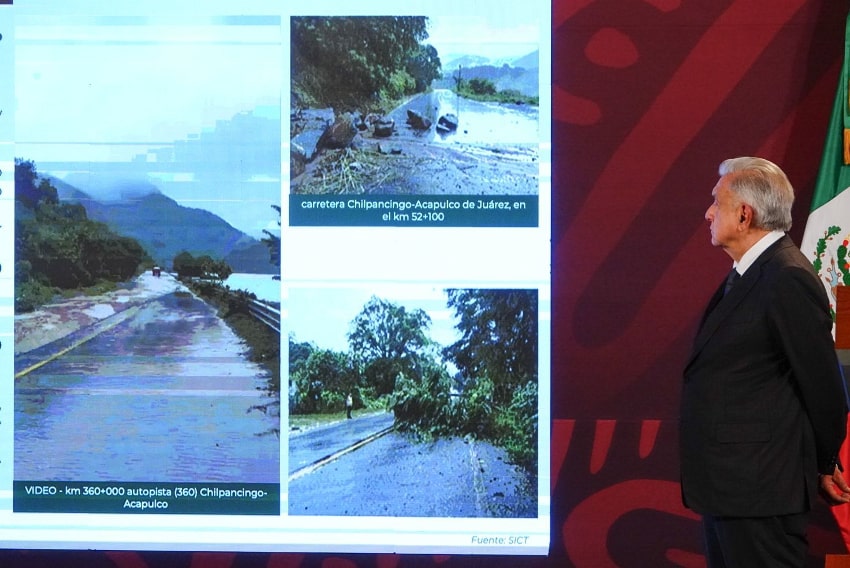 López Obrador later said that the total number of deaths "shouldn't be so significant," but added that the loss of even one life is "regrettable."
"I believe that we were lucky, nature, the Creator, protected us, even with the fury of the hurricane," he said.
"… Everything indicates that … there weren't so many [deaths] in the face of such a strong, such a powerful phenomenon – a Category 5 hurricane that didn't come in through an unpopulated area, it entered via the [Acapulco] bay, where 800,000 or 1 million people live," AMLO said.
"Yes, there is a lot of material damage but fortunately we're not recording much loss of human life," he said.
Asked whether authorities gave adequate advance notice to Guerrero residents and tourists, López Obrador first noted that the hurricane was an "extraordinary phenomenon" whose rapid strengthening was unprecedented. He then told reporters that he had been monitoring the situation and posted a message to X, formerly Twitter, at about 9 p.m. Tuesday warning that Otis was forecast to make landfall as a Category 5 hurricane between Acapulco and Técpan de Galeana between 4 and 6 a.m. Wednesday.
The hurricane slammed into the Pacific coast at Acapulco at 12:25 a.m., according to the United States National Hurricane Center.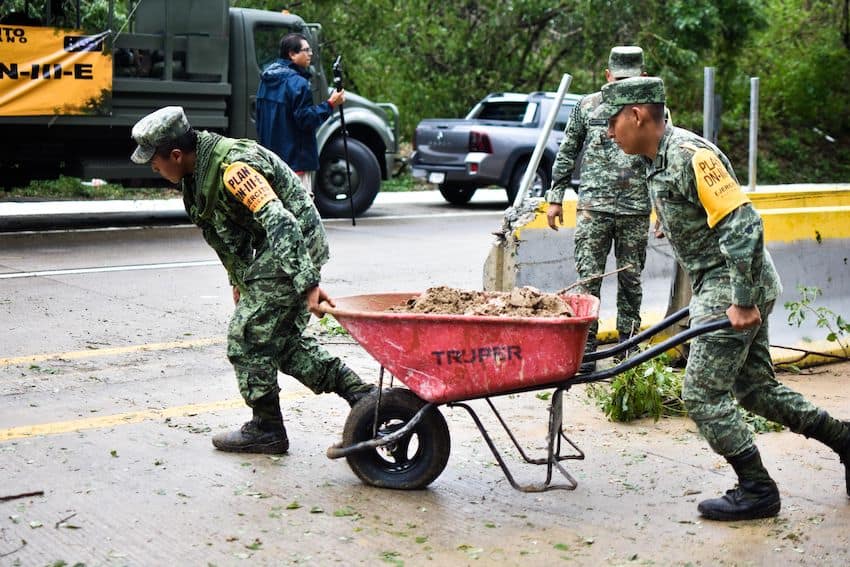 AMLO concluded that residents and tourists did receive sufficient warning, and said they took shelter as best as they could.
He also said that Guerrero authorities did all they could to prepare for the arrival of the hurricane and to warn residents of the danger.
López Obrador told reporters that loud speaker messages were broadcast in Acapulco prior to Otis making landfall and asserted that "there were no people in the street" when the hurricane arrived. "That helped a lot," he said.
Relations with Spain remain "on pause" 
Former foreign affairs minister Marcelo Ebrard and Spanish Foreign Affairs Minister José Manuel Albares supposedly relaunched the relationship between Mexico and Spain last December almost a year after López Obrador declared a "pause" in bilateral ties due to what he described as a lack of respect from the European nation.
But AMLO told a Spanish reporter on Friday that he hadn't yet pressed play, confirming that the relationship remained "on pause" even as the Mexican Embassy in Madrid continues to operate and despite two Mexican Air Force planes using the Spanish capital's airport to evacuate Mexicans from Israel earlier this month.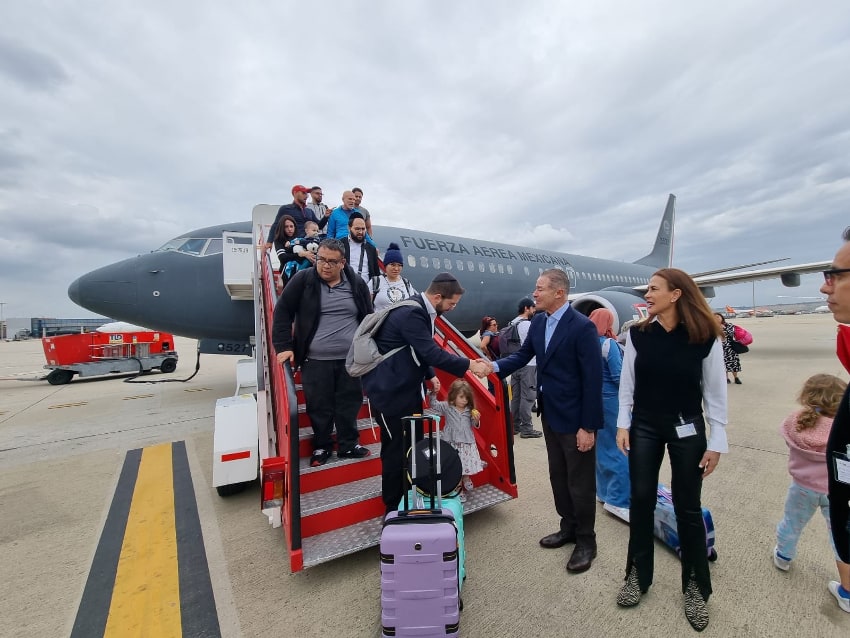 "With all due respect, do you know that the Spanish dominated Mexico for three centuries and a king never visited us during those three centuries? … It was utter contempt and just imagine how much Mexico, so-called New Spain, contributed to the crown," he said.
López Obrador said that Mexico has a "very good relationship with the Spanish people," but doesn't like "the arrogance of the current representatives of the monarchy."
He wrote to the king of Spain (and Pope Francis) in 2019 asking "that they make an account of the injustices and apologize to the indigenous peoples [of Mexico] for the violations of what are now known as human rights."
AMLO said Friday that he didn't receive a direct response to his apology request from Felipe VI, claiming that the monarch instead chose to convey a message to him via Peruvian novelist Mario Vargas Llosa.
Friday fragment
"We're all going to work for the rehabilitation, the reconstruction of Acapulco," López Obrador said. "… We won't leave Acapulco until … normality returns."
By Mexico News Daily chief staff writer Peter Davies ([email protected])