The Culiacán International Airport in Sinaloa had reopened as of 10 a.m. on Friday, according to media reports, a day after an outbreak of widespread violence was sparked by the arrest of Ovidio "El Ratón" Guzmán.
Two other sizable airports in Sinaloa — in Mazatlán and Los Mochis — also reopened on Friday, as did the airport in Ciudad Obregón, Sonora, which is 150 kilometers (93 miles) north of the Sinaloa-Sonora state line.
"We suggest you contact your airline for any questions regarding your flight," Grupo Aeroportuario Centro Norte, which operates the airports in Culiacán and Mazatlán.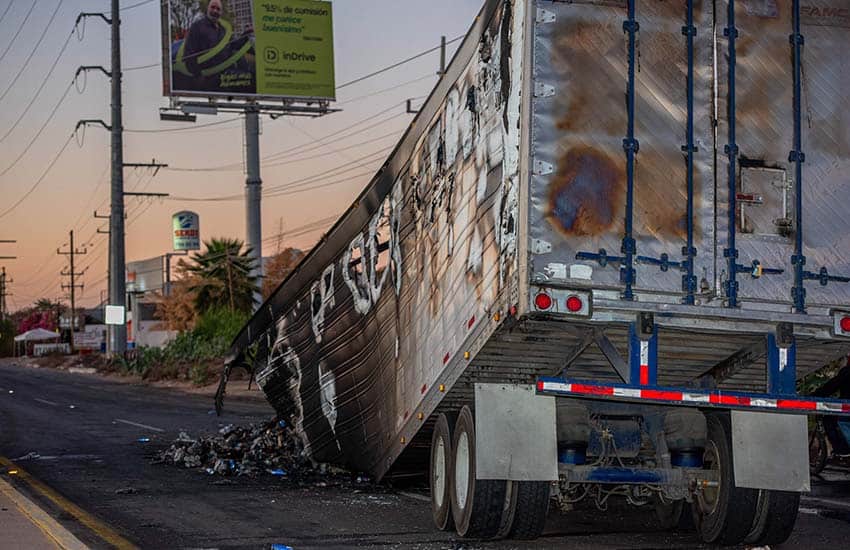 The Mazatlán and Los Mochis airports reported early Friday afternoon that they were fully operating, one day after thousands of passengers were stranded because of the closures.
Aeroméxico, meanwhile, announced on Twitter early Friday afternoon that "as of Jan. 7 [Saturday] all our flights to/from Cd. Obregón, Culiacán, Los Mochis and Mazatlán will operate as normal. You can check the status of your flight at viaja.am/3DXy22A." 
Mexico's Federal Civil Aviation Agency (AFAC) reported on Thursday that the aforementioned airports had been temporarily closed to the general public for security reasons. At the Culiacán airport, for example, the fuselage of a plane bound for Mexico City was hit by gunfire on the runway before taking off (no passengers or employees were injured).
Meanwhile, on a portion of Federal Highway 15 not far from the airport in Ciudad Obregón, two semi-trailers on Thursday were set on fire, which reportedly not only prevented travelers from reaching the airport but also caused the evacuation of passengers already there.
In its coverage early Thursday afternoon, the newspaper Milenio noted that "all the burned vehicles (a total of 250, according to authorities) have already been removed from the roads in the north of the state."
It also reported that the northern zone of Sinaloa was free of blockades, according to authorities, and that the checkpoints set up by the National Guard and local authorities in that region along Federal Highway 15 had been removed.
ANTE EL LOS BLOQUEOS EN AUTOPISTA MAZATLAN CULIACAN EN SINALOA, PERSONAS SE ACERCARON A REGALAR COMIDA A TODOS YA QUE VARIOS CHOFERES TIENEN MÁS DE 15 HRS PARADOS pic.twitter.com/CgeTufALVF

— RorrockTC (@RorrockTC) January 6, 2023
On the highway between Culiacán and Mazatlán, blockades kept trucks and buses stranded for hours. Citizens brought food and hot drinks to the highway to stuck drivers. 
Federal Highway 15 runs from Guadalajara to the U.S. border and passes, south to north, through Tepic, Nayarit; Mazatlán, Culiacán and Los Mochis, Sinaloa; and Ciudad Obregón, Sonora.
The portion of Highway 15 that runs from Culiacán south to Mazatlán and beyond, however, was still "closed due to security issues," according to the Twitter account of Autopista  Mazatlán-Culiacán. 
"We await further information from the National Guard," the account said early this afternoon. As of 8:00 p.m. Central Time, there had been no updates.
Bus service from Autotransportes Unidos de Sinaloa, one of the main bus companies in that region, more commonly known as AUS, returned Friday morning with runs to Culiacán and Escuinapa. The latter city is south of Mazatlán and just north of the Sinaloa-Nayarit border.
Jesús Martínez López, head of operations and services for AUS Central in Mazatlán, said the route to Escuinapa was being run "with great difficulty" because of some lingering roadblocks in the southern part of Sinaloa. He said buses "are getting off the highway" and taking a detour.
Las carreteras federales en el tramo de #Escuinapa, estuvieron bloqueadas por más de 20 horas. https://t.co/ZG5Q1fd9oR

— El Sol de Mazatlán (@ElSoldeMzt) January 6, 2023

The situation earlier today on the federal highway in Escuinapa. It is now open, according to media reports.
However, El Rosario is a bit north of Escuinapa, and reaching that municipality from Mazatlán "was no problem," Martínez López added.
He said a bad stretch of highway was the portion of Highway 15 that goes north from Culiacán to Guasave, then to Los Mochis, then to Ahome.
He said he was waiting for the authorities to tell him when bus service could be resumed between those areas, and he urged people to be patient when it comes to traveling to and from Culiacán; the top concern, he said, must be the safety of passengers, employees and buses.
A traveler named Cris stranded at a Mazatlán bus station took to Twitter on Friday afternoon to complain that "the drivers do not tell us anything, we have been standing here since yesterday, other [bus] lines are already moving to Culiacán and we have nothing, not even the ticket office is open, terrible service."
The newspaper Noroeste reported Friday afternoon that there were around 500 passengers stranded in the facilities of the Culiacán bus station due to the blockade of booths and roads causing transport lines to suspend operations. One local news outlet said there was bus service from Culiacán to at least a half dozen destinations, "but there is no estimated time to open service in its entirety."
Meanwhile, the newspaper Debate wrote on Friday afternoon, "More than 30 hours after the 'Culiacanazo 2.0' began … with the arrest of Ovidio 'El Ratón' Guzmán, the population of Sinaloa is still afraid of taking to the streets."