The dominant issue at President López Obrador's morning press conferences, or mañaneras, this week was court workers' opposition to the government's plan to eliminate 13 of 14 public trusts that provide funding for the Supreme Court, the Federal Electoral Tribunal and the Federal Judiciary Council.
AMLO repeatedly said that lower-level court workers won't be disadvantaged by the plan because it will only reduce the high salaries and extravagant benefits of senior judges, a position challenged by the Supreme Court.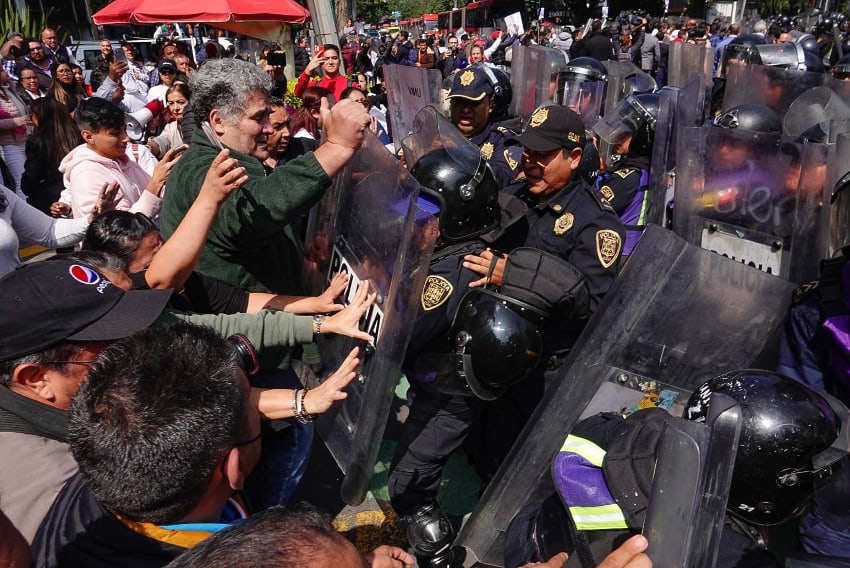 Among the other issues he discussed were migration, passenger trains, a toxic spill in Sonora and political polarization.
The most heartwarming moment of the week at the mañaneras came on Friday, when the government made an announcement that fulfilled a wish made just 24 hours earlier by a disabled tapatío – a native/resident of the city of Guadalajara.
Monday
At the top of his press conference, López Obrador congratulated Daniel Noboa, a 35-year-old heir to a banana empire who won a runoff election in Ecuador last Sunday and will become the South American nation's youngest ever president when he takes office later this year.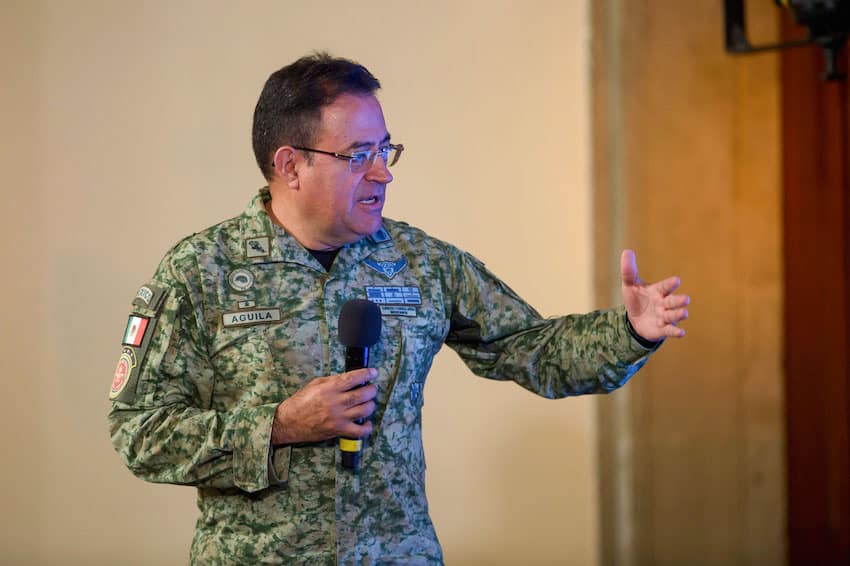 After a report on fuel and groceries prices, the general director of the Maya Train project provided an update on the construction of Section 4 of the railroad, which will connect Yucatán's "yellow city" of Izamal to the Cancún airport in Quintana Roo.
Óscar David Lozano Águila said that tracks have been laid along the entirety of the 239-kilometer-long section, and noted that the stations along the stretch – including those in Valladolid and near the Chichén Itzá archaeological site – are, on average, over 80% complete.
The narrator of a slick video he presented declared that the Maya Train railroad – a signature infrastructure project of the federal government – was just 60 days away.
Having resumed his position behind the mañanera lectern, AMLO was asked about the gubernatorial aspirations of Rocío Nahle, who resigned as energy minister last week to pursue the ruling Morena party's nomination for the 2024 election in the state of Veracruz.
"Rocío Nahle is first class," López Obrador said after a reporter put it to him that "some Morena supporters" believe that factors such as delays in the commencement of full capacity operations at the Olmeca refinery on the Tabasco coast and "the fact that she is not a native of Veracruz" could hurt her chances in the upcoming gubernatorial election.
"… The refinery is already producing, [some] refinery processes are lacking, but it's already producing," AMLO retorted.
"It was built in record time," he said, asserting that never before has a project as large as the refinery been built in such a short time. "I can only thank Rocío for her work," the president said.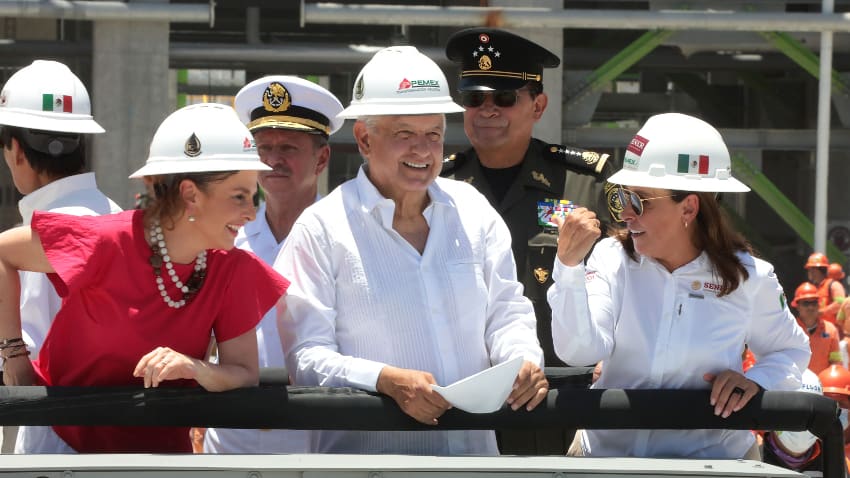 As for Nahle not being from Veracruz – she was born in Zacatecas – López Obrador noted that she had represented the state in both houses of federal Congress.
Later in the presser, a reporter asserted that many Mexicans are experiencing a "kind of discomfort" in their day-to-day lives due to the presence of large numbers of migrants in some cities. He asked the president whether the federal government had "lost control" of the situation.
"No, and I have other information," AMLO responded.
"The people of Mexico are very fraternal, very caring people. They don't engage in xenophobia. Yes, there are some very small sections [of the population] who are made to feel uncomfortable or who might be affected or feel bad because there are migrants, but the majority of the people aren't," he said.
"… And there is no loss of control. Although migration flows have increased, we're putting order to things because we work every day," López Obrador said six days ahead of a regional migration meeting he will host in Palenque, Chiapas.
Among other remarks, AMLO said that Mexico's provision of oil to Cuba hasn't caused any problems in the relationship with the United States.
"The United States government and President Biden are very respectful of us. They don't bring up these issues with us," he said.
"… In every way we can help the people of Cuba, we will … including [with] oil because they … are suffering an inhumane, unfair blockade, and we can't turn our backs on the people of Cuba," López Obrador said, referring to the economic embargo the United States has maintained against the island nation for over six decades.
"And we don't have to ask permission from any foreign government because we're a free, independent, sovereign country," he added.
Tuesday
In his regular "Zero Impunity" segment, Deputy Security Minister Luis Rodríguez Bucio noted that an alleged criminal leader known as "El Patrón" (The Boss) was arrested in California in connection with the December 2022 armed attack on prominent journalist Ciro Gómez Leyva.
"American authorities detained Armando … [Escárcega] in the city of Delano, California on Oct. 16," he said, adding that he had been put before a judge "for his extradition."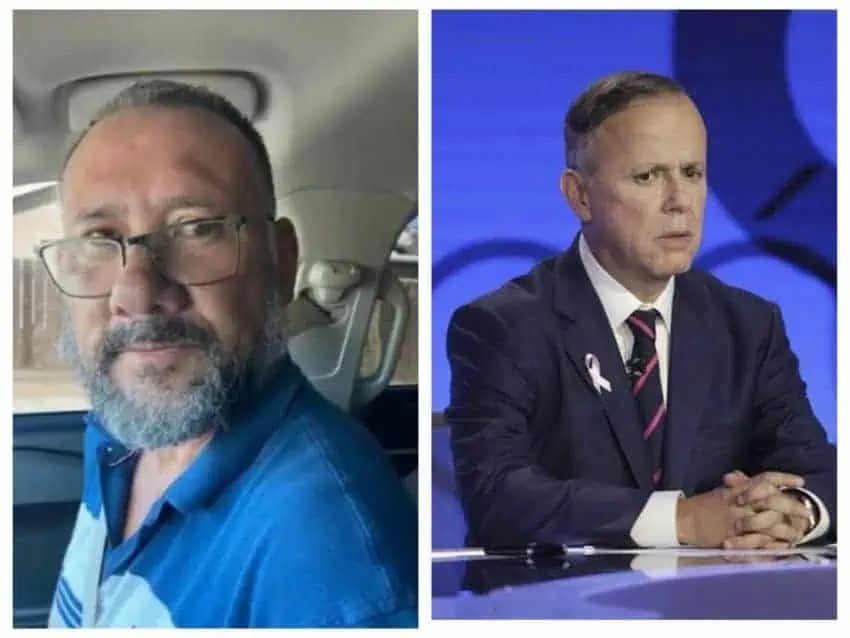 National Defense Minister Luis Cresencio Sandoval subsequently reported that almost 7.8 tonnes of fentanyl have been seized in Mexico since the current government took office in December 2018.
He cited much higher figures for cocaine and methamphetamine, with close to 185 tonnes of the former and almost 495 tonnes of the latter confiscated since AMLO was sworn in as president.
The military, Sandoval noted, is also involved in operations to get rid of another unwanted substance – sargassum. Over 22,000 tonnes of the pesky seaweed have been removed from the ocean since the start of the year, he said.
As court workers protested across Mexico against the government's plan to eliminate 13 trusts that fund the federal judiciary, López Obrador repeated his assertion that lower-level employees won't be affected by the move.
"They won't be disadvantaged at all. On the contrary, they will benefit because what must be sought is to lower the salaries and especially the privileges of those at the top and increase the salaries of those below. And that's what we're doing," he said.
AMLO said that Supreme Court justices and other senior judges have state-paid chauffeurs and domestic workers and receive payments "for the maintenance of their homes" and "plastic surgery" as well as travel allowances, among other benefits.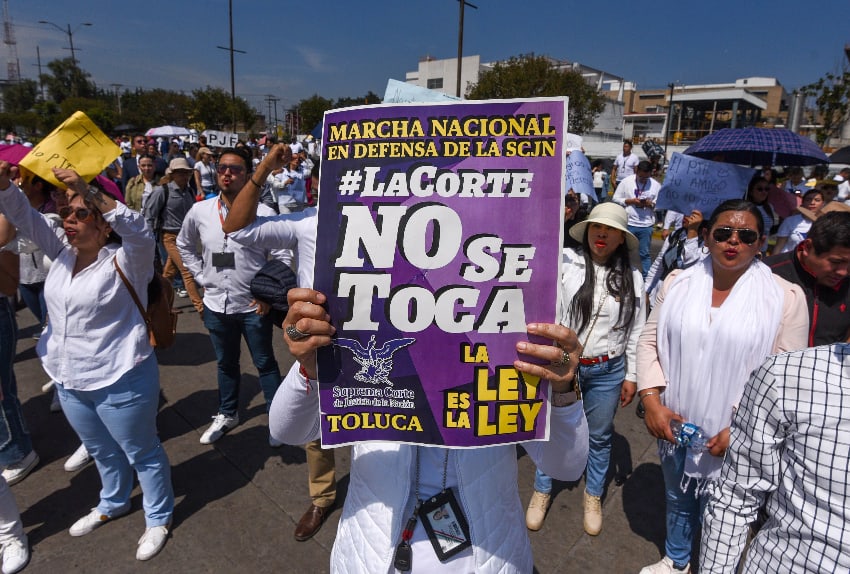 López Obrador told reporters he was unconcerned about the burning of an AMLO piñata at a protest in Mexico City on Monday, and declared that the 15 billion pesos in savings stemming from the elimination of the judicial trusts will be used to fund educational scholarships for "more than 2 million poor children."
He later said that "the judicial power really is rotten," but asserted that the situation could be remedied if citizens are given the right to elect judges, a constitutional change he hopes to get through Congress next year.
Following up on his announcement last week that he would propose the operation of passenger trains to companies that have concessions for Mexico's vast railroad system, AMLO said that he had just about finished a memorandum on the matter.
He said he would send the memo to the concession-holders – Ferromex and Kansas City Southern de México – "informing them that we're going to explore the possibility of using the existing rail tracks for passenger trains."
"Of course, this will require rehabilitating the tracks, it will also possibly require the electrification of tracks," he said.
"All this will help very much to resolve the passenger transport problem and reduce contamination. What we're seeking is to convince them, persuade those that currently have the concessions to commit to operating passenger trains within a reasonable period of time. That would be very good," said López Obrador, whose government is close to finishing the Maya Train and Isthmus of Tehuantepec rail projects.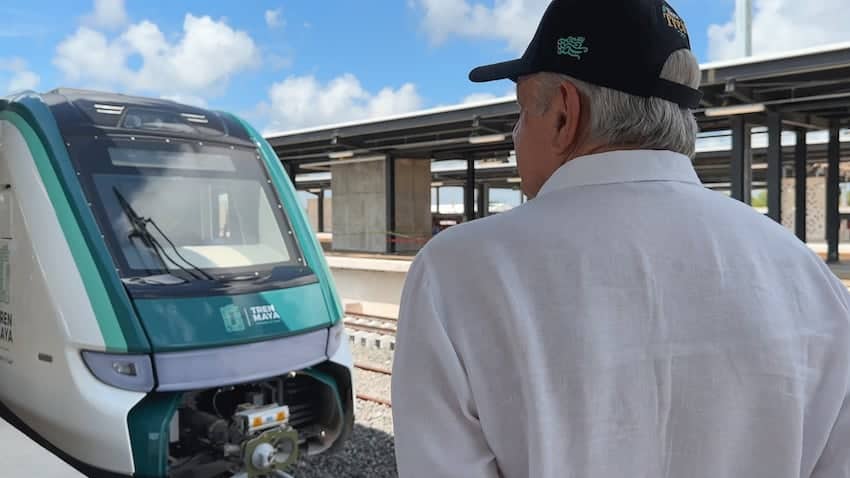 "… We already have the basic infrastructure [for nationwide passenger trains], we just need to fix the tracks. The Isthmus tracks we're modernizing are tracks for the movement [of trains] from 80 to 100 kilometers per hour. … In the case of the Maya Train, 160 kilometers per hour," he added.
Just before the conclusion of his mañanera, AMLO was asked whether the federal  government had been in contact with Hamas to negotiate the release of two Mexicans taken hostage during the Palestinian militant group's attack on Israel on Oct. 7.
"We're helping and we're in contact with the families and we're working with all governments, all organizations, because we want to save the lives of these two people," he said.
"We're speaking with everyone, not just with one side. We don't yet have anything solid, we're doing work that requires  … secrecy and … great responsibility because what we want is to save lives," López Obrador said.
Wednesday
After government spokeswoman Ana García criticized the media for what she described as biased and misleading reporting on the plan to eliminate 13 trusts that fund the federal judiciary, the president took center stage to field questions from reporters.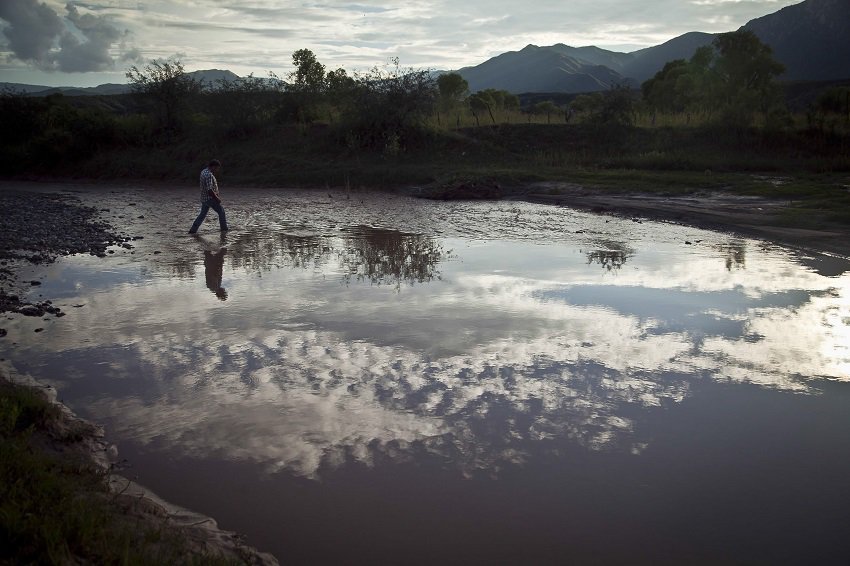 Asked about the massive spill of hazardous waste into two rivers in Sonora from a Grupo México-owned copper mine in 2014, López Obrador said that the company had written to the Interior Ministry to request dialogue on a range of issues including "a solution to the contamination problem."
He said that Grupo México wants to establish a work group to review a recent Environment Ministry report on the toxic spill into the Sonora and Bacanuchi rivers and to seek a remedy to "this serious contamination situation."
AMLO said that the Interior Ministry informed Grupo México that it is willing to enter into dialogue, and noted that representatives of people affected by the spill will also be invited to participate in the talks.
"It's good news because on Monday the company said that it wants to open dialogue, that it wants to seek a solution," said López Obrador, whose government determined that Grupo México's previous remediation and compensation plan was insufficient.
Turning his attention to the regional migration meeting in Chiapas this Sunday, AMLO said that the presidents of Cuba, Colombia, Honduras, Venezuela, Ecuador and Guatemala and the prime minister of Haiti had confirmed that they will attend.
The other four invited countries – El Salvador, Belize, Costa Rica and Panama – will be represented regardless of whether their leaders attend, he said.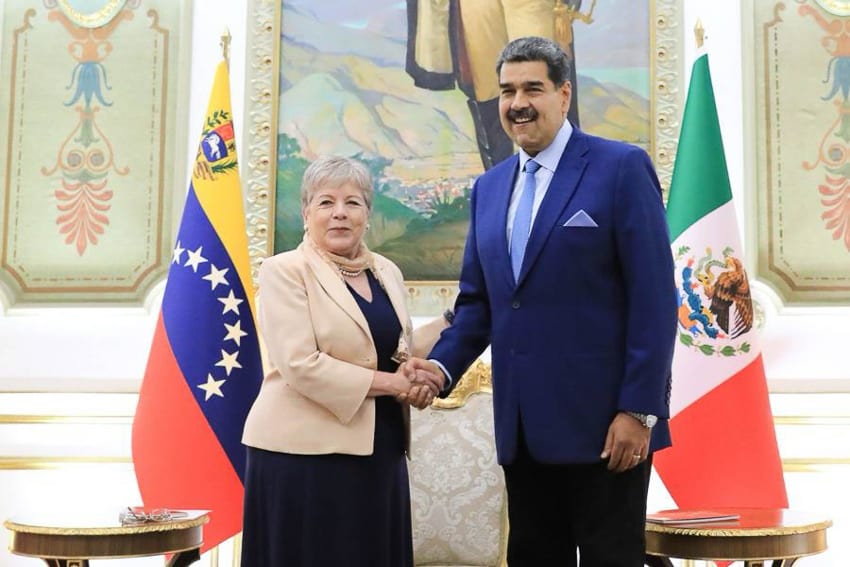 "A vice president or a foreign minister will come. We're going to meet on Sunday," López Obrador said.
The meeting is "very important" because the migration "problem" could get worse, he said, adding that the situation is already concerning because "the number of migrants is growing."
"We have to attend to … the causes [of migration], go to the root [of the matter]," López Obrador said before reasserting that "militarizing borders" and building walls doesn't solve the problem.
Later in the presser, AMLO described the protests against the bill to eliminate 13 judiciary trusts – which passed the Chamber of Deputies on Wednesday – as "regrettable."
"It's defending privileges, a social sin," he said. "… The budget is everyone's money, it's not the government's money. And we all have the right to receive benefits from the budget. And if we're talking about justice, the neediest people have the most rights."
López Obrador said that formal sector workers earn 16,000 pesos (about US $875) a month on average while Supreme Court justices earn 700,000 pesos (US $38,350).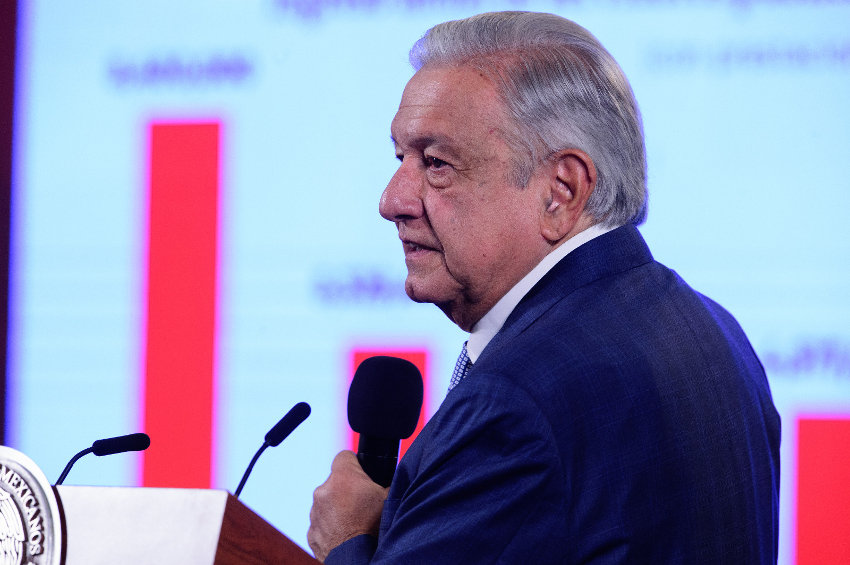 "Help me do the math, … how many times more is that? Forty-three times more! What's that? That's what they're defending. It's a disgrace," he said.
Among other remarks, AMLO noted that the distribution of the government's controversial school textbooks had begun in Chihuahua, where Governor Maru Campos rejected the books, and assured a reporter that the military will have no problems taking orders from a female president.
"Women are very responsible, hard working, honest, determined," he said, adding that women in his government have helped him a lot and are "extraordinary public servants."
"… And in the case of the armed forces, they're very loyal, very institutional, professional and respectful of civil authority," López Obrador said.
Thursday
Responding to the first question of the presser, AMLO defended court workers' right to protest against the government's plan to get rid of trusts that fund the judiciary, but reasserted that they are being "used [and] manipulated by those at the top of the judicial power."
"The adjustment is at the top. The thing is that Supreme Court justices, magistrates, judges, earn a lot … but their performance is very poor. There is a lot of inefficiency and above all they don't impart justice for the benefit of the people, they dedicate themselves to protecting the interests of the corrupt. That's [the way they] work, and there is a lot of proof," he said.
Asked whether ongoing protests by court workers could "paralyze" Mexico's judicial system, López Obrador dismissed the possibility before jesting that such an occurrence wouldn't be a bad thing.
"We would even come out as winners because [the judges] are only there to release white-collar criminals," he said.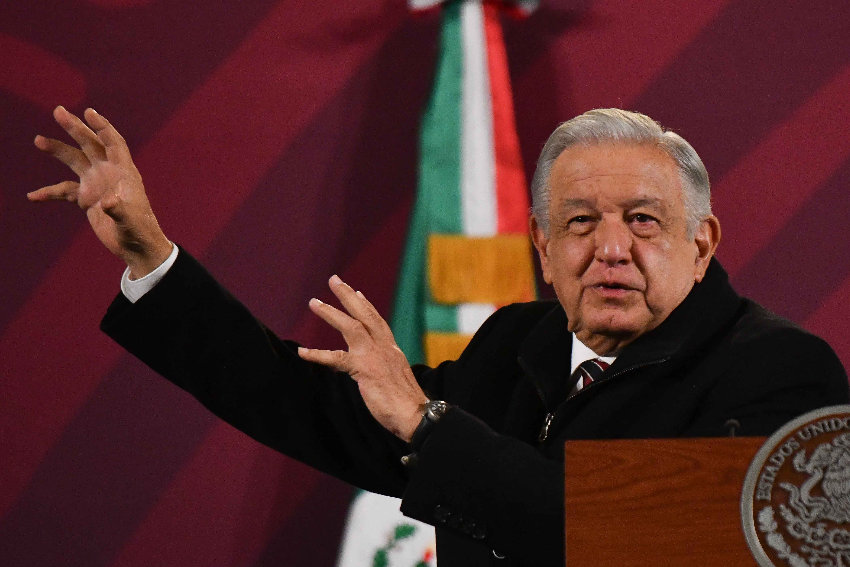 "… They only impart justice to the powerful. They don't defend those who don't have money to buy their innocence," AMLO added.
López Obrador later defended the lower house of Congress' approval of the creation of a Maya Train trust to be managed by the military.
"It's for the construction of a project, a public project. [With the judiciary trusts] we're talking about privileges, the … [Maya Train] is a project for the benefit of the people," he said.
AMLO acknowledged that the armed forces control several trusts, before asserting: "The instrument is not the problem. In other words, it's not the means, it's the objective."
After a long discussion on the judiciary and trusts that veered into a critical examination of reforms approved by previous governments during a period of 30 years before he took office, López Obrador fielded a question on Claudia Sheinbaum's announcement that Deputy Interior Minister Alejandro Encinas had accepted her invitation to formally support her campaign for president.
"He already gave me his resignation," AMLO said of Encinas, who played a leading role in the government's investigation into the 2014 disappearance of the 43 Ayotzinapa students in Guerrero.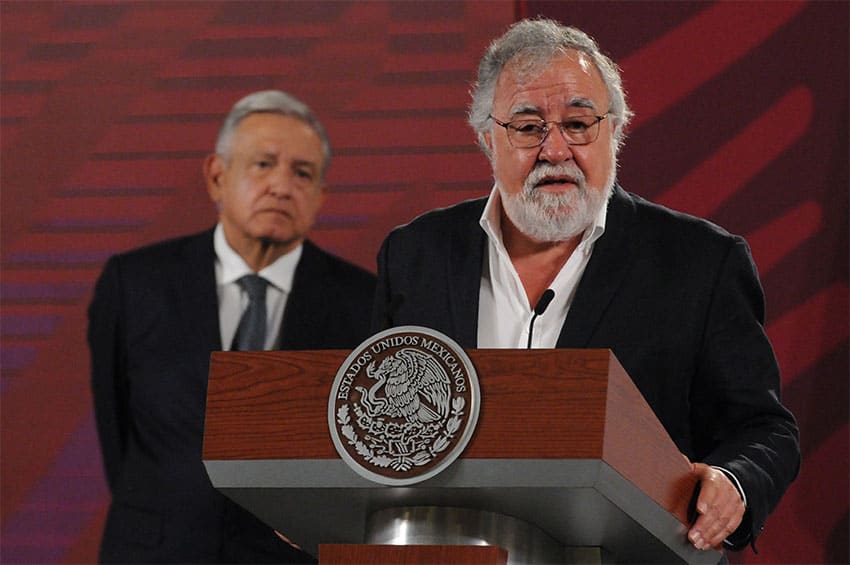 "He's going to participate in political-electoral activities. And I've already named his replacement," López Obrador said, informing reporters that the new deputy interior minister for human rights, population and migration would be government tax prosecutor Félix Arturo Medina Padilla.
AMLO said that Medina would also replace Encinas as head of the Ayotzinapa Truth Commission, which was created shortly after he took office.
At the conclusion of his presser, López Obrador once again spoke to Daniel Robles Haro, a young man with cerebral palsy who attended a mañanera in March to ask the government to include communication boards in school textbooks and to advocate making public places, and especially public bathrooms, more accessible for people with disabilities.
Robles, who communicates with a speech synthesizer, indicated that the government is acting on his ideas.
On this occasion, he told López Obador of his plan to set up a center for young disabled people where they can receive the care and therapy they require as well as participate in educational activities.
"What do we need? A rented house, or a house lent to us. … What are we going to do with the house? … Welcome young people who need a day residence," Robles said.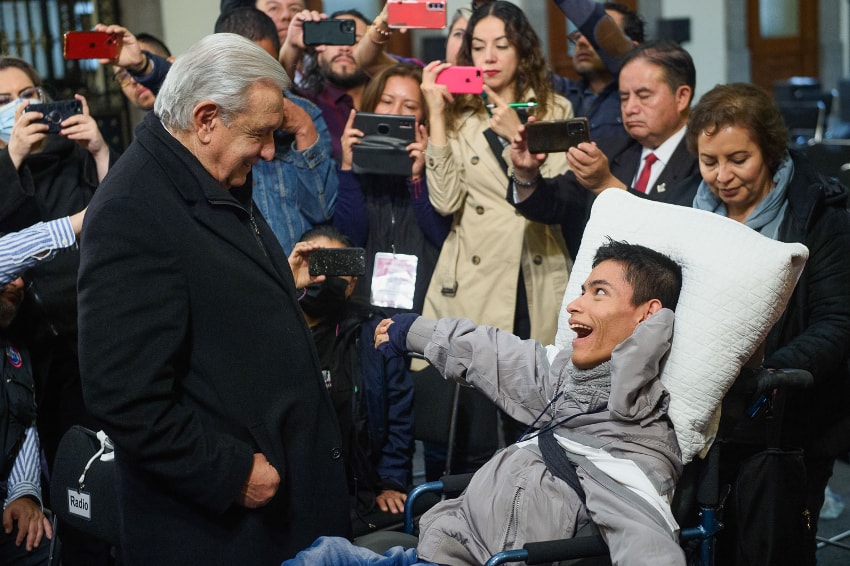 AMLO told him that the federal agency tasked with distributing funds obtained via the sale of assets seized from organized crime and tax cheats– the Institute to Return Stolen Goods to the People (INDEP) – currently has two houses and pledged that one will be made available for the desired purpose.
"Tomorrow I'll report on which of these houses will be handed over [to you]," he said, adding that he would seek assistance from "the telethon committee" (Fundación Teletón) to acquire the furniture needed for the center and to employ health workers to staff it.
".. They are large homes, residences that we were going to raffle off, … but we're better off donating them," López Obrador said of the houses in Indep's possession.
"You and your two friends, together with others, just have to form a [charitable] society, find a mechanism so that we can give you the house," he said.
Friday
Welfare Minister Ariadna Montiel Reyes announced that a 10-bedroom home in the affluent Lomas de Chapultepec neighborhood of Mexico City would be donated to the Telethon Foundation for the disabled persons center proposed by Daniel Robles Haro.
"The value of this property is 90 million pesos [US $4.9 million]. … Here are photos of the house. As I told you, it's at Paseo de la Reforma 1030," she said, referring to the emblematic boulevard that runs into the historic center of the capital.
"It's a large place that will have to be adapted for the movement of people with disabilities," the minister said.
Montiel also said that a similar center will be set up in collaboration with Robles in Guadalajara, where he lives.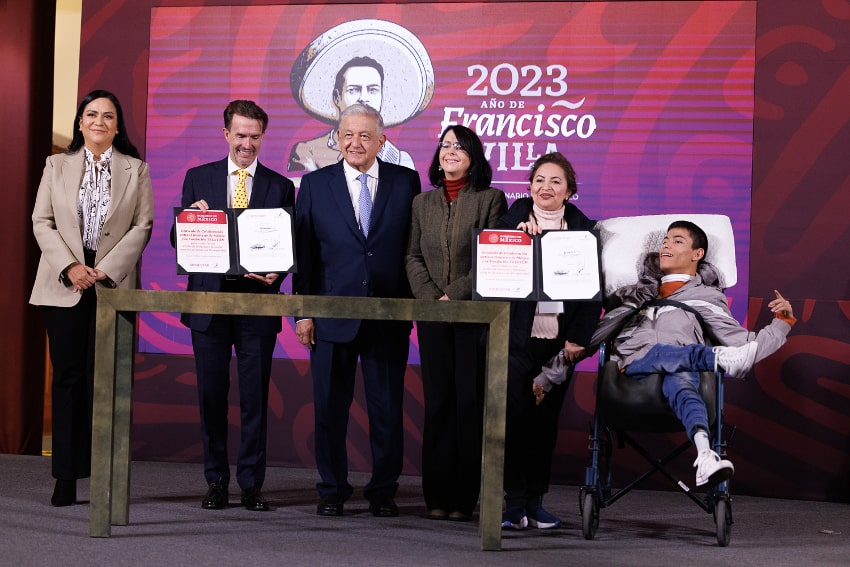 "I thank the president and his great team with all my heart for this opportunity to work for my causes," Daniel said.
"… People with disabilities deserve to have education opportunities, opportunities to work, and to have access to information, culture and recreation, of course, because we also like to dance and laugh," he said.
López Obrador returned to the mañanera lectern and declared that the decision to establish two new rehabilitation and education centers for disabled people was "very beautiful."
"Let's answer questions," AMLO added, signaling that he was ready for his daily inquisition, albeit one frequently punctuated with softballs from government-friendly reporters.
Responding to the first question of the day, López Obrador rejected the suggestion that there is political polarization in Mexico "because that occurs when societies are divided in two."
"That's not happening in our country because the majority [of people] support the transformation, not [just] 50%," said AMLO, who has maintained a strong approval rating throughout his presidency.
He presented the latest polling from U.S. company Morning Consult, which showed he had an approval rating of 70% and disapproval of just 26%. "So, what polarization?" the president asked.
Later in his presser, López Obrador once again weighed in on the opposition to the plan to eliminate 13 judiciary trusts, saying that the aim of a march to Mexico City's central square planned for this Sunday was to "maintain privileges."
"It's embarrassing. In addition, they're lying [about the impact of the bill]. … The salaries of judicial power workers won't be reduced, nor will their benefits be taken away. Nothing," AMLO said.
Not long after news broke of the death of former Pemex workers' union boss and ex-lawmaker Carlos Romero Deschamps, López Obrador was asked to comment on the passing of a man named by Forbes magazine in 2013 as one of the 10 most corrupt politicians in Mexico.
He conveyed his condolences to the family and friends of the 79-year-old, who led the Pemex union for 26 years until his resignation in 2019.
"Death should not be wished upon anyone. Neither the deceased or the sick should be picked on, we have to respect them," AMLO said.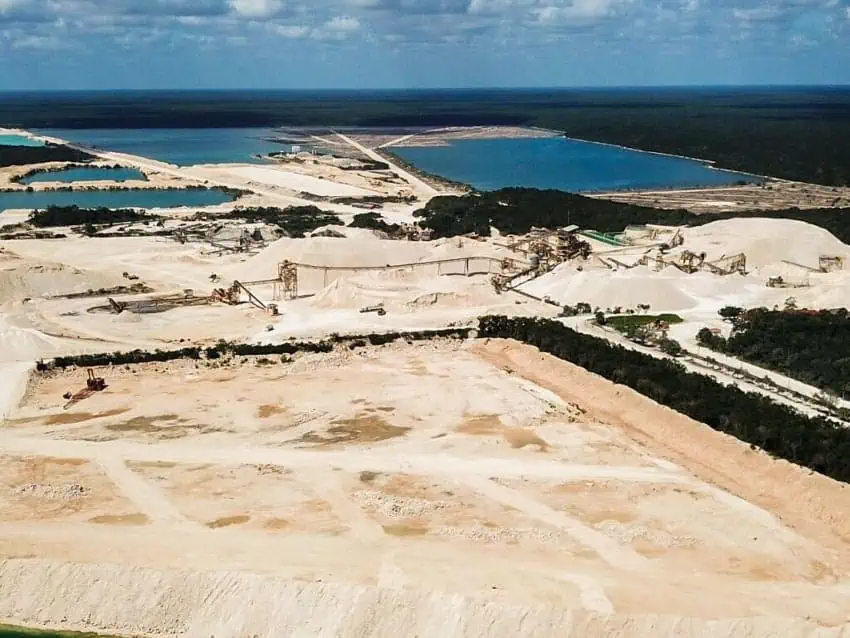 Just before the end of the press conference, López Obrador responded to news that United States construction aggregates company Vulcan Materials has sought U.S. government protection from what it perceives as a threat by the federal government to take over its property on the Caribbean coast of Quintana Roo.
He said that if Vulcan doesn't accept the government's (allegedly low) offer to buy the property – which includes a marine terminal and a quarry – he will declare it a natural protected area by decree.
"If there's no response from them, if they don't want to help, that will be the decision," said López Obrador, who accuses Vulcan of committing "ecocide" on the property near Playa del Carmen.
AMLO, who pledged to resolve the issue before he leaves office in late 2024, said he didn't anticipate problems with the U.S. government because President Biden "is respectful of our decisions."
"… It's already known that Mexico isn't a colony or a protectorate. It's an independent country. So, what we're proposing is to defend our territory, we can't continue allowing unpunished destruction," he said.
By Mexico News Daily chief staff writer Peter Davies ([email protected])