Visionary development, or destructive white elephant? Few infrastructure projects have generated such heated debate in Mexico in recent years as the Maya Train (Tren Maya), President López Obrador's long-promised railroad in the Yucatán Peninsula.
The Maya Train is among AMLO's most cherished pet projects. He has championed it through numerous lawsuits, local and international criticism, technical delays and route changes – he even declared it a matter of national security and put it under control of the military.
This edition of Mexico in Numbers lays out key numbers about the scale and impact of this controversial project.
How big is the Maya Train?
The finished railroad will have 1,554 km of track and 34 stations. It will pass through 40 municipalities in five different states – Tabasco, Chiapas, Campeche, Yucatán and Quintana Roo.
How the train compares to other international trains by length.
According to Alstrom, the company contracted to build the trains, the rail line will have 42 trains in operation that can move at a top speed of 176 km/h for passengers and 120 km/h for cargo. 
The government hopes to move 200,000 people per day by 2030.
How long will it take?
Construction on the Maya Train started on May 4, 2020, and the railway is projected to begin operations on Dec. 1, 2023. 
This would mean a construction time of 1,306 days – or just under 3 years and 7 months. But this may be optimistic, since in February, only around 460 km of track had been completed – just under 30% of the total.
How much will it cost?
The estimated cost of the project is around 300 billion pesos (US $16.5 billion) – nearly 150% more than its original estimate of 120 billion pesos (US $6.6 billion).
In 2023, the Maya Train project will be a major expenditure for the López Obrador administration — nearly the amount it will spend on social welfare programs and about one-third of what it will spend on education.
As for ticket prices, these will be calculated per kilometer and are expected to range between 50 pesos per sector for locals and 1,000 pesos for tourists.
How many people are involved?
The government claims that the Maya Train has already created at least 114,000 jobs in the southeast of Mexico. The company in charge of the project, Tren Maya S.A. de C.V., employs 338 staff, of whom 138 are military personnel.
The Defense Ministry (Sedena) announced in February that it would allocate 4,931 National Guard members, 28 drones, five helicopters and three air bases to provide security to the project.
What is the archaeological impact?
The Maya Train's construction has been accompanied by a huge project to register and preserve archaeological sites in the affected areas, employing around 500 archaeologists.
By March 2023, the National Institute for Anthropology and History (INAH) had registered 46,416 historical dwellings, 1,795 artifacts, 490 skeletons, and 1,261 natural formations such as caves and sinkhole lakes.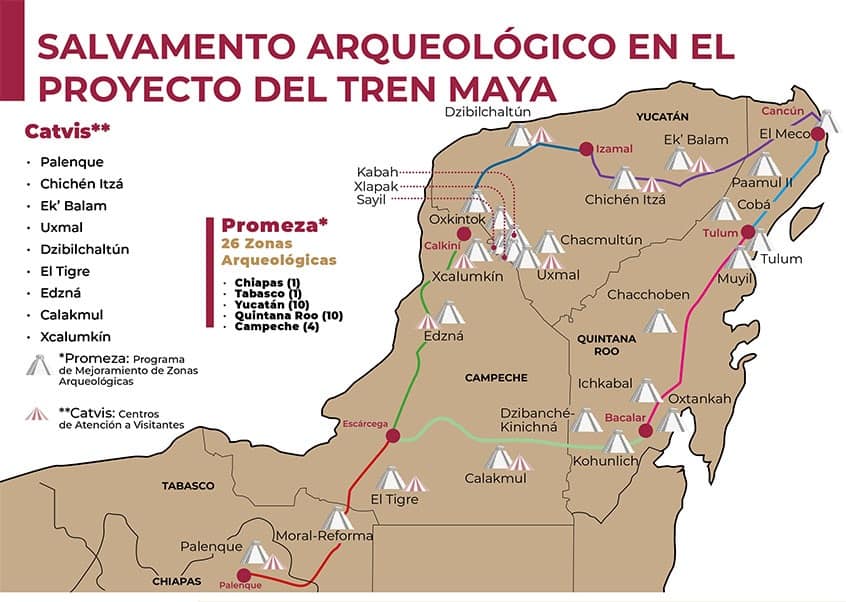 What is the environmental and social impact?
The Maya Train has been controversial from the beginning. It has already faced at least 50 lawsuits seeking to stop its construction, according to a statement by made by President Lopez Obrador in February. Most have been brought by environmental organizations and grassroots groups who fear its impact on the region's jungles, wildlife, cenotes (sinkhole lakes) and indigenous communities.
The Mexican Center for Environmental Law (CEMDA) says the railroad will affect 13 national protected areas, plus nine state and municipal natural reserves. 53% of the route runs through communal ejido lands, which could spark social conflict.
It could also cause 2,500 hectares of direct deforestation and raise the annual rate of deforestation in the region by a quarter over this decade, according to the Mexican environmental watchdog group Net-Zero Deforestation Observatory. 
The government claims it will counter this impact through the social and environmental program Sembrando Vida (Sowing Life), which plans to reforest around 500 million trees in southeast Mexico.
Mexico News Daily