The CEO of JPMorgan Chase has lauded Mexico as a nearshoring and business destination, saying that it may be the best country in the world in which to invest.
In an interview with El Financiero Bloomberg TV during a visit to Mexico this week, Jamie Dimon was asked about the attractiveness of Mexico as an investment destination and the challenges the country needs to address to take full advantage of the nearshoring opportunity.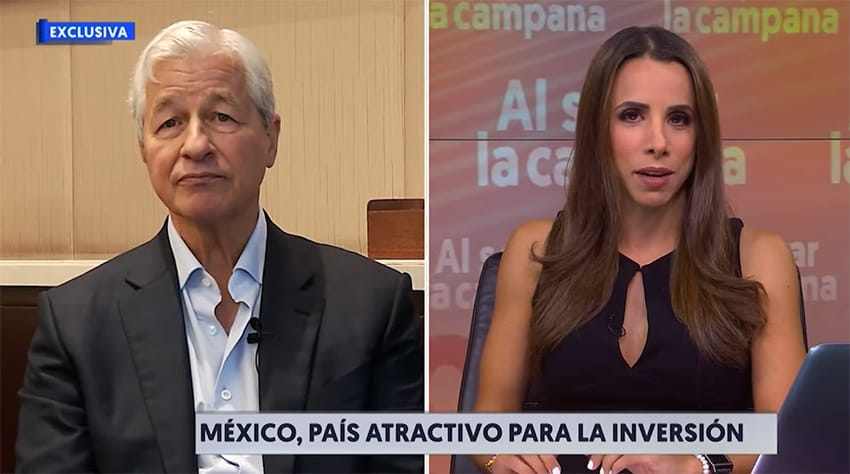 "I think it's one of the great opportunities. … If you had to pick a country this might be the number one opportunity," he said.
Dimon, CEO of JPMorgan Chase for the past 18 years, said that Mexico could become an even more attractive investment destination by making improvements in a range of areas, but stressed that the country already has a lot of positives.
"Remember you already have very capable companies here, universities, infrastructure, technology," he told El Financiero Bloomberg.
"… The better you do with infrastructure, the better you do with affordable energy costs, the better you do with universities, the better you do with good policy, [Mexico] will be better for that, but you already have a lot of it [and] you already have more companies moving operations here," Dimon said.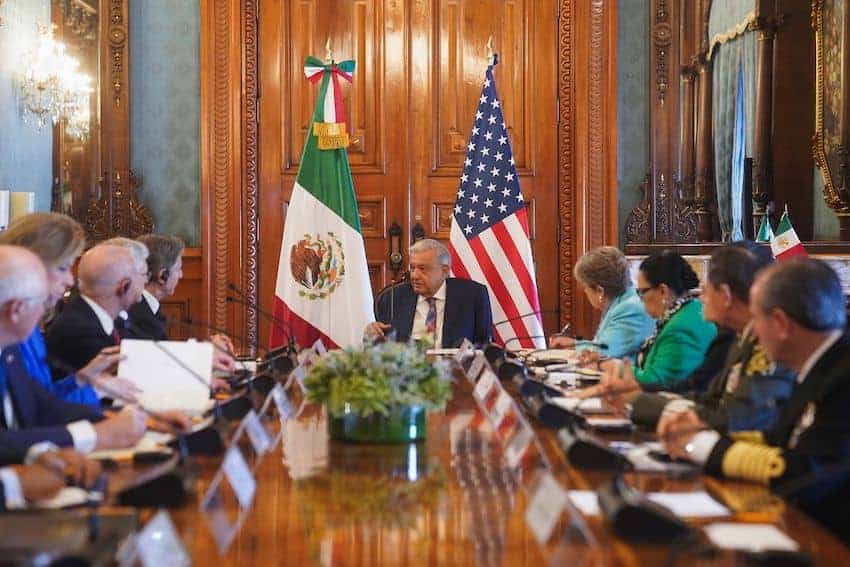 "And I'd add security, which I think is a mutual problem for America and Mexico. I hope we're working on it together because the more we can solve that the better it is for both countries. Of course there are problems, [but there are] still huge opportunities," the billionaire banker said.
Despite security concerns in Mexico, Dimon described North America and South America as "seas of peace and tranquility in the world you see today" and asserted that countries in the region have an opportunity to take advantage of their relative peace in an economic sense, including by attracting more investment.
For the bank he leads — one of the largest in the world — "Mexico is a critical market," the CEO said.
"We've been here for 120 years, we've been all over Latin America for well over 100 years. … We invest for the long run. We've doubled or tripled our capital here in the last six years. We cover more clients and private banking, investment banking, asset management, so our commitment is total," he said.
Dimon, who met with Mexican business leaders while he was in Mexico City, identified manufacturing, including advanced manufacturing, and agriculture as among the sectors that have the greatest opportunity to benefit from the growing nearshoring phenomenon, in which companies establish a presence in Mexico to be close to the lucrative U.S. market while taking advantage of a range of favorable factors here, such as competitive labor costs.
Indeed, numerous foreign manufacturing companies have recently announced plans to establish or expand operations in Mexico, including Tesla, Ternium and Kawasaki.
Foreign direct investment in Mexico is on the rise, but Dimon believes there is significant scope to attract more capital from abroad.
"I look at your capital market — just to give you some numbers your GDP is US $1.3 trillion in Mexico, your market cap is $400 billion," he told El Financiero Bloomberg presenter Susana Sáenz.
"It could and should be a lot more than that so there's a huge opportunity to have capital markets grow here, to bring both more foreign direct investment and [to have] more investment here," Dimon said before praising Mexico's tech sector.
"I have met with a bunch of high-tech companies that are very impressive, so I think you'll see that grow," he said.
Later in the interview, Dimon said that "Mexico should aspire to do much more" to grow its economy.
"It's about policy, you've already mentioned infrastructure but it's [also] about work skills, effective regulation, transparency, corporate governance, rapid permitting. It's all those things [and] consistency of law that have a country grow," he said.
"And the important part of having a country grow, it helps all of the citizens. There are more taxes, you have more wherewithal. It's not just for big companies that you want to grow an economy, you really want it for everybody, every job created is a job for someone," Dimon said.
Data published in late October showed that Mexico's economy grew 3.5% in the first nine months of the year compared to the same period of 2022, exceeding expectations.
One person who has similar views to Dimon about Mexico's economic potential is Nuevo León Governor Samuel García, a presidential aspirant who has courted investment from several foreign firms.
He said earlier this year that the nearshoring phenomenon could spur annual economic growth of up to 10% in Mexico.
While there are "circumstances of crisis and risk" around the world, "the planets are aligning for our country," García said at a business forum in March.
Claudia Shienbaum, the ruling Morena party's candidate for the 2024 presidential election, said in August that nearshoring will help drive significant economic growth during the six-year period of the next federal government, while Xóchitl Gálvez, candidate for the Broad Front for Mexico opposition bloc, has described the relocation of foreign firms to Mexico as "the country's best opportunity" for growth.
Mexico News Daily